Liverpool head into one of the strangest weeks in their history with high stakes in both Aston and Qatar, and a chance to become world champions.
Monday, took her to the Villa Tuesday, we were in Qatar by Wednesday, and on Thursday and Friday and Saturday, we chilled on Sunday. Hopefully as FIFA Club World Cup champions.
We're at the start of what promises to be one of the most random weeks in the history of Liverpool Football Club. Three games, two of them in two days, in two different competitions on two different continents with two different managers and two different squads.
I think what I'm trying to say is it's a bit different, but when you're firing on all cylinders in the title race, having just qualified for the last 16 of the Champions League, it doesn't half feel like a spoke in the wheels of the momentum Liverpool have built.
Tuesday's League Cup quarter-final isn't the issue. The Reds would always have had to play that midweek game after beating Arsenal and, with quite a few players carrying various knocks over the last month or so, I reckon over half of the young team that will start at Villa (Kelleher, Williams, Hoever, Jones, Elliott and Brewster) would have started anyway.

The difference is they'd probably have had Gomez, Milner, Lallana, Shaqiri and Oxlade-Chamberlain to provide some much-needed experience, and Jurgen Klopp on the touchline.
Instead it seems likely that Van den Berg, Larouci, Chirivella, Dixon-Bonner and Kane will all start.
It's a big, big ask of Neil Critchley's side to go to Villa—who were three minutes away from beating our first team last month—and win, but such is the confidence in the Liverpool camp at the moment they'll go there believing they can.
It's not a free hit. A heavy defeat would have consequences. Neil Mellor, who played in a young side that knocked a strong Spurs team out in the same stage of the League Cup at White Hart Lane in 2004/05, said as much in this month's Liverpool FC Magazine.
"They have to approach it as a learning experience—as good or bad as the result turns out—because how they react will shape their development," he said.
"For some it could be the biggest game they play in their careers. For others it could be the making of them."

At the same time, expectations must be realistic. A Liverpool under-21s side, featuring many of the lads who will start against Villa, played in the EFL Trophy this season. They lost 3-2 at Oldham Athletic, drew 1-1 at Fleetwood Town (but lost on pens) and lost 5-2 at Accrington Stanley.
Like 99.9 percent of you reading this, I didn't go to—or watch—any of those games, but I know someone who attended all three and he reliably informs me that the Reds struggled to deal with set-pieces against bigger, physically stronger opponents. That may well be the biggest problem at Villa Park.
As for Qatar, then, having had absolutely zero interest in the Club World Cup since Liverpool last played in it in Japan in 2005, I've been trying to convince myself of reasons why I'm desperate for the Reds to win it. A convoluted one fits the bill.
When I was growing up in the 1980s Liverpool played in a competition called the Screen Sport Super Cup—a tin-pot tournament set up for the clubs who should have been playing in Europe in 1985/86, but couldn't due to the ban on English clubs following the Heysel Disaster.

Attendances were poor, only 15,000 turned up at Anfield for a group game against Spurs, but Kenny Dalglish took the competition seriously.
He played strong teams including, in the semi-final second leg against Norwich City, seven of the team that had won the league at Chelsea three days earlier and seven of the side that started the FA Cup final against Everton four days later! He really liked the No. 7, did Kenny.
Liverpool beat Everton in the title race, FA Cup final and both legs of the Screen Sport Super Cup final (7-2 on aggregate the following season as it couldn't be fitted into the schedule—Rush scored five!) so if Sir Kenny thought that competition was worth winning then I'd like to think Klopp will want to be the first manager to be in charge of world champions Liverpool.
World champions Liverpool. Has a nice ring to it, eh? And it'd put a new trophy on the Champions Wall at Melwood, end the nagging annoyance that the Mancs have won it and we haven't, and put the Reds another trophy ahead of the Red Devils in the contest to be called English football's most successful club.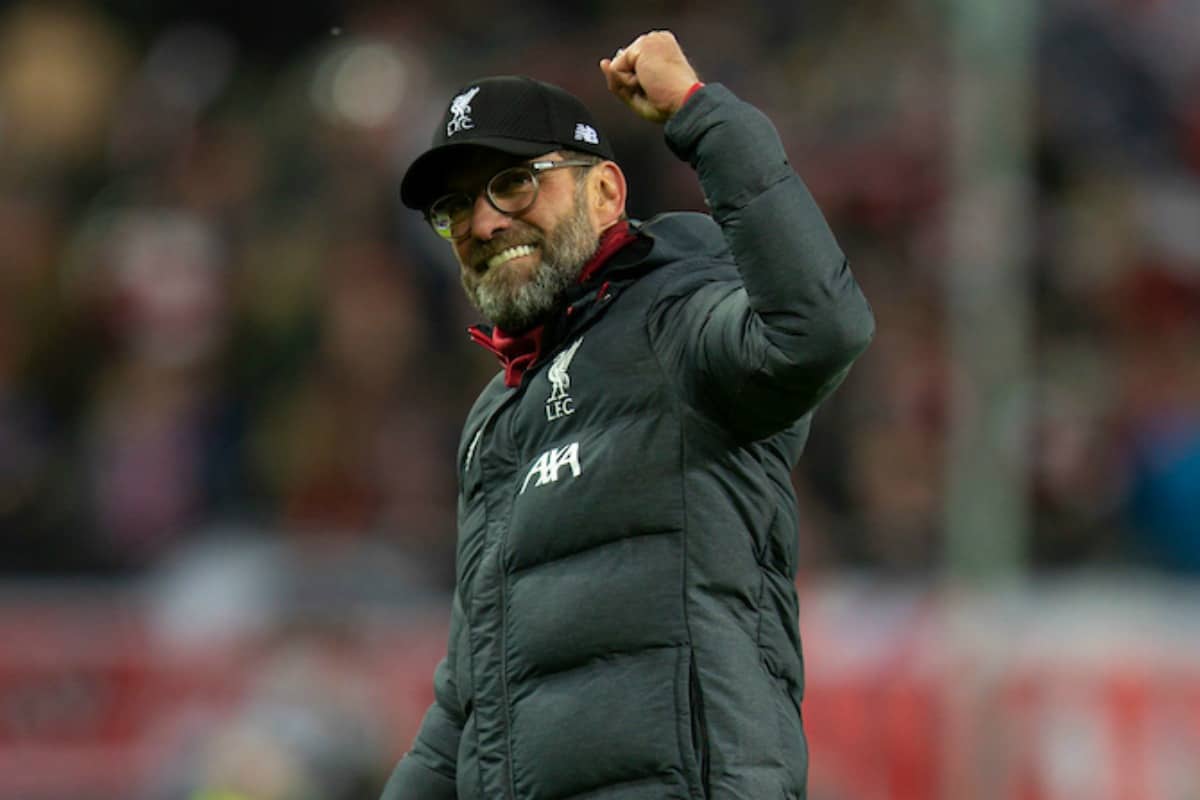 Given the Mancs have got Colchester United at home in the League Cup and may well target the Europa League next year to try and secure backdoor Champions League qualification, this could be rather useful in keeping them behind us in the overall pecking order.
Yes, the timing of the Qatar trip doesn't help in terms of our Premier League title challenge and yes, having to play two games in two days in two competitions in two different competitions on two different continents is absolutely ridiculous, but we need to get on with it.
For me, that means Liverpool's kids giving the best possible account of themselves at Villa and the first team returning from Qatar as world champions. Then for Brendan Rodgers on Boxing Day…
---
Chris McLoughlin writes for This Is Anfield each week; he's also senior writer for the Official LFC Matchday Programme and LFC Magazine. You can order both here.