Liverpool goalkeeper Alisson admits he wasted no time in agreeing a new six-year contract because he has confidence and trust in the club and has "found purpose" in his life.
The Brazil international has won the Champions League and Premier League since joining from Roma for £65 million in July 2018 and as one of the key senior players, the Reds were keen to tie him down to a long-term deal.
"I didn't waste too much time to think about that," he told LiverpoolFC.com.
"It's something we just built in those last three years: the confidence, the trust that I have in the club and the club has in myself.
"For me professionally, it's the best decision. It's the same decision as I took when I first came here.
"Since I arrived here, I started to win trophies with this amazing team, with this amazing group. I started to develop myself in many aspects in football, in my life.
"We found a purpose in our life here and I'm really, really happy to continue wearing this shirt.
"I'm really glad that I can keep going on with my work here, doing a good job here, so I'm really happy to make this decision – that is not hard for me."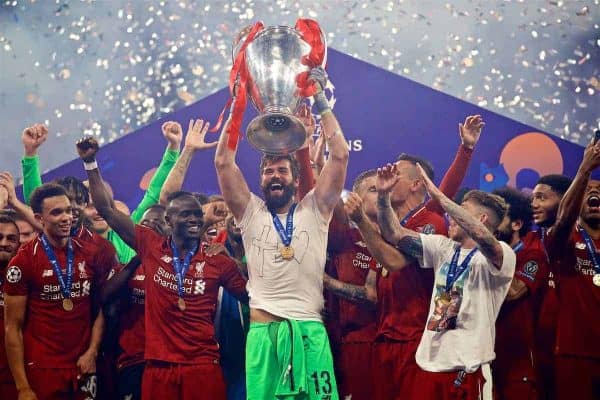 While Alisson has won domestic football's two biggest honours – plus the FIFA Club World Cup – he is determined to make sure that is not the end of the silverware.
"We have to set goals and we have to set them high – winning everything that we are playing [for]: the Champions League, Premier League, the cups, everything. I think we can start from there," added the 28-year-old.
"But obviously winning depends on what we will put on the pitch, what we will give on the pitch and we have to give 100 percent at least. If we can push harder, we will go."
Alisson is the third player in a week to commit his future with defender Trent Alexander-Arnold and midfielder Fabinho also signing contract extensions of four and five years.
There are more planned with Virgil van Dijk, Mohamed Salah, Sadio Mane and Andy Robertson all in line for new deals as the club continue their policy of focusing on securing the futures of the players they have rather than investing heavily in the transfer market.