Liverpool drew 3-3 with Benfica to reach the Champions League semi-finals, with attention now turning to another clash with Man City.
The Reds progressed to the last four after a 6-4 aggregate triumph on Wednesday night, as a much-changed team produced a hit-and-miss performance.
Ibrahima Konate scored his second goal of the tie to give Liverpool the lead, while Roberto Firmino was on-hand to register twice.
The defence looked a little shaky without Virgil van Dijk around, however, and Jurgen Klopp's men were made to work hard in the end.
Here, This Is Anfield's Henry Jackson (@HenryJackson87) is joined by Dan Clubbe (@dan_clubbe) and Matt Ladson (@mattladson) to dissect the game and also pick their XIs to face City in the FA Cup semi-finals on Saturday.
The good…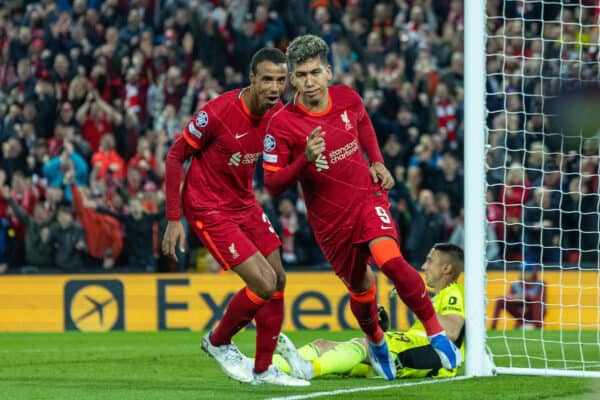 DAN: Individual performances aside for a second, this was an impressive display from a heavily rotated side in a Champions League quarter-final.
Not often in my lifetime have we been able to make seven changes and win a coin toss, let alone see out a European tie.
Overall, we appeared better for the freshness in an attacking sense, and despite slipping into periods of malaise when the game seemed dead and buried, we were always able to regain our poise and establish control again.
In terms of standouts, Joe Gomez enjoyed another positive night at right-back and has emerged as a more genuine option than ever to give Trent Alexander-Arnold a rest, perhaps during games.
Despite barely kicking a ball in what seemed like months, Kostas Tsimikas was as energetic and formidable as ever on the left.
The interplay and ability to switch sides between Luis Diaz and Diogo Jota was also a huge plus, particularly in the first half when the front three appeared to develop an instant understanding.
Roberto Firmino deserves a mention, too – getting that beautiful Brazilian's confidence high could be crucial.
HENRY: I echo much of what Dan has said here.
It was a strange night, as was the case against Inter Milan, because it was hard not to feel as though Liverpool were already through. It just didn't feel like a Champions League quarter-final, in terms of intensity.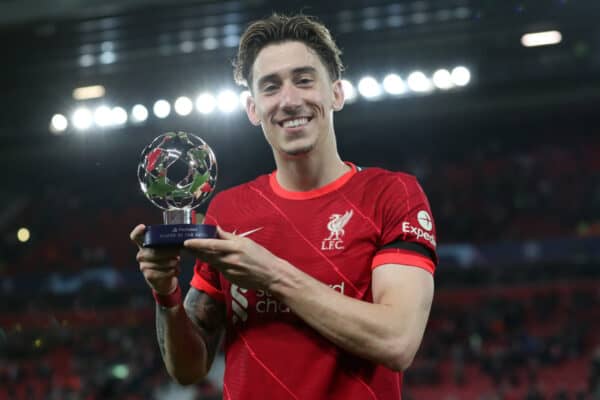 Liverpool got the job done in solid fashion, though, and with a much-changed starting lineup, with the rest afforded to key men potentially priceless moving forward.
Tsimikas was my Man of the Match – he was superb throughout and could genuinely be among the best left-backs I've seen for the Reds already.
Firmino getting more goals was also great to see and I think he's definitely in a better rhythm and run of form than we have seen for much of the last two years. His peak has gone, but he remains an influential player.
As Dan says, Gomez is proving to be a handy deputy to Trent Alexander-Arnold, and I thought Naby Keita did pretty well at times.
It was a case of getting the job done and Liverpool did that.
MATT: Dan and Henry have covered it all from a footballing perspective. The only way that it felt like a European big night pre-match was arriving at Anfield in the sunshine, you just can't beat that.
The atmosphere was much better than it has been recently and Jurgen's new song is an absolute belter. I hope that it doesn't become too sped up like most other songs, the slow pace of it is what makes it.
The biggest positive has to be the rotation. This was absolutely vital if we want to win (more) trophies this season. This really is the best squad in Liverpool FC history.
The bad…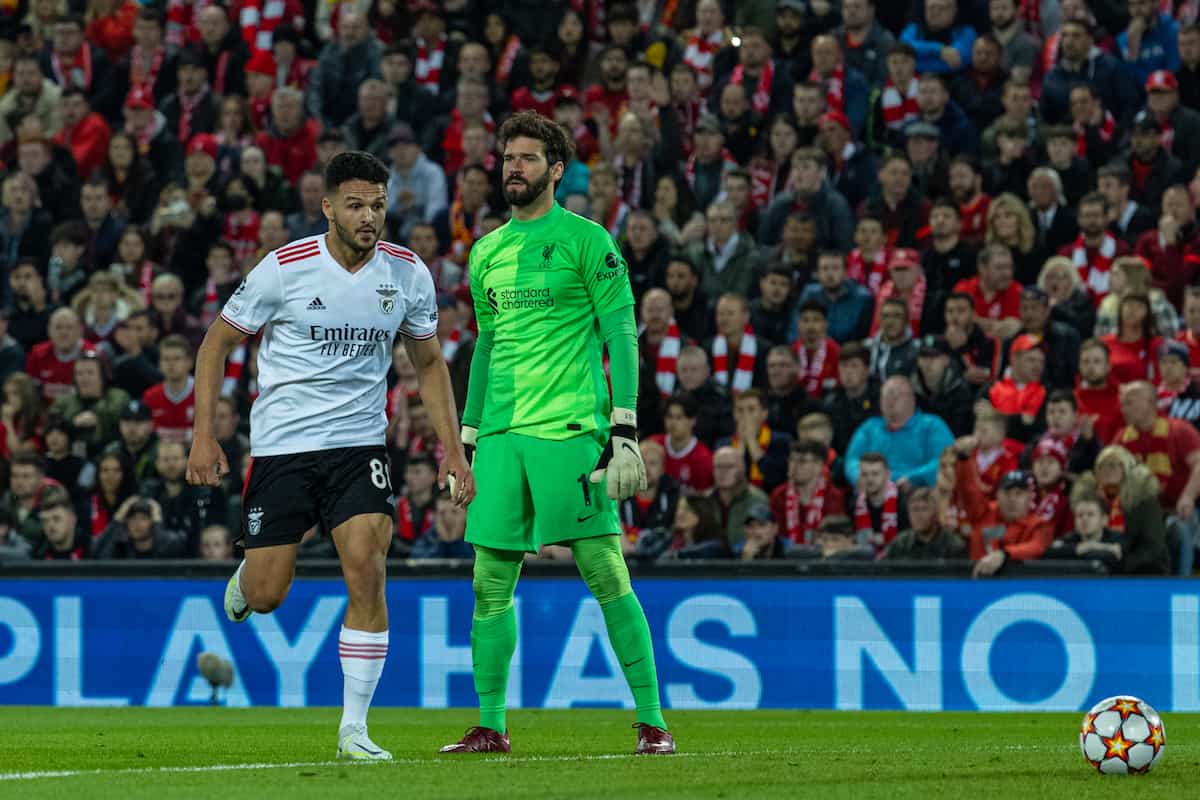 DAN: Conceding three times was not ideal.
While the high line will take a lot of criticism from the outside world once again, this was a completely new-look defence who for the most part dealt with a Benfica outfit in desperate need of goals.
Ultimately the Portuguese side were resilient and have a high-quality striker in Darwin Nunez who is destined for the top.
Therefore, a heavily rotated Liverpool side deserves all the praise for getting the job done with a minimum of fuss and most importantly, for coming through relatively unscathed.
HENRY: I'm with Dan – it's pointless making too much of the high line when literally the entire back-four was second-choice.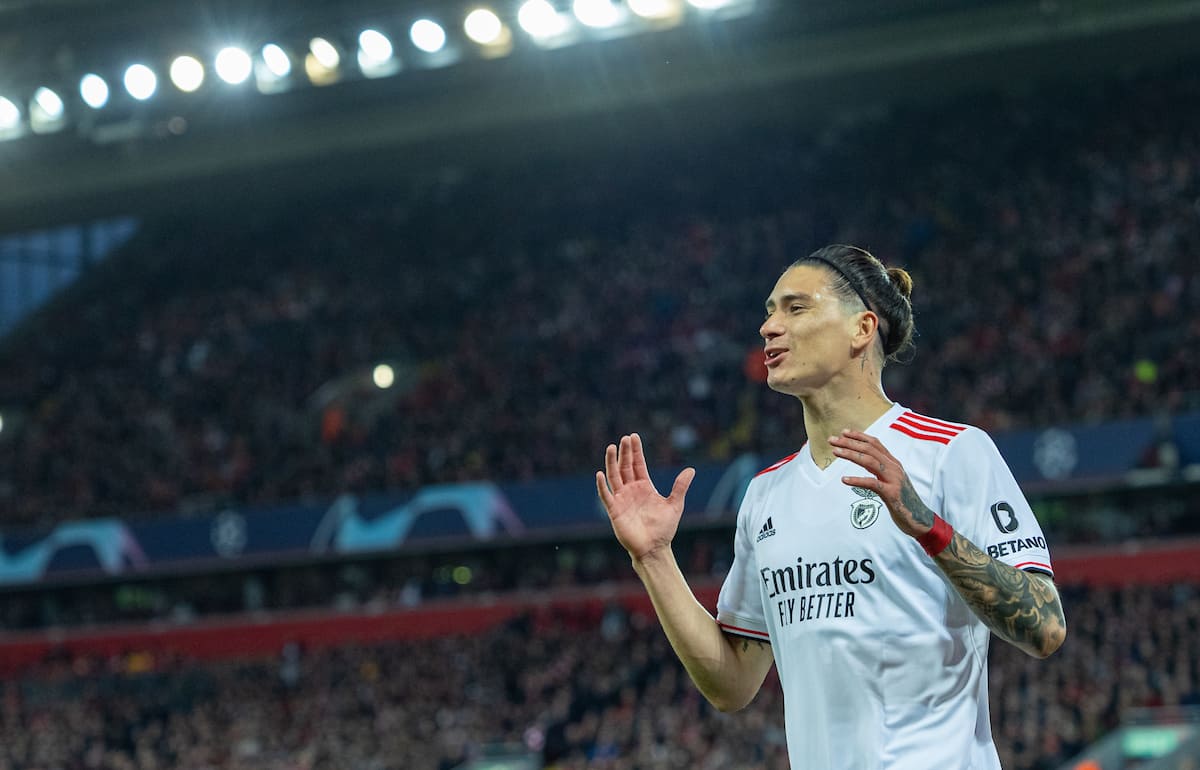 Sure, it was frustrating to concede goals in relatively sloppy fashion, but you wouldn't see them going in with the usual suspects playing, and in more tense, tight circumstances.
I thought James Milner was a tough watch in the first half – he's been a fantastic servant, but I don't want to see him start another game for Liverpool when younger options are out there.
Jordan Henderson still looks well short of his best, too, even though he did fine in the No.6 role. There are too many hopeful swipes of the ball forward to nobody and he definitely doesn't have the legs he once did.
MATT: I'm at the stage where I can't complain about anything this group of players does. As Jurgen said post-match, we are only human, some mistakes will happen.
We saw the importance of Van Dijk to the high line, of course.
Milner certainly wasn't good, but that's likely his last start for the club – in a Champions League quarter-final at Anfield, which is nice!
And what's your XI vs. Man City…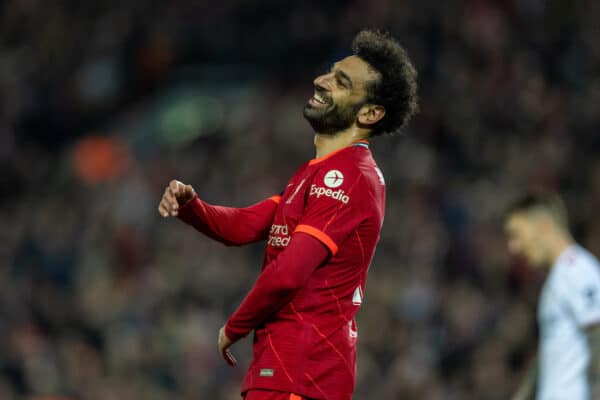 DAN: This game has done little to change my opinion on this, despite the positivity.
I would be making slight alterations from the Premier League game, but with the ability to change the tempo from the bench at the forefront of my decision-making.
I would go with: Alisson; Alexander-Arnold, Konate, Van Dijk, Robertson; Fabinho, Thiago, Keita; Salah, Mane, Firmino.
HENRY: I'm similar to Dan in that my team would not be dissimilar to last weekend's match, but there are a couple of key changes I would make.
I have no doubt that Henderson will start, but I would go with Keita alongside Fabinho and Thiago, with the Guinean clearly in better form.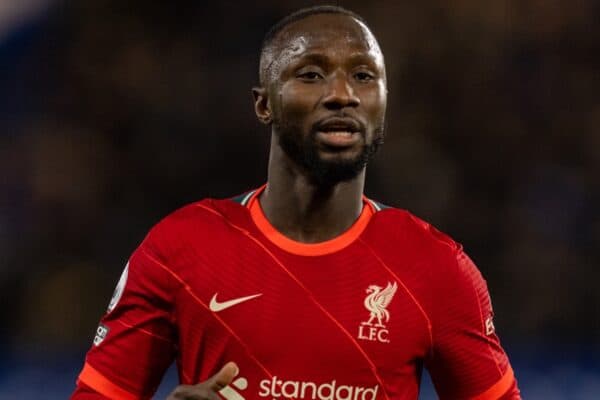 That big Wembley pitch is not made for a player looking leggy at the moment, especially with warm weather expected.
I would also go with Firmino over Jota, given the Brazilian's superiority when it comes to holding the ball up and linking with others.
My XI: Alisson; Alexander-Arnold, Matip, Van Dijk, Robertson; Fabinho, Thiago, Keita; Salah, Mane, Firmino.
MATT: Given that it's going to be Salah, Mane and one other – and Firmino was the only other to play the full 90 vs. Benfica, I'd be surprised if it was him.
I'd like to see Diaz start. He bossed it at Wembley last time out and will give City something different to worry about. And Mane looked good centrally late on last Sunday.
It's also highly unlikely Matip starts three intense games in a week, so we can rule him out.
Likely XI: Alisson; Alexander-Arnold, Konate, Van Dijk, Robertson; Fabinho, Thiago, Keita; Salah, Mane, Diaz.