The Reds are back! For the start of pre-season, that is, and it was a day full of tests after their well-deserved summer break.
The return of Jurgen Klopp's squad to the AXA Training Centre sees the new season draw ever closer, with focus now able to shift to what is to come in the weeks ahead.
A total of 19 senior players made their return 37 days after the last competitive outing and 33 days before their next, at Fulham in their opening Premier League game.
Lacklustre English weather greeted the players upon their arrival, which is so very typical, but there was energy and smiles aplenty as players and staff were reunited.
Here are seven things we spotted from the first day of pre-season!
Lijnders is raring to go!
Back in business ?#LFCPreSeason pic.twitter.com/ajiVHT9QYs

— Liverpool FC (@LFC) July 4, 2022
There is a reason Klopp said Pep Lijnders "is a real energiser" and we saw it early on as the assistant manager started his day bellowing from the upper level of the training centre to those down below.
"Back in business," were the words said with assertiveness and a big smile. Borrowing the manager's words…"this man is on fire!"
New boys make their start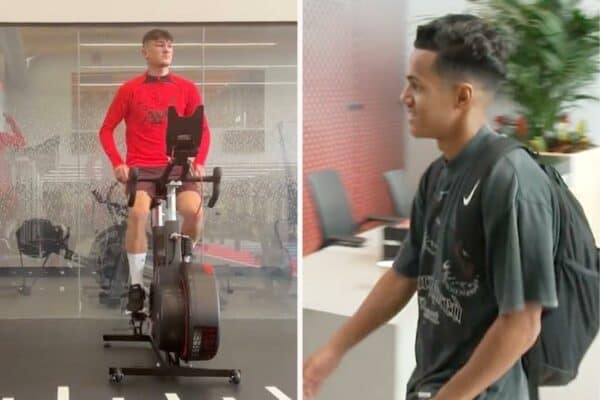 It was a big day for Calvin Ramsay and Fabio Carvalho as they met some of their teammates for the first time and kickstarted their Liverpool careers.
We saw our new No. 28 receive a kind welcome from Andreas Kornmayer, head of fitness and conditioning, and physio Chris Morgan, while Ramsay was shoulder to shoulder with Luis Diaz on the fitness bikes – not a bad way to start!
The backpack from Carvalho really is giving us the first day of school vibes, hopefully, he didn't forget his lunch!
Speaking of new faces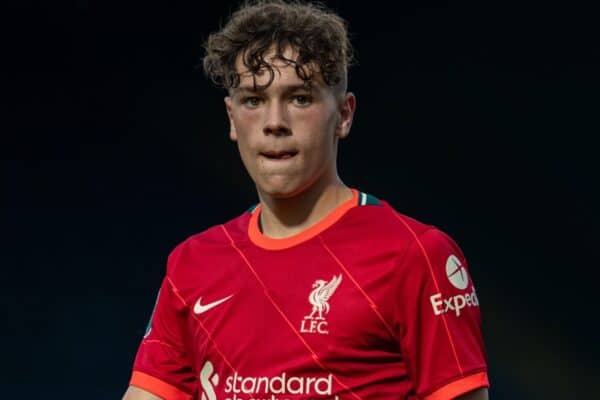 Luke Chambers, fresh from his under-19 Euro triumph with England, was straight back into the fold as he underwent testing, despite only having last played competitively on Friday.
The young defender was namechecked by Lijnders back in January as a player Liverpool hoped to cast their eye over in pre-season and he may just get his wish!
One of a few new kids on the block during the first day!
Fresh and energetic Diaz
The hard work starts here.

? @LuisFDiaz19 pic.twitter.com/MJgbUxKVay

— Liverpool FC (@LFC) July 4, 2022
And talking about Diaz, it's a new look for the No. 23 thanks to a fresh trim over the summer, but the energy was all the same from the Colombian.
Buzzing around the gym, Diaz looks ready to hit the ground running in his first pre-season with the club, and that's a scary thought considering what he was capable of having just been thrown straight into the team during the winter!
Gordon in the mix
Reunited and ready to go again?#LFCPreSeason pic.twitter.com/s6SCz0BMeP

— Liverpool FC (@LFC) July 4, 2022
Last season was a memorable one for Gordon having used the pre-season as a springboard for four senior appearances and a maiden goal for the club.
Injuries curtailed his year but he's to be back in the mix this summer and there will be plenty of enthusiasm over what he could conjure up, but without any added pressure seeing as though he is still only 17.
Split into groups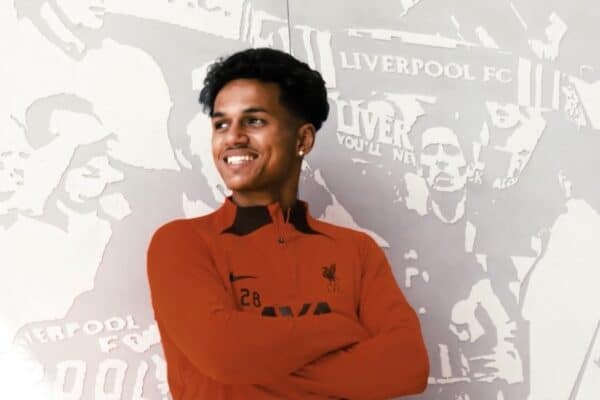 With 19 senior players making their return on the first day and tests to complete, they were split up into groups.
The likes of Jordan Henderson, James Milner, Joel Matip, Joe Gomez, Alex Oxlade-Chamberlain, Cavalho, Ramsay, Harvey Elliott and Diaz were part of the first group.
Meanwhile, Ben Davies, Nat Phillips, Gordon, Chambers, Caoimhin Kelleher and Adrian were part of another as players filtered in throughout the day.
And lots of tests!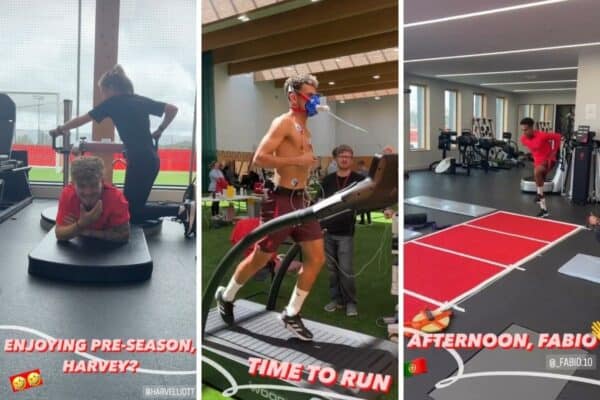 The lactate test was not on the cards on Monday, but there were plenty of alternatives for the players as their baseline measurements were taken after their break.
From vertical height tests to aerobic performance, the players got friendly with sensors and all things physical testing – and it certainly had Oxlade-Chamberlain sweating, among others!
One part of the job we're not particularly jealous of…