The loss of Luis Diaz until after the World Cup is a big blow for Liverpool, but there could be good news when it comes to the winger's knee injury.
Liverpool put up a great fight in their eventual 3-2 loss to Arsenal, but more concerning than dropped points was the issue for Diaz – arguably the club's player of the young season thus far – who was forced off in the first half with an apparent left knee injury following a tussle with Thomas Partey.
Diaz initially was able to play on after writhing in pain for a few seconds and being assessed by the physio. However, after returning to the pitch, he again went down.
The 25-year-old – being the ultra competitor that he is – asked the physio to just wrap his knee and let him play on, but that wasn't a possibility at that point.
Following the match, Diaz left Anfield on crutches with his knee in a brace – never a good sign as the club physios will have a pretty good idea of knee injury severity using manual tests, particularly to check for ligament damage.
Muchas gracias por los mensajes de apoyo.. ! Volveré más fuerte ???? pic.twitter.com/77PBl8smMc

— Luis Fernando Díaz (@LuisFDiaz19) October 12, 2022
Additionally, Jurgen Klopp commented that the injury didn't look good and it was essentially the cherry on the top of a disappointing Sunday.
In the days that followed, Diaz underwent further assessment and imaging (likely an MRI).
Based on those findings, it has been reported that Diaz will not require surgery and will miss approximately six to eight weeks, which puts him out until after the winter World Cup break, missing a total of 10 games.
So what exactly is going on with Diaz's knee?

The club haven't given a full update so, naturally, there's no way to know the specific details or give an exact answer without being privy to the examination, imaging and so on.
However, based on video review and key details, we can connect some dots together.
The video of the actual collision between Diaz and Partey doesn't reveal much – the angle is too high which obscures any relevant twist or movement of the knee.
But the follow-up video does give more clues.

Diaz's reaction following the incident was to grab the inside of his knee. This initially suggested he had suffered a knock to that medial (inner) aspect – painful, but typically not that big of an issue.
However, physio Chris Morgan then came out to check the knee and conducted a specific test – called a valgus stress test – that puts tension on the medial ligaments of the knee, specifically the medial collateral ligament (MCL).
These tests aren't a tell-all by any means, but what it likely told the physio is that this isn't a high severity, grade 3 full tear (rupture) that's causing instability and high levels of pain.
In that case – and remember that the physio is making these decisions all on the spot in a charged environment so it's not easy – Diaz was allowed to play on.

But his response afterwards also becomes another indicator of severity.
If he's able to play on, then it might just be a quick stretch of the ligaments or structures without issue. If he isn't, it may hint at something more.
Thus when Diaz did go down again, the decision was made and the physio told him he could not play on, even with wrapping.
What testing could tell us
Once Diaz was removed, he was likely taken through further testing in the dressing room with ongoing monitoring of his pain level, swelling and movement ability (walking in particular).
Based on those indicators – and again, these are just indicators, not an exact science – he was placed in limited weight-bearing with crutches and his knee in a brace.
With all this in mind, the most likely injury is damage to the MCL which is one of the four major stabilising ligaments of the knee and specifically protects against wayward valgus (inward) force and limits the knee from caving inwards.

When the force in that direction is too high – typically from some external impact – the ligament is overcome and stretches with ligament fibres tearing; the severity of injury depends on the extent of that tearing.

There's also the possibility of a meniscus injury, particularly if there's a twist of the knee. The medial (inner) side where Diaz was holding is the most common location for a meniscus tear as well.

This is where Diaz's non-surgical plan of care and reported timeline come into play.
Diaz's six-to-eight-week timeline falls into both a meniscus tear or grade 2 moderate tear of the MCL.
However, significant meniscus tears are typically operated on for elite footballers whereas grade 2 MCL injuries can be treated without surgery.
In fact, even grade 3 MCL ruptures are rarely operated on and that brings us to the two-fold good-news portion of this piece.
Some good news!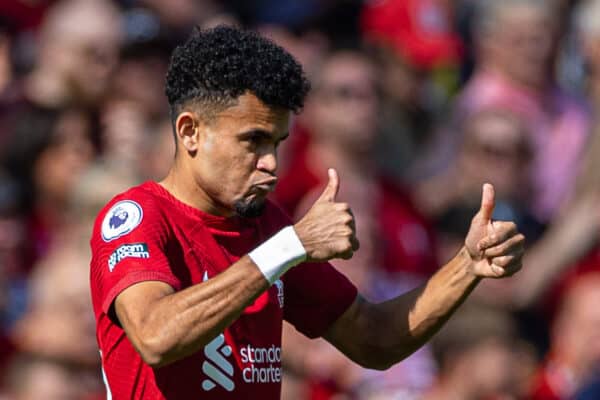 The first silver lining is that the MCL heals quite well due to a robust blood supply.
Blood is the main conduit that brings healing factors and nutrients to soft tissue and, therefore, even fully torn MCL ligaments can heal back together quite well without surgical intervention.

Accordingly, if there's one major knee ligament you want to injure, it's the MCL. Outcomes are very good with minimal knock-on effects or increases in injury risk.
The second silver lining has to do with the World Cup.
Although generally the winter World Cup will present all sorts of problems for players' fitness levels and clubs trying to plan for it, that month-plus-long break will benefit Diaz as he will face no pressure to rush back quickly.
With the Premier League paused and Colombia missing out on the tournament, he can ramp up methodically and patiently, particular during his final phases of return-to-play in early to mid-December.
Obviously, the injury isn't ideal and Diaz will still have to deal with the natural fitness and rhythm re-acclimation (you cannot replicate game intensity without playing in them) but there is at least some good news here.