Liverpool are now at the halfway point of their Premier League season, but you'd be excused for thinking we're a lot deeper into 2022/23 than that.
Nineteen league games have come and gone and calling it a rollercoaster feels like an understatement considering the expectations that preceded the first whistle at Fulham.
Jurgen Klopp's side are a shadow of their former selves, more than 18 points off the pace after 19 games, and so the focus has shifted to finishing in the top four.
For some that will feel optimistic at best, but there are still 57 points there for the taking and the Reds' season is salvageable if they start finding form. Pronto.
We don't have to tell you that the Reds' record is down from last season, but just where does it sit in comparison to Klopp's previous campaigns at the helm?
This season vs. last 7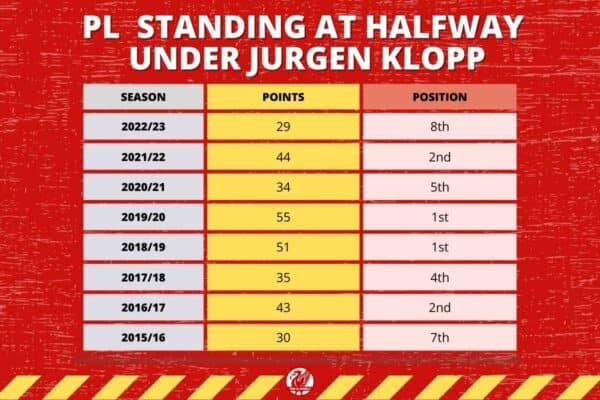 Liverpool's average point tally after 19 games is 41.7 since 2015/16, and as we all know, the Reds are not close to average this time around.
The Reds have amassed 29 points in the first half of this campaign, 12.7 short of the average over the last seven seasons. The downturn has been swift.
The last time they achieved a similarly lowly return was in 2015/16 when they collected 30 points, 2020/21 and 2017/18 are not far behind on 35.
It's a new low under Klopp, one point worse off than when he took the helm after matchday eight in October 2015.
In fact, the last time Liverpool failed to surpass 30 points after 19 games was in 2014/15 when Brendan Rodgers secured just 28.
If the same is repeated in next 19?

If Liverpool were to replicate their form in the first half of the season until May, where would that leave them?
Klopp's side have dropped points more often than they have not, losing six times and drawing five to see 28 points go begging.
If the same trajectory is followed in the second half of the campaign, Liverpool would end the season on 58 points – a whopping 34 points less than last season.
It is a tally that would've guaranteed any form of European football twice in the last four Premier League campaigns.
The lowest position secured with 58 points since 2018/19 was 11th (2020/21), and the highest achievable finishing spot was sixth (2021/22).

29 points after 19 games is the lowest return since 2015/16
12.7 points short on average under Klopp at halfway stage
If the same is repeated, Liverpool would end 2022/23 with 58 points
In two of the last four seasons 58 was enough for European football
The last time a season ended with a tally less than 58 was in 2011/12 under Kenny Dalglish, taking just 52 points from an available 114.
It leaves Klopp and his side with plenty of work to do if they are to outdo their first half-of-the-season performance and more than double their points tally by May.
Under the German, Liverpool have more than doubled their points tally on three different occasions, 2021/22: 44 points to 92; 2020/21: 34 to 69; and 2017/18: 35 to 75.
It's safe to say there's plenty of scope for improvement to add this season to that list, but Liverpool are going to have to find form with haste.