If this is to be Alex Oxlade-Chamberlain's final season at Liverpool, he should be remembered as someone who contributed greatly to the club's success under Jurgen Klopp.
Before we get too far into this, I'll start off by making a couple of things clear.
No, I don't think Oxlade-Chamberlain is the answer to Liverpool's problems this season.
Yes, I could understand if both parties felt it was best for Oxlade-Chamberlain and Liverpool to go their separate ways this summer.
I do, however, feel that he is often unfairly categorised as a player who hasn't made the grade at Liverpool, and with a bit more luck, his six years on Merseyside could have been even more successful.
A rhythm player

What has often worked against Oxlade-Chamberlain has been his tendency to need several games to get somewhere close to his best form.
For that reason, he's never been the most effective 'impact substitution'. Throw him into a match having not played any minutes for a few weeks and he often struggles to pick up the tempo of the game.
That's not ideal, and you could argue that he should be more able to contribute his best levels when called upon, but there have only really been a few periods of Oxlade-Chamberlain's Liverpool career where he's been a nailed-on starter.
Having missed the opening months of the season due to injury, Oxlade-Chamberlain has been handed three successive starts since the resumption of Liverpool's campaign.

With Luis Diaz, Diogo Jota and Roberto Firmino all unavailable, he has been asked to fill a role the left side of the attack. One that, as he has explained, is slightly different to the usual position Diaz, and in years gone by Sadio Mane, have been deployed in.
At a time when Klopp's side aren't performing anywhere near the levels they have done in recent years, Oxlade-Chamberlain hasn't done himself any harm with his performances, and got himself on the scoresheet with a good header at Brentford.
He certainly looks a better fit and more of a threat in that position than the likes of Fabio Carvalho and Curtis Jones have done this season.
And should his good form continue, when Liverpool's attacking cavalry return, there's no reason why he couldn't be utilised in a Liverpool midfield that has been devoid of any kind of power and physicality this season.
Is his 'injury prone' label really a fair one?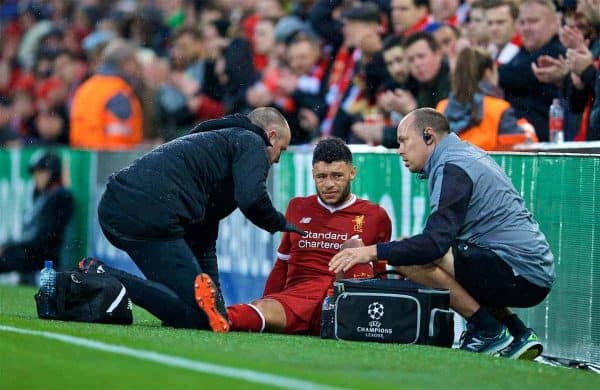 You have to wonder what could have been if it wasn't for that setback against Roma in 2018.
Having really started to fire towards the end of his first season at Liverpool, Oxlade-Chamberlain suffered an extremely serious knee injury.
He'd not only torn his anterior cruciate ligament, but also ruptured his lateral collateral ligament too. His medial ligament was damaged, while his lateral hamstring tendon had been torn off the bone.
It was nearly a year before he was back in action, and when he did return, it took a while for his body to adapt again. There were a host of minor fitness issues in 2019 and 2020, to be expected after such a serious injury.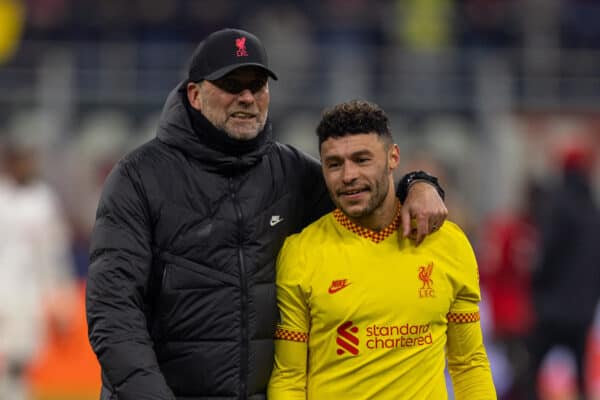 But since recovering from a separate knee problem towards the end of 2020, Oxlade-Chamberlain has spent the vast majority of the last two years away from the treatment room.
Yes, there was the hamstring problem that ruled him out of the first few months of this season, but Oxlade-Chamberlain was fit and available for pretty much the entirety of last season and the second half of the campaign before that.
Before that Roma nightmare, there were the two belters against Man City and a host of other impressive performances that had seen him nail down a spot in his favoured midfield position.
As Klopp's squad has developed over the years, and since his recovery from that injury, Oxlade-Chamberlain has never quite been able to cement his place in that midfield again, but he's certainly still played an important part in the club's recent success.
Contributions often forgotten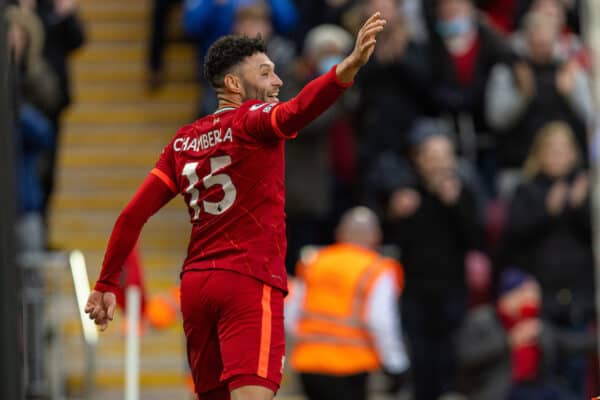 Remember all of those doubts about how Liverpool would cope in attack when Mohamed Salah and Sadio Mane left for the Africa Cup of Nations midway through last season?
It was Oxlade-Chamberlain who was largely responsible for ensuring Liverpool continued to tick over in January of last year.
Asked to fill in further forward, he scored in the victories over Brentford and Crystal Palace, and in truth, was unlucky to lose his place in the team when Salah, Mane and Naby Keita returned.
In Liverpool's Premier League-winning season he managed eight goals in all competitions, including that wonder strike at Genk and the goal to seal the league title at home to Chelsea.
Oxlade-Chamberlain has never hidden his preference to play in midfield, but has also proved a reliable option when Klopp has opted to use him further forward, including a spell where Klopp opted to use him in a false nine role similar to that of Roberto Firmino.
He was won all there is to win with Liverpool, and played his part in helping the club secure the vast majority of those trophies.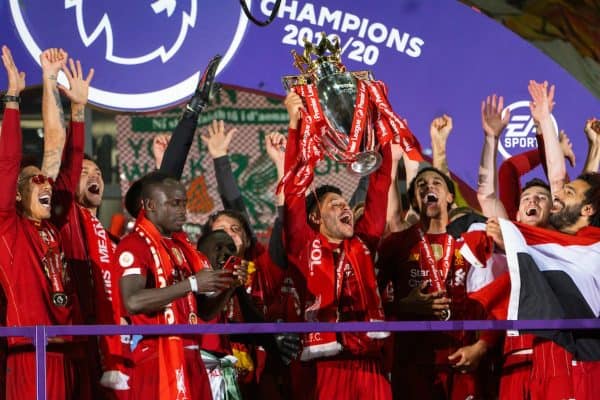 So, is Oxlade-Chamberlain as 'injury-prone' these days as some suggest? No.
Is he a player that is as ineffective in terms of goal involvements as some of Liverpool's other attacking midfield players? No.
As has always been the case during his time at Liverpool, given a run of games, Oxlade-Chamberlain is a good option in a number of positions, and if these are his final months at the club, he should be remembered fondly, albeit with a slight feeling of 'what if?'.
With no indication that Liverpool are in talks to renew his contract, and with a midfield revamp on the horizon, it would be no surprise if it's decided that Oxlade-Chamberlain would be best to take on a new challenge elsewhere next season.
Should that be the case, his next club will get a player who still has plenty to offer.