You may remember that a new hotel was anticipated to be built opposite the club shop at Anfield, but that is no longer the case. Now, the council is searching for a new development.
Anfield's expansion has long formed part of a wider regeneration project for the local community, with the club having worked closely with the council.
The Main Stand was the first phase of Anfield's expansion and the Anfield Road End Stand is the second, due to be completed this summer.
The stadium's expansion has coincided with new housing developments in the local area, making it almost unrecognisable from when the overall project first started in 2012.
But you may have noticed that a block of land next to Anfield, opposite the club shop on Walton Breck Road (Kop/Main Stand corner), remains largely untouched.

And Liverpool City Council have now appointed a team of experts to help market and sell what they are calling, 'Anfield Square'.
It is one hectare in size – "equivalent to two-and-a-half football pitches" – and has the "potential to provide a massive economic, environmental and social impact to the area."
The site was initially planned to house a 100-bedroom hotel, anticipated to be a Hilton Garden Inn (as seen below).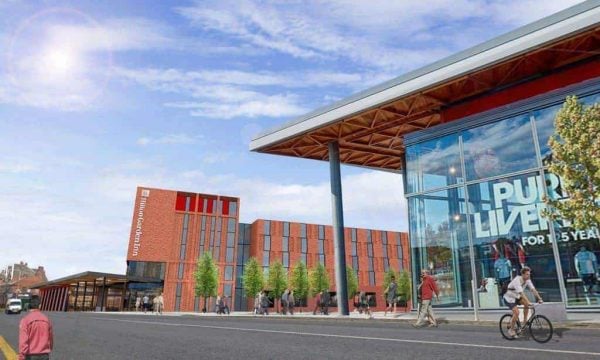 With those plans having never materialised, the council is now seeking a "new development that is rooted and focused on community inclusion. "
"This square presents a unique opportunity to create something special for the Anfield community – and most importantly a development that is shaped by those that live there," Liverpool City Council's Cabinet member for Development and Economy, Sarah Doyle, said.
"Liverpool FC's stadium is world-renowned and attracts visitors from all over the planet, and the club is continuing to invest in it, so there will be an extremely high benchmark for the quality of what happens to Anfield Square.
"The benchmark for community inclusion will also be very high to ensure this development provides a long-lasting positive economic, social and environmental impact for our residents in the area."