After their humiliating defeat to Brighton, plenty of questions are being asked of Jurgen Klopp and Liverpool, but the boss insists being "too loyal" should not be one of them.
The demise of a team that were two games away from a clean sweep of trophies last season has caught many off guard.
What's clear is that this is now a Liverpool team in need of a freshen up, with some critics suggesting Klopp has not been decisive enough in phasing out some of the players who are perhaps now past their best years at the club.
Speaking to reporters ahead of the Reds' FA Cup third round replay at Wolves, he dismissed that suggestion.
"Yeah, of course," he said when asked if it was a theory he was aware of.

"I know what you mean. I heard that before, and I'm not. I'm not too loyal. I'm loyal, I think everybody should be loyal, but not too loyal."
Klopp went on to suggest that Liverpool's finances and their overall transfer policy have perhaps held them back from refreshing the squad sooner.
He referred back to his time at Dortmund, when he decided he would be the one to leave, rather than overseeing mass changes to the playing squad.
Last year he made the decision to extend his stay at Liverpool, thus committing himself to helping the club rebuild the team in the coming years, and he insists those changes will occur in the future, citing this summer as the next opportunity.
"You can have a good player who did a lot of good stuff in the past and then in your mind you think 'maybe that's it now for him'," he added.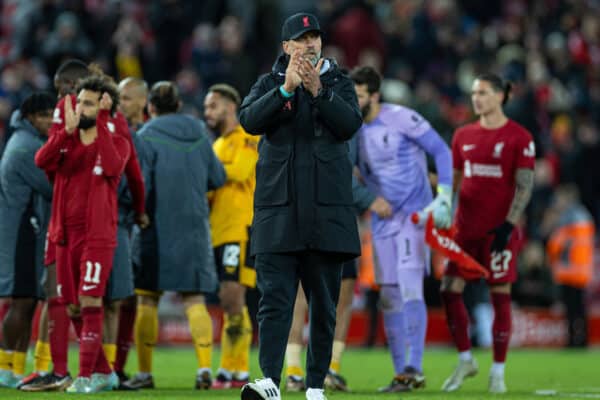 "If you can then go out and bring in another player to replace him, that makes sense for both sides. If you cannot bring anybody in, you can't take anybody out, that's the situation.
"At Dortmund it was clear when I left, I said 'something has to change here'. Either the manager position changes or a lot of other things change.
"As far as I'm concerned, I'm here, and if nobody tells me, I will not go. That means maybe there's a point where we have to change other stuff.
"We will see that, that's something for the future, like the summer or whatever, and not now.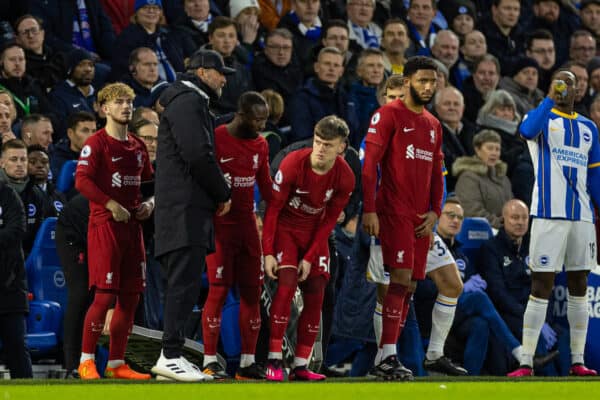 "For now we can't even think about it. I have space and time to think about it, but we have to play better football now. We can't play now and say 'these are the problems, next season we don't have them anymore'. That's really long."
While there seems to have been an acceptance that there was always going to be a transitional element to this season, Klopp also points out that Liverpool's crippling injury list has made things more difficult, but there should no doubts about his commitment to the cause.
The German is clearly very confident that his team will eventually find some consistency again, and took a lot of heart from the behaviour of the travelling Reds in the away end at the Amex on Saturday.
"You can think what you want about me, I don't care. The only thing I want is to fix this situation, that's all," he continued.

"It was clear that we will have some problems, and that there will be another very important period of change probably, but because of the injuries, it's much more than expected.
"That's a fact as well, but nobody is interested in that and that's fine. Other teams are flying and rightly so, they do extremely well. That's fine, we were in that position years ago, or maybe last year.
"The only thing we really have to offer is hard work.
"I'm not sure if 'touching' is the right word, but we obviously have a big community of Liverpool supporters in Brighton, and they were super.
"This game, where the crowd can turn against you, they didn't. That's the basis we have, and we have to work with that, and we will. We respect that a lot."