Jurgen Klopp knows Liverpool have to use "a lot of effort to put it right" after failing to win challenges the first time around, and it's left a clear message to send to the team, "again."
Liverpool's starting midfielders – Thiago, Jordan Henderson and Fabinho – combined for seven successful tackles in the 2-2 draw against Wolves.
Thiago accounted for six, Fabinho one and Henderson zero, a tally that transfer target Matheus Nunes had almost half of in just 27 minutes on the pitch.
But for Klopp, it's not just the midfield that are not winning challenges as while the team defence is "not concerning" in a general sense, he knows his side are too open in too many moments.
"In the whole game we didn't win enough challenges, to be honest," Klopp told reporters. "They win a challenge and all of a sudden we are completely open, how is that possible?
"We have two or three players in a challenge, moving toward the ball. When you are there, you have to win the ball, if you don't do that and they get out, it looks like 'eh, where are they?'.
"Whoever you play, you have to win challenges. It's something I already mentioned in the dressing room and I will mention it again."
It will certainly require attention in the coming week with Liverpool's next match seeing them make the trip to Brighton, a team full of confidence and ready to play "proper football."
"It's not concerning [defending] in general," Klopp said. "But in moments.
"We watch a game and then you see the things that happen and whatever you play, high line, deeper line, ball-orientated, man-orientated, you have to win challenges.
"There's no alternative…the next team we face is Brighton. Famous for playing proper football, if you don't defend properly there, why should we go there?
"I can understand, it looks open in moments but it's just open because we think we win the challenge but don't win it and then that's really tricky to deal with.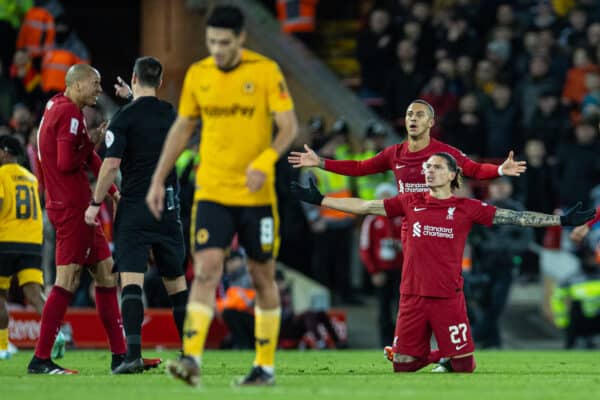 "What it causes us is a lot of effort to put it right in the end.
"If you are already there, so you could win it where you are, then you don't have to run back and try to solve the problems there."
And talking about a lot of effort to put it right, Liverpool have now conceded the first goal in 14 of their 27 matches this season (52 percent).