SOMETIMES you have to write. Sometimes you have to rant. This is somewhere between the two….
Twitter. Stay with me. People always say you should take Twitter with a pinch of salt. And those people are right. It can be reactionary and inflammatory. It can bring out the worst in people. Abuse can arrive quickly and en masse and often with no good reason.
There's a good side, too. It can bring people together. It's useful for sharing information and for having conversations with like-minded people. It can be entertaining, educational – in a way it can be whatever you want it to be.
Back in 2009 and 2010 Twitter, and social media generally, including the old-school forums and message boards, played a key part in uniting Liverpool supporters from around the world for a common cause – to oust Tom Hicks and George Gillett as owners of the club.
After plunging the club into a dangerous level of debt via a leveraged buyout, reneging on a promise to build a new stadium ("a spade in the ground within 60 days"), alienating Rafa Benitez, taking the club to the brink of administration and overseeing the worst start to a season in a lifetime, fans joined forces like never before.
"We believe that as custodians of this wonderful, storied club we have a duty of care to the tradition and legacies of Liverpool," Hicks had told the media on his arrival.
His actions couldn't have been further removed from his words that day.
It was this climate that led to Liverpool supporters becoming one of, if not the, most active fanbase online at that time.
The Liverpool "Internet Terrorists" that helped save the club

"Internet terrorists" joined hands to bombard banks, potential financiers and journalists with thousands of emails about the poisonous pair.
Protests were organised, Spirit of Shankly was formed and supported by join-ups from around the world. The world's first supporters' union cranked up the pressure as Hicks and Gillett desperately tried to cling on to the club.
Local and international support was one in this moment. Match goers stomped the streets of Anfield, protested at the match and made it clear to the owners they had to go.
Hicks, meanwhile, was spotted by a Reds fan on the streets of New York desperately seeking finance to allow him to keep his claws in Liverpool FC.
Pictures were shared on Twitter, emails were composed, and he was barely through the doors of banks before those organisations were flooded with messages detailing why they shouldn't do business with Hicks in relation to Liverpool FC.
They were de facto "bad owners". No debate. The pubs, the stands, the timelines, the inboxes — real life and internet life danced to the same beat.
Twitter right now is a very different place for a Liverpool fan. And a very strange one for this middle-aged match-goer.
An actual 'fit-and-proper-persons test'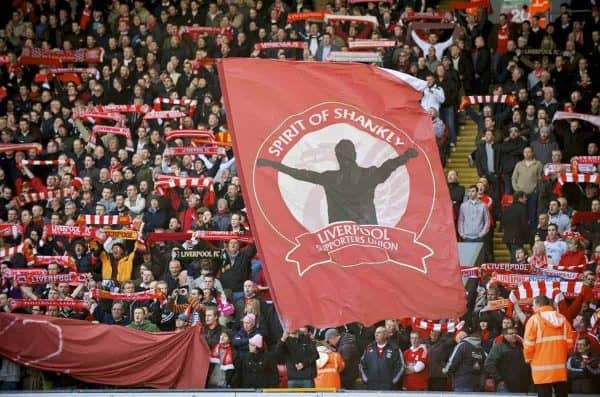 In the last couple of days a minority of Liverpool supporters have targeted Spirit of Shankly, somehow angered and offended by a joint statement with Manchester United Supporters' Trust (MUST).
The jist of the statement was a hurry-up to the government regarding plans for a reform of football governance. This, for those who have missed it, has been a long-term conversation, with activists calling for legal protocols that would protect clubs from falling into the wrong hands and limiting what owners can do once in control.
The game has been crying out for a fit-and-proper-persons test worthy of the name for a long, long time. And the efforts to make true supporters central to the running of clubs are also to be applauded. Where is the beef here?
Not only do we have our own story briefly detailed above, there is the example of The Glazers at Manchester United, and there are many many more, including the most depressing of all of clubs going to the wall.
Do we want owners who wouldn't think twice about changing the colour of the home shirt? Creating a new badge? Renaming The Kop? Putting the ground up for sale? How about carting off the Shankly statue without good reason? How about even trying to rename the club?
What about owners that wouldn't care a jot about raising ticket prices, or owners who would call time on community work or owners that wouldn't think twice about playing financial roulette with the club or becoming directly involved with what happens on the pitch, hiring and firing at will?
Ridiculous, you may say. And yet versions of the above events have played out for real at football clubs in this country and beyond for the simple reason that the wrong people have been allowed to take control.
So tell me again why fighting for checks and balances to prevent that is a bad thing?
'Supporters' or brattish entitlement?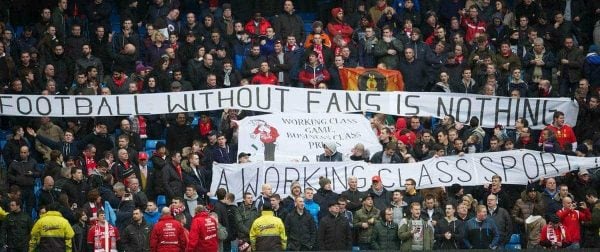 I wrote something recently using the phrase "brattish entitlement", and it's hard to not conclude that some of what is unfolding online under the banner 'Liverpool supporters' is anything else.
A half season of under performance has left many heads rolling off shoulders and now we have a daily dose of fan v fan fire online as a consequence of it.
Whoever owns Liverpool, there will be seasons when it doesn't go to plan. This seems to pass some by. Even Manchester City haven't had it all their own way.
It's been a while since I had someone threatening to come and find me at the next home game but here we are again.
That particular slice of madness was served because, according to Angry of Kirkby, I "don't use my platform to call out FSG".
A common theme. I for one am confused as to what needs calling out right now. The good, the bad and the ugly of FSG is surely fairly plain to anyone who cares to consider it.
The good — the trophies, the manager, the improvements to Anfield, the new training ground. Liverpool have competed regularly at the top level again.
The bad — £77 tickets proposal, furlough, attempts to copyright Liverpool, and, yes, a conservative approach to transfers. As Jurgen Klopp himself said, "from time to time you have to take some risks". There haven't been enough of them in the transfer market.
The ugly — The European Super League plan. Say no more.
Not an exhaustive list by any means. And I'd throw in somewhere that this whole situation of uncertainty has been poorly managed too.
All of this, when I was part of The Anfield Wrap, was "called out".
But the point is this. The club is for sale. FSG want out. And so now we have to wait and see where the serious offers come from. When they arrive, we'll know about it. They will do their due diligence and so will we. Again, we've been there before too: Steve Morgan, Thai prime ministers, Kraft, Dubai, The Chinese Government, Peter Lim and more.
In the meantime, where's the fire? And why does putting it out involve daily pile ons?
A cabal of fans seem to have formed that spend their days "calling out FSG" to their own set of standards. This questionable hashtag-fuelled pastime — for some —- includes inventing conspiracy theories about fan media, wilfully misinterpreting comment, trolling supporters who don't do as they do and attempting to divide rather than bring people together.
Some are even angered that others won't do their protesting for them or write the article they dictate.
It's a million miles away from those Hicks and Gillett days, on a number of levels. That was dark in terms of ownership and light in terms of fan power.
This?
This week I've both heard and read people saying there are more global fans than local supporters and therefore they matter more. I have seen baseless accusations of racism. And I've even seen the ridiculous notion that if you are seeking legislative reform you shouldn't actually deal with the Government "because they are Tories".
Is this an alternative reality?
Liverpool Football Club is in Liverpool

Liverpool Football Club, as the name suggests, is in Liverpool. It was founded here. It plays here. And while its influence stretches far and wide — a fact we celebrate — it exists in the community of Liverpool 4 and is of the city.
It's not moored in the Mersey ready to set sail elsewhere. It's rooted where it's always been since 1892.
In my book, if you support Liverpool you should respect the city and its people too. The majority do.
The club though has been a negative and positive influence on the area in the past. Its actions helped to drive down house prices and it contributed to a plunge in the quality of life for many residents.
Not so long ago, we were often looking with envious eyes across the park as Everton seemed to have a better grip on keeping ties with the community and doing work to benefit it.
That situation has improved markedly. Some bridges have been built, community work has had an upturn and the club has played its part in initiatives like the foodbanks. There is more work to be done.
Nothing to do with FSG? I've heard this suggested. Some of the extremists on the topic will offer no credit. It's black or white. No grey. Twitter can help to fuel that unfortunately.
My view is it's on their watch. As far as I know FSG appointed Billy Hogan, the chief executive. It's definitely on his watch.
The same can be said about efforts — admittedly often flawed — to engage with fans and make supporters part of the decision-making process. It has an air of Mission Impossible about it. But again, it's improved and it's a world away from writing dossiers about supporters that care and comparing them to murderous regimes (Google it… "the sporting version of the Khmer Rouge".)
Will the next owner even care about any of the above? Sadly it seems a lot of supporters don't. So be it. But that's sad to the eyes of this Red.
Some fans may not give a flying fuck about anything other than transfers and money to spend. They want to win at all costs, or maybe just 'win' transfer windows.
Ethics, morals, just a downright fear of who could be coming next given what's gone before — forget all that seems to be the mantra from too many.
It's not a view I can subscribe to. It's not a view many Liverpool fans can subscribe to. And if that's a precursor to more mean tweets….it is what it is.
It could be a long, hard few months.
Rant over. Up The Reds.