Jurgen Klopp conceded his side didn't deserve more in their 2-2 draw against Wolves in the FA Cup, noting how Liverpool were "all of a sudden completely open" after too many missed challenges.
Here are three key points from the manager as he spoke to the press after the draw:
'They win a challenge, we're completely open'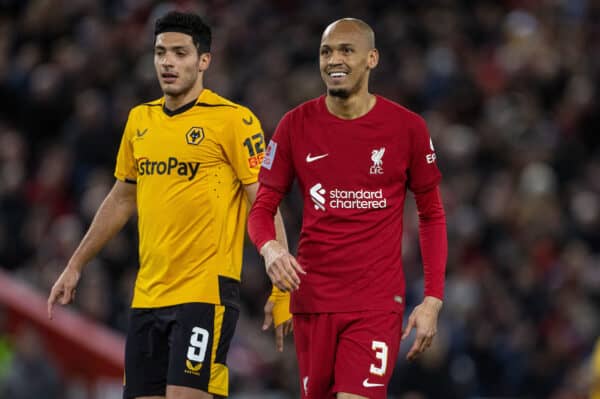 Liverpool are as easy to slice into as a knife through butter, their fear factor now a thing of the past as the Reds struggle to assert themselves.
And it was not lost on Klopp.
"In the whole game we didn't win enough challenges, to be honest," he said. "They win a challenge and all of a sudden we are completely open, I don't know how that happens.
"Whoever you play, you have to win challenges. It's something I mentioned in the dressing room and I will mention again."
The three starting midfielders won seven tackles between them, Thiago accounted for six, Fabinho one and Jordan Henderson zero.
Is the defending concerning?

It's not quite got to that stage for the manager, who acknowledges that his side look "open in moments" but the inability to win challenges is forcing a "lot of effort to put it right."
"It's not concerning [defending] in general," Klopp said.
"We watch a game and then you see the things that happen and whatever you play, high line, deeper line, ball-orientated, man-orientated – you have to win challenges.
"There's no alternative…the next team we face is Brighton. Famous for playing proper football, if you don't defend properly, why should we go there?
"I can understand, it looks open in moments but it's open because we think we win the challenge but don't win it and then that's really tricky to deal with.
"What it causes us is a lot of effort to put it right."
Always fighting an uphill battle.
Didn't deserve more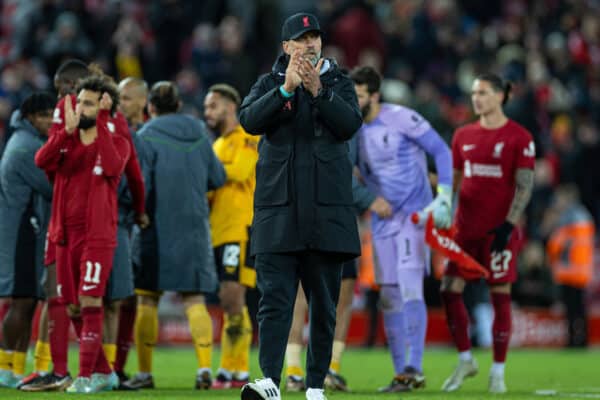 The match ended 2-2 but the general consensus was Liverpool didn't deserve more, Klopp agrees, and he knows Wolves will currently be happier about the replay.
"We didn't deserve more than a draw, and whatever the consequences are, in this case, it's an extra game, so that's fine," he said.
"I don't think we should have them [replays] but I knew we still have them so now it's clear we have to go to Wolves.
"They're probably more happy than we are in this moment but we will be happy enough to give it a go."