Just six months after he arrived in the Premier League from Sporting CP, reports are suggesting that Liverpool have lined up a deal to sign Wolves midfielder Matheus Nunes, but why is he a player that might interest the Reds?
Earlier this week, Sam Wallace and John Percy of the Telegraph claimed Liverpool were "returning" to a deal to sign Nunes, following their supposed interest last summer.
It's claimed that the Reds "made a commitment to bid for him subsequently," with a deal that would see him join Liverpool "very much still alive."
In a separate report, Wallace went as far as to say that, "as things stand" a £44 million deal "will be agreed" ahead of the summer transfer window.
With Liverpool expected to undergo something of a midfield revamp later this year, we take a closer look at why the club look to have identified Nunes as a top target.
For more insight on the Wolves midfielder, This Is Anfield spoke to Portuguese football journalist Aaron Barton (@AaronBartonUK), founder of Proxima Jornada (@ProximaJornada1).
Tell us about Nunes and his rise in Portugal before he joined Wolves…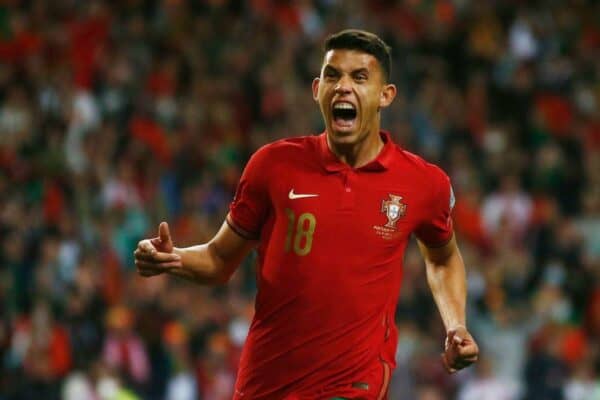 Matheus was born in Rio de Janeiro but moved to Portugal when he was around 12 years old. He had a short spell at Estoril but rose to prominence playing for Sporting under Ruben Amorim.
After playing for Sporting's under-23s and showing immense promise, he was given a chance in the first team where he continued to excel.
He became an established member of the starting XI in the 2021/22 season, forging a superb partnership in midfield with Joao Palhinha (now of Fulham). He played 31 out of 34 Primeira Liga games.
It was also in this season that he switched his allegiance from Brazil to Portugal and was handed his Selecao debut by Fernando Santos.
Given the links to a number of top clubs last summer, were you surprised to see him join Wolves?

Yes and also no. It looked as though he was going to join Liverpool but somehow it never materialised.
West Ham also made an official bid for Nunes which he himself turned down, which prompted David Moyes to come out and claim "the player didn't want to come".
So when Wolves came along, given their history in the Portuguese market, it wasn't really a surprise – especially given it was the type of signing Wolves desperately needed to make with Joao Moutinho getting older.
How would you assess his first few months in England?

I think he's done relatively well considering the circumstances.
It's never easy for a player when you're signed and then the manager who signed you is then sacked, and when the team isn't performing to anywhere near the level they are capable of.
He's put in some good performances even when Wolves haven't won. For example, in the recent game against Man United, Nunes was continuously trying to drag his team up the pitch and into dangerous positions.
I think Wolves have more than enough to turn their poor form around under Lopetegui and Nunes will be a key part of it if they do.
What sort of midfielder is he? A good fit in a Klopp midfield?

One of Nunes' key strengths is how well-rounded he is. He is a player who can make an impact in both halves of the pitch.
He loves to get on the ball and drive with it, he's one of those players that always seems to be buzzing around looking for touches and involvement.
A player that wants to make things happen, then?
Absolutely. In his last full season at Sporting he took more touches than any other midfielder at the club. He is a proficient dribbler too, often looking to embark on runs up the pitch with the ball and into dangerous areas.
Nunes also has a great passing range which he uses to dictate the game. A good trait of his is that he often picks the right pass at the right time.
If going short and working patiently up the pitch isn't working, he isn't afraid to play long. He'll use his great long passing to switch the play out to flanks or to play in behind.
---
• Thanks again to Aaron Barton for his insight on Nunes. Follow Aaron on Twitter @AaronBartonUK.