Darwin Nunez scored Liverpool's fastest-ever Champions League goal during the 5-2 defeat to Real Madrid – it was that good it deserved to be a winner.
With only three minutes and 10 seconds on the clock, Nunez opened the scoring in a remarkable and ultimately frustrating Champions League last-16 clash at Anfield.
It set the tone for a blistering start from Liverpool, only to collapse in dramatic fashion as Real fought back from 2-0 down to win 5-2.
The manner of the result means the goals from Nunez and Mohamed Salah – who overtook Steven Gerrard as the club's leading goalscorer in Europe – are consigned as footnotes.
But the quality of Nunez's strike should not be forgotten regardless of a miserable conclusion.
Here are 10 great Liverpool goals that deserved to be winners.
Darwin Nunez vs. Real Madrid (2022/23)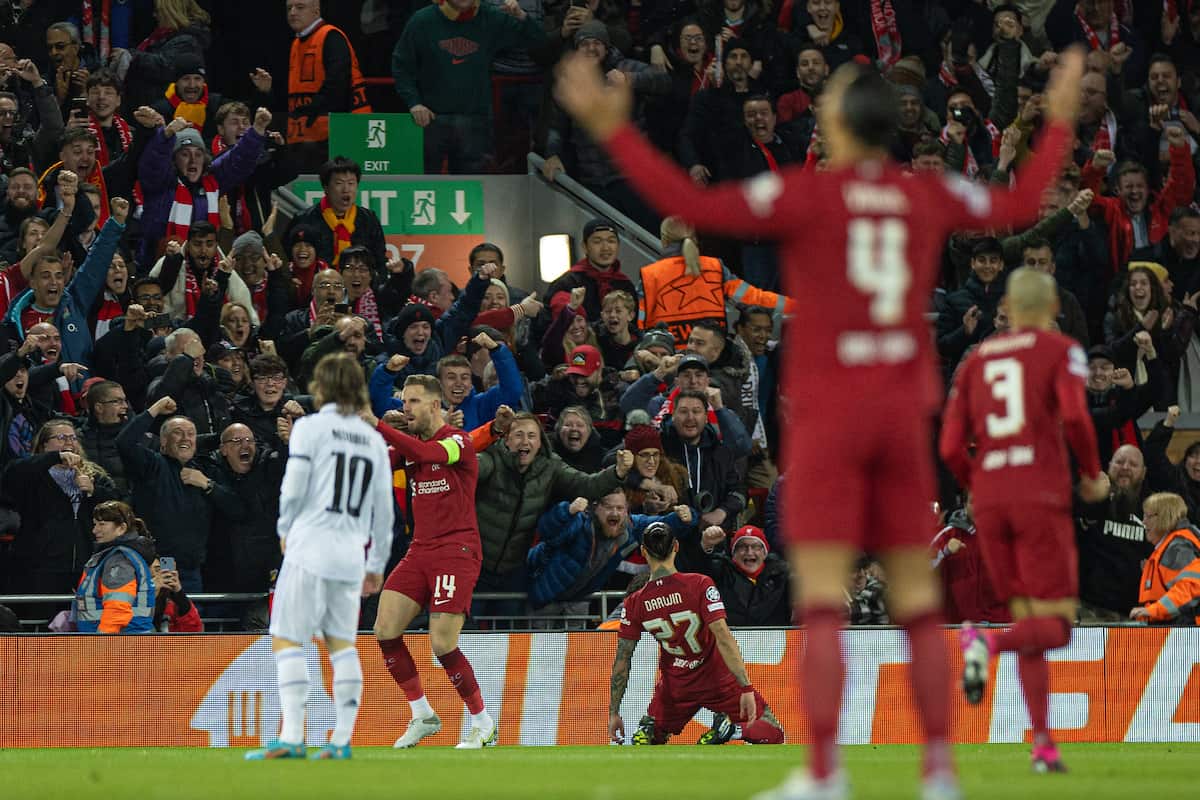 It was a goal of pure, ballsy style; one that sums up Nunez's unique quality.
Capping a bright move that saw Salah arrow in a ball to meet the striker's run, Nunez could have opted for a simple finish and the hope it would beat Thibaut Courtois at the near post.
Instead, he went for flair, backheeling it beyond the Belgian goalkeeper to leave him flat-footed and falling the wrong way.
Nunez wheeled away in front of the Anfield Road End having added to his growing repertoire of stunning goals in a strong first campaign on Merseyside.
The way Liverpool let their two-goal lead slip undermined a corker from their No. 27.
Daniel Sturridge vs. Sevilla (Europa League final, 2016)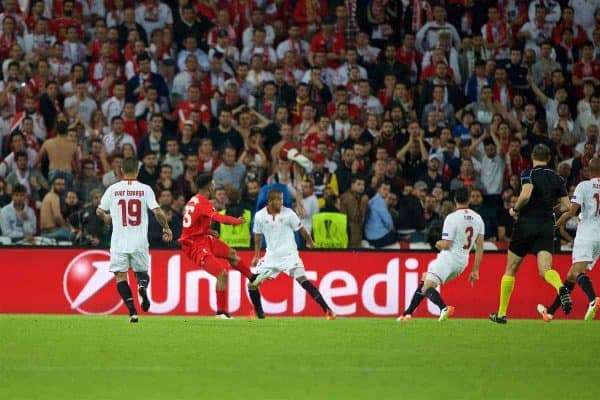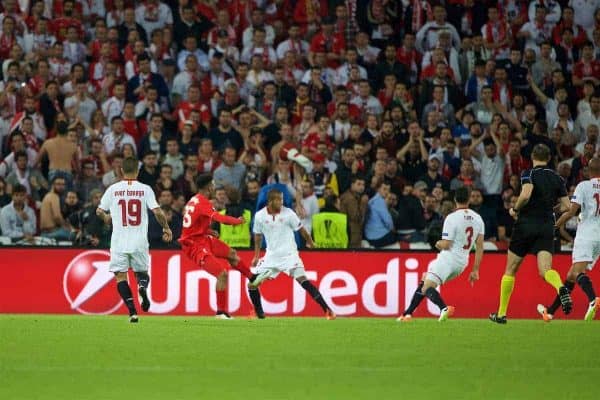 It is criminal that Daniel Sturridge's opener in the 2016 Europa League final has almost been consigned to history.
The technique and arrogance that he showed in bending the ball with the outside of his foot was something to behold, and it looked to have set Liverpool on their way to glory.
The Reds then fell to pieces against Sevilla after the break, however, losing 3-1 and ending Jurgen Klopp's first season on Merseyside miserably.
Sturridge has never been universally loved, which seems odd – had his Sevilla moment of genius been a winner, his Anfield legacy would be very different.
Christian Benteke vs. Man United (2015/16)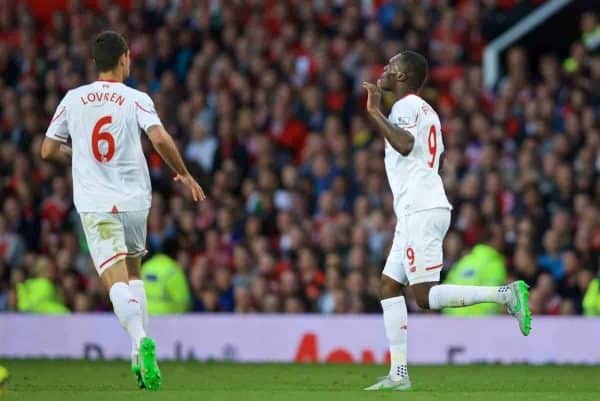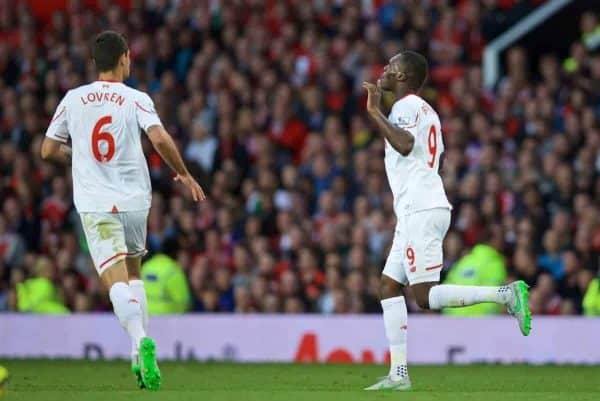 Christian Benteke was a flop at Liverpool, but his acrobatic effort against Man United was his standout moment for the club.
That and missing in front of the Kop against Leicester City, when Kasper Schmeichel was at the other end of the pitch!
Unfortunately for the Belgian, the Reds were putrid that day at Old Trafford, and his wonderful bicycle kick meant little in an eventual 3-1 loss.
It gave them very brief hope only for Anthony Martial to score on his debut, causing Martin Tyler to explode in the commentary box.
Steven Gerrard vs. Man City (2012/13)

Gerrard's career wasn't exactly short of unforgettable goals, but this beauty against reigning champions Man City would have been special.
The legendary former captain was approaching his 33rd birthday by this point, with questions being asked over his worth to the team, but he thundered home from 30 yards to put Liverpool 2-1 up at the Etihad.
It was one of those moments when the away end explodes, and both the on- and off-pitch celebrations made it feel like a winner.
Sergio Aguero then scored from a freakish angle to earn a 2-2 draw, depriving Gerrard of a great moment.
Sebastian Coates vs. QPR (2011/12)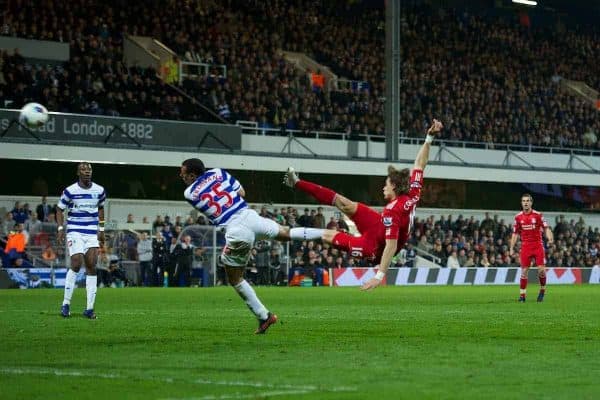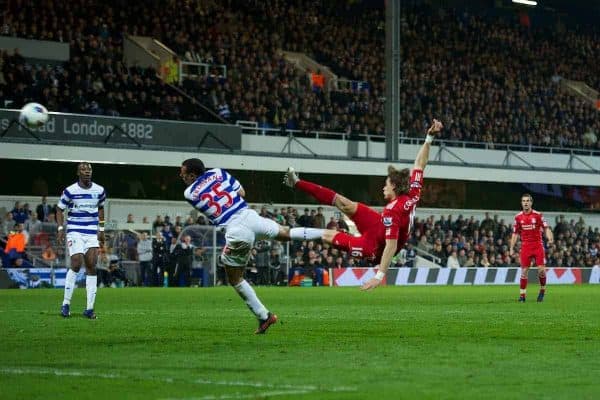 One of the greatest ever Liverpool goals in a losing cause, Sebastian Coates' unreal scissor-kick against QPR in 2011/12 has to make the cut.
The Uruguayan was a major disappointment at Anfield, having arrived with such a promising reputation, but when he opened the scoring with this stunner, you wondered if it would be the making of him.
It wasn't, we must hasten to add, and despite Dirk Kuyt adding another, the Reds blew their two-goal lead to lose 3-2 late on at Loftus Road.
Ryan Babel vs. Lyon (2009/10)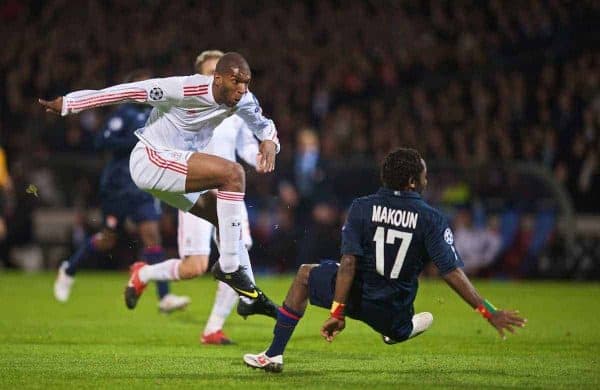 This is definitely a forgotten gem of a goal.
Liverpool's 2009/10 Champions League campaign was a disaster, but Ryan Babel came so close to being the hero for his team.
The Dutchman always had a hell of a shot on him, and when his 83rd-minute scorcher flew in away to Lyon, progression to the last 16 looked on.
Sadly, Lisandro Lopez made it 1-1 in stoppage time, and after losing the last group game at home to Fiorentina the Reds crashed out.
Hitting the ball incredibly hard was one of Babel's best attributes in an ultimately frustrating Liverpool career.
Fabio Aurelio vs. Chelsea (2008/09)

Fabio Aurelio became something of a cult hero at Anfield, and the 4-4 draw with Chelsea in the 2008/09 Champions League quarter-finals saw him score one of his most famous goals.
It is hard to watch that game back because of the depressing way it ended, with Liverpool eventually eliminated, but Aurelio's opener was out of this world.
Trailing 3-1 from the first leg at Anfield, the Brazilian's outrageous free-kick from close to the touchline was inch-perfect and it gave Rafa Benitez's side hope.
They battled very bravely, but to no avail.
John Arne Riise vs. Chelsea (League Cup final, 2005)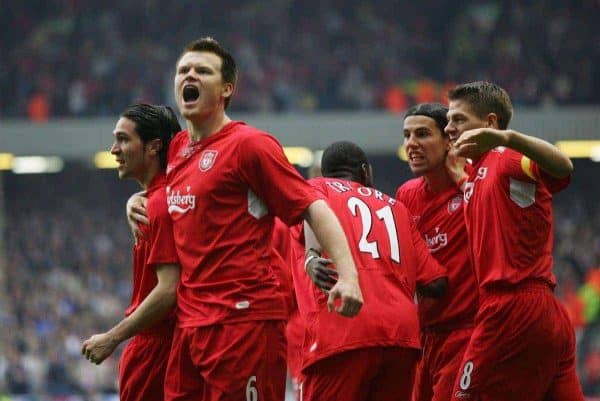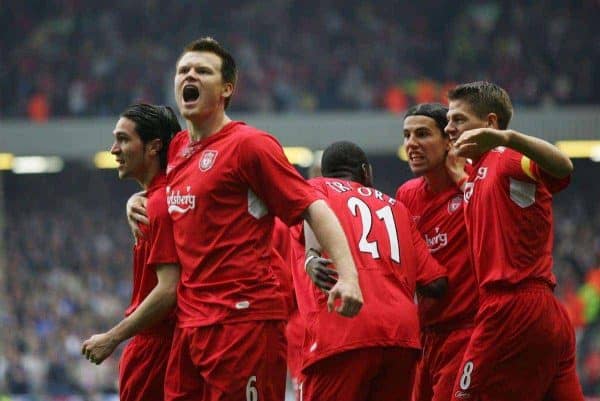 Unlike the popular Aurelio, John Arne Riise has a bizarre number of critics, despite forging a highly impressive seven-year career at Liverpool.
Famed for his blistering left foot, the Norwegian scored one of the Reds' great final goals, but many forget it even exists.
Riise's perfectly hit volley in the 2005 League Cup final against Chelsea put the Reds in front after just 45 seconds, and for so long it looked set to be the winner.
Gerrard's unfortunate own goal took the game to extra-time, though, and Chelsea prevailed.
John Barnes vs. Everton (1990/91)

Liverpool's 4-4 draw with Everton in 1991 is widely seen as one of the greatest FA Cup games ever, and John Barnes' spectacular effort should have clinched victory.
The Reds led on four occasions at Goodison Park, and when Barnes curled home in extra-time a place in the quarters looked done and dusted.
Instead of the winger celebrating one of the greatest-ever derby winners, however, Tony Cottee took the game to another replay with seven minutes remaining.
Everton progressed that time around, and Barnes' goal has never been able to feel as special since.
Jimmy Case vs. Man United (FA Cup final, 1977)
We finish with an oldie.
Back in the 1970s, FA Cup final day was everything, with millions tuning in and careers made and ruined in that 90 minutes.
Jimmy Case is still seen as a Liverpool great, but it is a crying shame that his fantastic solo strike against Man United in 1977 didn't add to his legend further.
It has to go down as one of the best cup final goals in defeat.
---
* A version of this article was first published on February 6, 2018.