With Chelsea finishing the January transfer window having spent more than £280 million on eight players, questions are being asked of Financial Fair Play rules, and Jurgen Klopp says he doesn't have the answer.
The Blues rounded off their winter spending spree with the signing of Enzo Fernandez, a player who was linked to Liverpool in some quarters, for a British record transfer fee.
By tying their new players down to long-term contracts, Chelsea are believed to have exposed a loophole in FFP rules that will allow them to spread the cost of these players over a number of years.
In his pre-Wolves media duties on Friday, Klopp joked that he could not talk about Chelsea's spending "without a lawyer," and when further pressed for his thoughts on whether FFP was a failure, Klopp delivered a frustrated answer.
"I can't answer without a lawyer because I don't understand the question," Klopp said when asked if he felt FFP regulations were working.

"How can you ask a football manager about that?
"If my expertise would be financial issues all over the world, I would maybe be the person, but I really think that's much more your job.
"If you're not happy with it, figure it out, take your time, ask the right people, put your answers together and then make something of it. How can I answer that question?
"I cannot judge that, I can't say anything about it, because I don't know how the rules exactly are, to be 100 percent honest, and how you can go left and right of the rules.
"But maybe they found a way that is completely legal, and then 'congratulations'.
"And maybe other teams would have found it as well, but then you need the money on top of that, and they had both.
"Congratulations. Now they have a great squad and now they have to use that."
After Liverpool's FA Cup defeat to Brighton last Sunday, Klopp said he did not like "the body language" of some of his players, something he has very rarely brought into question in the past.
The German elaborated on what he meant by that comment to reporters on Friday, but insisted it is not a general problem.
"I didn't like the recovery runs from two or three players around a free-kick, there were a lot of things I didn't like," he continued.

"It's not that I have to like everything we're doing all time, and tell you I like it, because that's not true. There's plenty of things I don't like and that we have to improve, and of course we spoke about that.
"But it's not that I judge it every day. The body language in training is no problem. Our training is hopefully still useful and helpful. I would have loved to have these sessions as a player.
Despite last Sunday's defeat on the south coast, Klopp took some encouragement from the performance of his players compared to the one they produced when they were beaten 3-0 by the same opposition a fortnight earlier.
And the Liverpool boss suggested his "body language" comment after the game was related to actions of some of his players in the build-up that led to Brighton's winner.
"Until we conceded the goal, I was fine with the game, because it was a step in the right direction," he added.
"Two weeks ago it looked like we were at completely different levels, they played however they wanted and we had no clue what to do, this game looked completely different, so I was fine with that.

"Then you concede the goal. Even when we've lost more games than I wanted, I didn't turn into a fantastic loser.
"You have these emotions, and before I can deal with everything I'm already outside and talking to all of you [the media]. That's not helpful as well.
"That's why not everything I say directly after the game is the real truth, it's just maybe something you picked up in the last seconds.
"There was one situation before we conceded the free-kick where three players couldn't make it to support the defence, and that was something I will never like in my life, and I didn't like it on that day.
"That was really inside [me] as well, and that's why I spoke about a couple of things, but body language is not a general problem, but in a few moments I didn't like it, that's true.
Reporters also quizzed Klopp on the form of Mohamed Salah, who signed a new long-term contract last summer.

But despite the fact Salah has only scored one goal in his last seven matches, the Liverpool boss is not concerned by the Egyptian's recent performances.
"There are people out there who think 'why did they give Klopp a contract?' That's how it is in our world, it's completely fine.
"We don't deliver at the moment, there's criticism, no problem. You can question character, knowledge, ability, you have the right to do everything, but you cannot score the amount of goals Mo scored if you're not an outstanding, world class football player.
"We had to change too much to just let it flow. And there were moments when Mo would have scored last year. In the Brighton game, 100 percent goal usually, and now not.
"You think that has something to do with a new contract? It's just not right.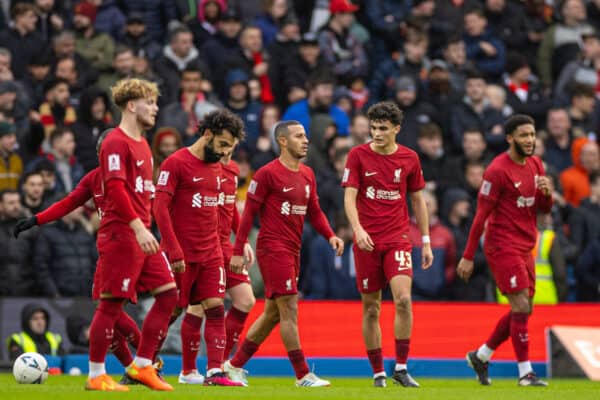 "We can only stop all these questions and discussions by performing to our top, top level, and that's what we have to do, and that's what we'll work on.
"That will not happen overnight, but we made steps. It's not that everything we said four weeks ago was completely useless.
"We're really on it, we're positive, we want to play the games, and we believe in our chances of reaching something special, even this year.
"Of course it's not great to not be the leader of the pack in the moment, but we're in a position where we can improve our situation in the table a lot, and that's what we can do. We have to start tomorrow and keep going from there.
"We get a new chance [in the league] against pretty much everybody, and that's what I'm really looking forward to."