It was yet another drab contest for Liverpool as they played out a 0-0 draw at Crystal Palace, a result that failed to capitalise on the results of others.
There was little if anything to shout about for the Reds at Selhurst Park – the final whistle an exception, perhaps?
The posts saw action between the two teams but there was little in the way of quality on show from either, with the Saturday night fixture as much of a nightmare as the kickoff time.
Here, we take a look at the three positives and three negatives from the draw.
POSITIVE – 3rd successive league clean sheet

With this team having a tendency to concede first and more than once, you have to at least acknowledge the positive of three clean sheets in a row in the Premier League.
It's the first time this season Liverpool have managed the feat in 2022/23, with this only the eighth time they've denied the opposition in the competition.
Crystal Palace didn't manage a shot on target, although Liverpool did attempt at times to give them an easy route to goal, and Klopp called it a "good sign."
"Apart from when they hit the crossbar, they had no shot on target, which is a good sign as well," Klopp said after the match. "Tough game, got a point, clean sheet – let's carry on."
There's plenty to improve as a defensive unit but after being torn apart in midweek, the solidity is at least something to carry into the next match.
NEGATIVE – Hendo, get out of the way!

Jordan Henderson's first-half block would have been perfect had it not been for his own team's free-kick that look destined to hit the target, if not certainly find the net.
If you had your head in your hands, you were not alone, it was the immediate reaction of the likes of Trent Alexander-Arnold, Andy Robertson and James Milner.
Dropped 2 points because of this

— ?????? (@KIopptinho) February 26, 2023
It was a moment that summed up Liverpool's evening, full of errors, ponderous play and occupying positions they shouldn't have been.
Milner and Henderson in the same midfield should have been consigned to history long ago, and yet they started together here in another nod to the overhaul required in the summer.
POSITIVE – Jota makes XI return

For the first time in 120 days, Diogo Jota was named in a starting lineup and played 71 minutes of the fixture.
It was not his finest outing, far from it, but it's one step closer to a return to form and having a greater influence on the team than just a rotating body through the forward line.
He's yet to score this season, now up to 12 appearances. Liverpool desperately need as many avenues to goal as possible, the No. 20 is more than capable and you just hope that when the first goes in, more quickly follow.
"Based on that, I would say [his performance was] really, really good. We tried now to build it up slightly but it was a long time," Klopp said of Jota's performance.
"So far, it's a really difficult season for him. Absolutely OK, he can play better of course, but that's how it is, that's what we have to go through and that's what we do."
NEGATIVE – Collective malaise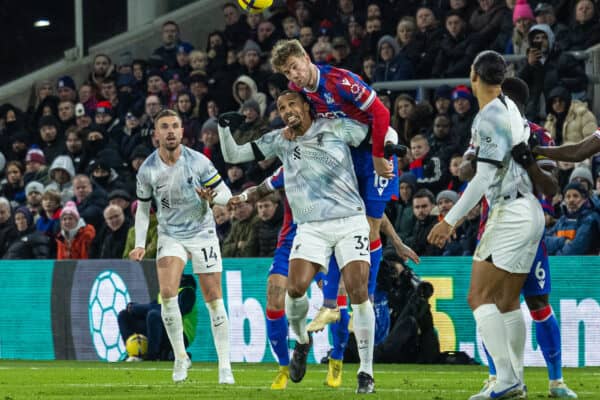 This was far from a vintage performance by any Red, Alisson perhaps the only exception.
Naby Keita had to be withdrawn at half-time after making only three more forward passes (seven) than fouls committed (four), while Trent Alexander-Arnold and Joel Matip were hard to watch.
Jordan Henderson often went walkabout, Fabinho did his best to get sent off and Liverpool as a whole offered no response to their humbling defeat to Real Madrid.
Bereft of confidence, conviction and intensity, this was a Liverpool side without a clear plan and Klopp's assessment that it was a "good point" shows just how much we've fallen.
POSITIVE – Unbeaten in 3 league games

For the first time in 2023, we've gone three league games without defeat – a run that has occurred just two other times this campaign.
In the season Liverpool are having, this is the type of positive we have to hang on to as it's slim pickings beyond that.
The result, incredibly, still keeps the door for the top four ajar and whether you're confident the Reds can actually make a successful charge, it at least gives us something to target.
Liverpool are currently seventh but have games in hand over five teams above them in the table and with others also floundering, at least the Reds remain in the discussion.
NEGATIVE – Nunez's absence

For the fourth time this season, Liverpool were without Darwin Nunez due to injury thanks to the continued effects of his shoulder injury sustained at Newcastle.
For the third time in those four games, the Reds have not scored – the only exception came in the 1-0 win at Wolves in the FA Cup.
The Uruguayan and the chaos and pace he injects into the side is sorely missed when not in the side, even though he can miss chances with regularity, Liverpool often look devoid of a spark.
Liverpool in the Premier League this season when Darwin Núñez starts:

Shots/game – 17.7
xG/game – 1.93
Win % – 54%
Pts/game – 1.77

Núñez doesn't start:

Shots/game – 14.6
xG/game – 1.60
Win % – 30%
Pts/game – 1.30#LFC

— Michael Reid (@michael_reid11) February 25, 2023
As I've said before Darwin Nunez is the most entertaining part of this team. I'm not saying he's our best player or even our best performing player (that's Alisson) but he makes Liverpool games entertaining and he always gives his all.

— Red (@TaintlessRed) February 25, 2023
We can only hope the pain in Nunez's shoulder subsides before we meet Wolves, again, with the 23-year-old's importance to the side having only grown in recent weeks and months.
We all need a little bit of chaos in our lives and Nunez is the man to deliver it.