After a new date was announced for Liverpool's postponed Premier League meeting with Wolves, we now have a clearer idea of when their other game in hand against Chelsea could be played.
On Tuesday, it was confirmed that the Reds' latest meeting with Wolves has now finally been pencilled in for Wednesday, March 1 at 8pm (GMT), having initially been postponed in September.
Liverpool's away trip to Chelsea was also called off several days later due to concerns over policing resources in London around the Queen's funeral.
And the rearrangement of the Wolves fixture means Liverpool's trip to Stamford Bridge now cannot be played until March 18 at the very earliest.

Finding a slot for the match is further complicated by the fact both teams are set to play their Champions League last 16 fixtures in the coming weeks.
Neither team are still in the FA Cup, but Liverpool and Chelsea have league fixtures against Fulham and Southampton, respectively, pencilled in for Saturday, March 18, when the quarter-final ties are due to take place.
However, should Fulham and Southampton both reach the FA Cup quarter-finals, there would be an opportunity for Liverpool's league game with Chelsea to be played that weekend.
If that's not possible, there will be no room for the match to be played any time before the international break at the end of March.
Possible slots for Chelsea away fixture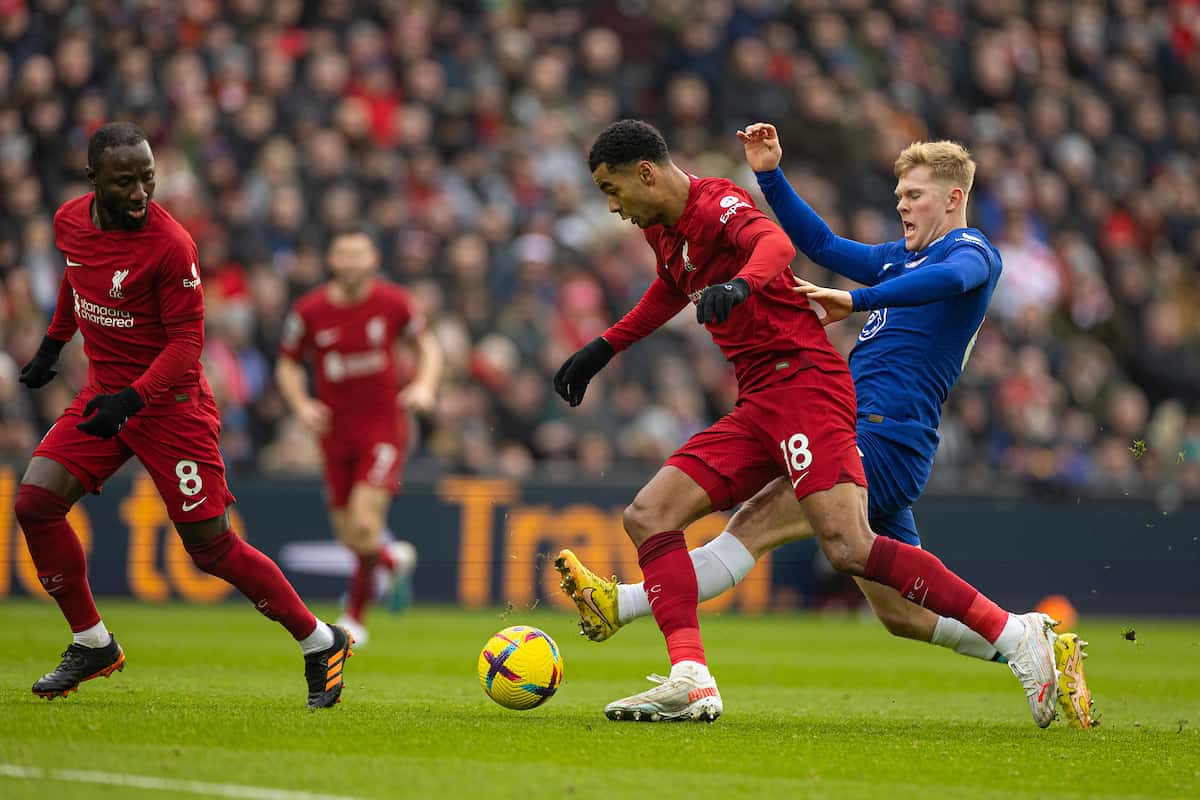 Weekend of Saturday, March 18*
W/C Monday, April 3
W/C Monday, April 10**
W/C Monday, April 17**
W/C Monday, May 1
W/C Monday, May 8**
W/C Monday, May 15**
W/C Monday, May 22
* Only possible if Fulham & Southampton reach the FA Cup quarter-finals
** Would require permission from UEFA due to concurrent Champions League matches
Should the match be pencilled in for the first week of April, it would come between Liverpool's away fixture at Man City and their home clash against Arsenal.
Some way to resume action after the internationals!
However, if the match doesn't take place that week, then it is unlikely to be played until May, with the Champions League quarter-finals and a round of Premier League fixtures (where Liverpool are due to face West Ham) filling the other midweek slots in April.
Although there is a chance that both teams won't feature in the Champions League quarter-finals, if the game was to overlap with those matches then it would require the green light from UEFA.
That may present an issue as UEFA do not usually allow Premier League games to overlap with Champions League fixtures.

The same can be said for the semi-finals – due to take place in mid-May – which leaves the weeks commencing Monday, May 1 and Monday, May 22 as the only other available slots where it could be played.
With the match now only able to take place within the last three months of the season, both teams will be hoping they still have something to play for at that point, with Chelsea currently ninth in the table and Liverpool 10th.
A decider for a Europa Conference League spot? At this rate, you wouldn't bet against it.