Arthur has racked up more minutes for Liverpool's academy than the first team and his recent 90-minute outing revealed "an awful lot of character."
The 26-year-old's loan move has not panned out as hoped, with only 13 minutes under Jurgen Klopp thanks to a long-term thigh injury that has only recently seen him return.
The Brazilian has been back training with the first team since February 9 but on Sunday played 90 minutes in the U21s 7-1 rout of Leicester – his first matchday squad appearance, at all levels, since October.
Arthur's presence was welcomed by U21s manager Barry Lewtas, who commended the midfielder for his "humility" and the valuable lesson it offered for the club's youngsters.
"It's brilliant, really. We knew [Saturday] he was going to play," Lewtas told the Echo.
"If we can help, I think it's a compliment to the way we play that we can give some senior players an opportunity, as well as some of the younger ones.
"He really adds something to us because he's got a lot of quality and you could see today when we were playing through Leicester Arthur played a big part in that.
"It's great for our lads to see someone of that level working his way back to fitness and is willing to come down and play.
"I think it shows unbelievable humility. It shows someone who is desperate to get back fit, get playing and find rhythm because he wants to try and play. I think it reveals an awful lot of character."
Prior to his injury in October, Arthur twice featured for the club's under-21s as he sought to get up to speed following his move and his third appearance takes his total minutes to 243.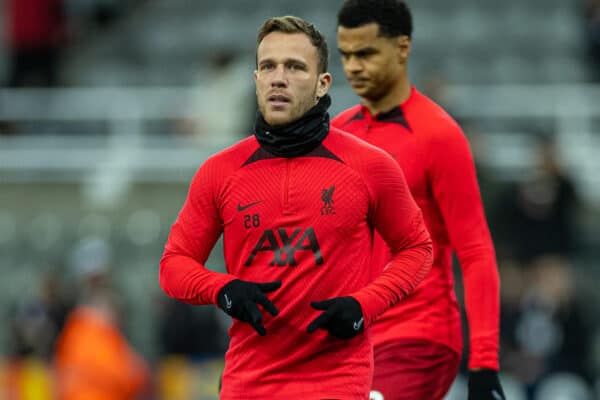 There is not a plan for more, though, despite Arthur not limited to Premier League action after Liverpool's FA Cup exit and his omission from the Champions League squad.
"The decision around it was if we can get him to 90, we'll get him to 90," Lewtas explained.
"Obviously, we take instructions from the medical staff and Arthur knows his own body well enough. We checked on 45 and he was fine.
"We had an agreement if he was starting to tire or anything like that he would kind of give us the nod. He certainly enjoyed it. It wasn't the worst game to have a run-out in!
"His plan isn't to be with us. It was just like earlier in the season, if we've got the opportunity to give someone a bit of exposure we will do it."