For the first time in 45 days, Liverpool were on the winner's board in the Premier League thanks to two unanswered goals against Everton. But are we confident this is not another false dawn?
A victorious night under the Anfield lights, it's the first time in 2023 that we've been able to celebrate three points and the relief was obvious for players, fans and Jurgen Klopp.
Mohamed Salah's goal capped off a dramatic 13-second breakaway after the Blues struck the post, while Cody Gakpo's maiden strike for the club made sure of the result.
Here, Joanna Durkan (@JoannaDurkan_) is joined by Adam Beattie (@beatts94) and Red (@TaintlessRed) to discuss a victory, at long last, Stefan Bajcetic and more.
First off, we have a win to celebrate. How good did that feel?

JOANNA: You really do take winning for granted, it was all too 'easy' last season and so to get that taste of a win again is brilliant.
We were all dreading the match, weren't we? It's become that kind of season so the let-off with the goals and the final whistle was desperately needed.
And instead of ruining our weekends, they've got our week off to the perfect start, it makes all the difference!
RED: Even when we've been in far better form in past seasons playing Everton usually makes me tense and sick until the final whistle blows and we have a win in the bag. Then I get a big sense of relief.
However, given how bad we've been this season, and the uncertainty around how we would perform vs. a Dyche Everton, just watching our players sprint, fight and give their all gave me huge enjoyment.
The result was much needed, but in the context of the season, the performance was perhaps needed even more!

ADAM: My soul needed that! Regardless of how things are going we've got to be going into derbies at Anfield feeling and acting like the favourites we are and the respective performances demonstrated that once again.
Like you two have said, I'd felt apprehensive about the game for most of last week following their win over Arsenal and our dismal showing at Wolves. Our fragility from set pieces gave me great cause for concern when I watched Tarkowski head home from a corner.
It's refreshing to know that no matter how bad we get, Everton always find a way to be worse. It feels enormous in the context of the season but landing a blow like that on them feels extra sweet, it was the perfect occasion to show what we're about and to, please God, build some momentum from.
If this is to be the last derby for a while then I'm glad we got to go out on a night like that. More of that please, Liverpool.
Salah said of Bajcetic that he's been "our best player" since coming into the side, agree?

RED: I wouldn't go as far as Salah and say he's been our best player since coming into the side, I think that's still been Alisson, but he has been our best-performing midfielder.
JOANNA: I agree with you there over Alisson, he's been the clear standout throughout the season but I find it hard to dispute Salah's claim.
At just 18, he's looked composed, confident and with the required level of fight and determination, outperforming his senior peers and rightfully making it his place in the XI to lose – few others can lay claim to being in the same boat.
To take the game on as he did, impressive doesn't cover it.
And I loved seeing Bajcetic's reaction to Salah's words, clearly stunned at a player of his stature heaping such praise on him. He comes across as a very humble kid with a big future ahead of him.
ADAM: Where to start on the little fella, an absolutely magic performance and a huge tick in the box with regards to his long-term first-team credentials.
I have to admit I probably wouldn't have started him myself, it felt like a massive ask for an 18-year-old to step into a game like that despite how impressive he's looked, but once again Klopp showed that he knows more than me. Who knew?

The idea that he's been our best performer in recent weeks initially seemed to be based on being the best of a bad bunch, but he took the Merseyside derby by the scruff of the neck and looked like he'd been playing in that midfield for years. Big, big future ahead.
RED: A lot of fans didn't want Bajcetic to start this game, as Adam has shown, fearing he wouldn't cope with Everton's powerful players, but I wanted him to play as he's been our most in-form midfielder in recent weeks.
He's an all-round player – he's aggressive, energetic, likes a tackle but is also composed, press-resistant, can dribble, and looks to pass progressively. He was our best player at Wolves which in itself was a feat, but all the more impressive given the senior players played so poorly.
Bajcetic has played well in every game apart from in the cup vs. Man City, but there were mitigating circumstances in that City played a very strong XI and Liverpool made a lot of changes.
I've said since he broke through that while he's thrived in the No. 6 position, having been converted from centre-back, when we play tougher opponents he should be used as a No. 8. That way he has that extra security of an experienced player playing defensive midfield so he can play instinctively. Having Fabinho behind suited him vs. Everton.
Whether it be Klopp's fist pumps or Robbo having the last laugh – what pleased you most about the derby win?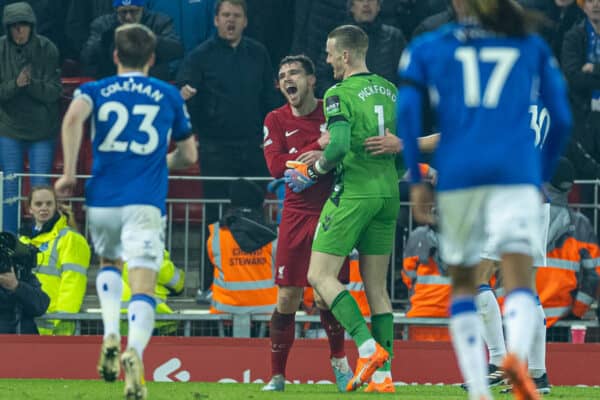 RED: The general increase in combativeness and fight from the whole side pleased me the most. There was a lot else to also be pleased about, although I wouldn't say we're yet back to our best.
I liked how Trent overlapped Salah a lot more often than he has done this season, which allowed Salah to come infield where he's much more dangerous.
Gakpo really needed that tap-in goal – you could see it boosted his confidence immediately and he started dribbling and being more direct which he wasn't in the first half. Nunez was very good out wide and he always brings that intense all-action approach.
It was the combined midfield performance from Fabinho, Bajcetic and Henderson that set the tone for the team performance. Hendo and Fab have both had too many poor performances this season, being out of the side for a few games perhaps made them that bit more determined and hungry to impress and win back their places more regularly.
But one of my favourite moments was after the ruckus between Pickford and Robbo, the fans at Anfield started singing the "Divock Origi!" chant. That was brilliant.
ADAM: It looked like a massive release from Klopp at the end, you could see what it meant to him and how much of a toll this season has taken on him emotionally so it was great to see that he still has the fight to put things right.
The let-off for Salah's opener was the best Anfield has been in months, courtesy of a Jordan Pickford cameo at left-back, and hopefully, that is the start of a flurry from him because we're going to need it if there is to be what seemed an unlikely top four push.
For me though, Gakpo getting on the scoresheet and then becoming an absolute menace off the back of it was perhaps the most pleasing thing.
It's a tough environment for a new forward to come into, and the injuries to Diaz and Jota have meant he hasn't had the luxury of a bedding in period, so a goal was very much needed and the fact it came in such a big game can do no harm at all.
Honourable mention for Robertson laughing in Pickford's face too!
JOANNA: That we have a bit of list forming makes for a nice change of pace, of late we have had to take out a microscope for the positives but, thankfully, not this time!
I really did enjoy Robbo's snide, we've not seen it enough this season, and Nunez letting Everton know what the score was, stirring the pot in just the right way.
For me, though, seeing the relief in Klopp at the end of the match was something I didn't know I needed. The manner of fist pumps said it all, a thank you to the fans and a weight off his shoulders.
He then capped it all of by saying this: "I didn't want to do it [the fist pumps], but you never know when you can do it next. Whatever our crowd would've asked me for tonight I probably would've done, apart from getting rid of my clothes! It should be a thank you for them, not torture."
Love him.
And we looked more like the Liverpool of old, how much confidence do you have that it continues at Newcastle?

RED: There were good signs against Everton but we should also remember that they are in the relegation zone for a reason. Liverpool have had other good wins this season but have not followed it up. Consistency is key.
Next up is Newcastle who haven't lost a league game at home all season and Liverpool's away form has been atrocious. Hopefully, this derby performance has lifted confidence for the rest of the season.
Jota and Firmino returning will be a huge boost and with another week of training, Van Dijk should hopefully be ready to play at Newcastle too. And we'll also need everyone to be at their best if we are to get past our nemesis, Real Madrid, in the Champions League.
JOANNA: As you've hinted there, Red, we've had far too many false dawns this season for me to feel fully confident of seeing a similarly combative Liverpool on Saturday.
Newcastle have lost only once this season, to us at Anfield, but we do seem to be able to muster more of a fight in games such as these and the derby win should only serve to inject more energy and confidence.
I'm intrigued to see which Liverpool side turns up on the night but that we saw some of the Reds of old against the Blues gives me hope and I'm desperately going to cling to that for now!

ADAM: All of a sudden Newcastle has become a little bit more interesting.
There's still plenty to do in terms of getting back to the Liverpool of last season and the quality of Monday night's opposition is always worth bearing in mind, but we've seen from the resurgence of the likes of Arsenal and Man United how quickly things can turn around in this league and we've got the best possible manager in charge of it.
Like Joanna, I'm still somewhat sceptical of our top four hopes given the number of false dawns we've had and the number of times the conversation has been had already, but Newcastle will be a good chance to see where we're at and a result there could make the league table look a lot more inviting.