Man City will face punishment if they are found guilty of breaching a number of financial rules between 2009 and 2018, but it could be as long as four years until the investigation comes to a conclusion.
On Monday morning it was revealed that the Premier League have referred a host of alleged breaches of financial rules by Man City to an independent commission, following on from four years of investigations.
It's been described as an "unprecedented" situation, with big questions being asked as to which punishments City will face if found guilty.
Those punishments, however, may still be a long way off, with sports law expert Nick De Marco KC suggesting that the case could run as long as another four years.
Delighted to see so many of my brilliant colleagues on both sides of this huge case, though wondering who will appear as my opponent in all the other big sports cases for the next 4 years ? https://t.co/AwNNuETk5J

— Nick De Marco KC (@nickdemarco_) February 7, 2023
De Marco was responding to news that City had hired Lord Pannick KC as their defence for the case, who is claimed to demand up to £10,000 per hour for his work, which could see Man City pay him £400,000 per week.
Having not been hired to work on the case himself, De Marco questioned who would appear as his opponent "in all the other big sports cases for the next four years," while the City case is ongoing.
It's only my guess. I remember doing Derby & SWFC EFL FFP cases, each two charges relating to a couple of years. Each took about 1.5 years from start to finish. The PL case is 115 charges over about 10 years …

— Nick De Marco KC (@nickdemarco_) February 7, 2023
When pressed on his four years prediction, De Marco pointed out that the Derby and Sheffield Wednesday EFL Financial Fair Play investigations both took about 18 months from start to finish.
Those cases related to charges spread over two years, with the City investigation including 115 charges over the span of a decade.
So despite calls for City to face points deductions, be stripped of their titles and relegated, among other punishments touted, both City and Liverpool could be in completely different eras to the present.
Four years would take the case up to 2027, by which point Jurgen Klopp's contract would have expired a year earlier, with Guardiola's existing deal running until 2025.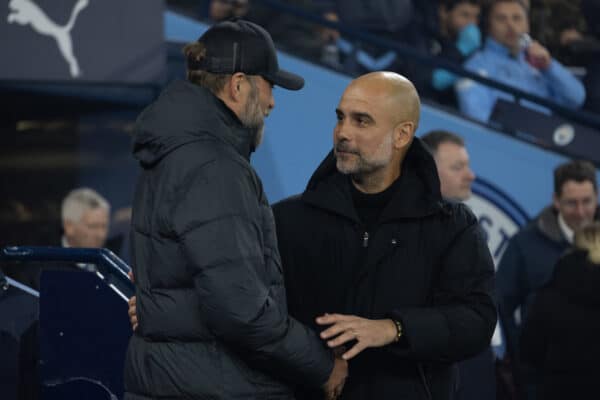 Should both move on at those points, the two clubs will be in different hands by the time the case comes to a close, with Liverpool, at least, also possibly under new ownership.
The allegations extend over a nine-season period between 2009/10 and 2017/18 and include breaches pertaining to player and manager contracts, and overstated sponsorship income.
This period of time involves one of Liverpool's battles with City for a league title in 2013/14, and though the charges do not relate to the 2018/19 and 2021/22 seasons in which Liverpool also finished runners up, it stands to reason that any punishment would further cloud Man City's success beyond 2018.