There was very little to admire in Liverpool's 0-0 draw with Crystal Palace, on another bad night in the Reds' stuttering season.
Jurgen Klopp's men needed a response after their hammering by Real Madrid, and while they kept a clean sheet, there was almost no quality on show.
Two more points were dropped in the top-four battle, and on this evidence, it's hard to see Liverpool threatening the Champions League places.
Here's how the media assessed the Reds' latest disappointing performance.
It was an awful game at Selhurst Park…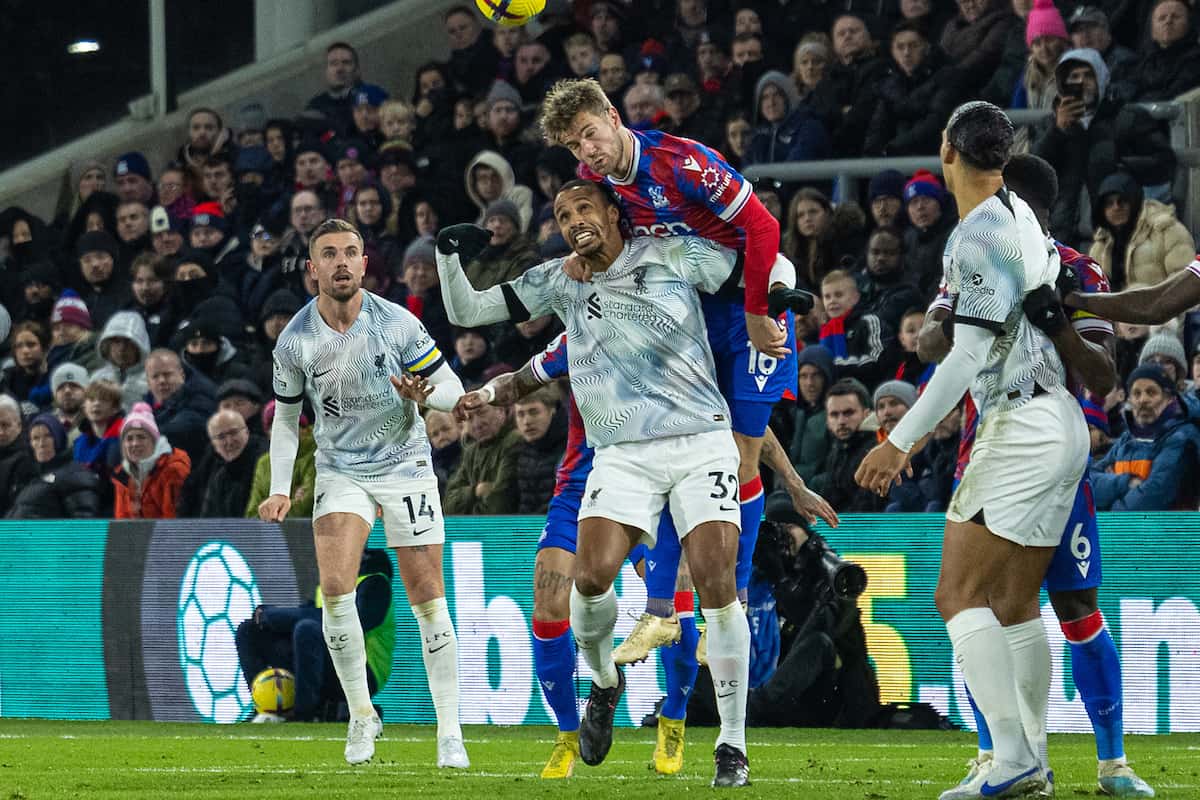 The Independent's Karl Matchett felt there was no response to midweek in the slightest:
"A response was required after a European humbling; apparently, nobody passed that message to the Liverpool players.

"Plenty can happen on a Saturday night to make people forget what they did or what they witnessed.

"A Premier League match isn't supposed to be one of them, but by the time 25,000 or so inside Selhurst Park had left their seats and reached the streets, it's fair to assume the majority had already erased the previous 90 minutes from their minds.

"Crystal Palace were tenacious and sporadically threatening, but never really dominant, never really impressive. Liverpool were largely the opposite; dominant in possession, but rarely tenacious, not at all impressive."
The Athletic's Caoimhe O'Neill bemoaned so many worrying aspects of the performance:
I think the only positive Liverpool can take from that is they didn't lose the game. More poor body language. A real lack of creativity, energy and togetherness. Looked so disconnected at times.

— Caoimhe O'Neill (@CaoimheSport) February 25, 2023
Riath Al-Samarrai of the Mail felt this just summed up Liverpool's campaign:
"In summarising the kind of game this was for Liverpool, it is probably reasonable to go directly to a scenario that played out around half an hour in.

"Trent Alexander-Arnold, having another of those dark nights of the soul, had a whipped a shot on a course for the top right corner, only for Jordan Henderson to run into its path and block the ball with his face. Hit him flush. Almost floored the poor bloke.

"More than one match, maybe it told a tale of their wider season. The story of a golden team that arrived with so much promise and verve and speed and splatted hard into a wall.

[…]

"It was a dire start, dotted with the errors of Alexander-Arnold and Joel Matip, and it was a mediocre ending. And it was against Crystal Palace, winless since New Year's Eve."
This was a night that again highlighted Liverpool's midfield woes…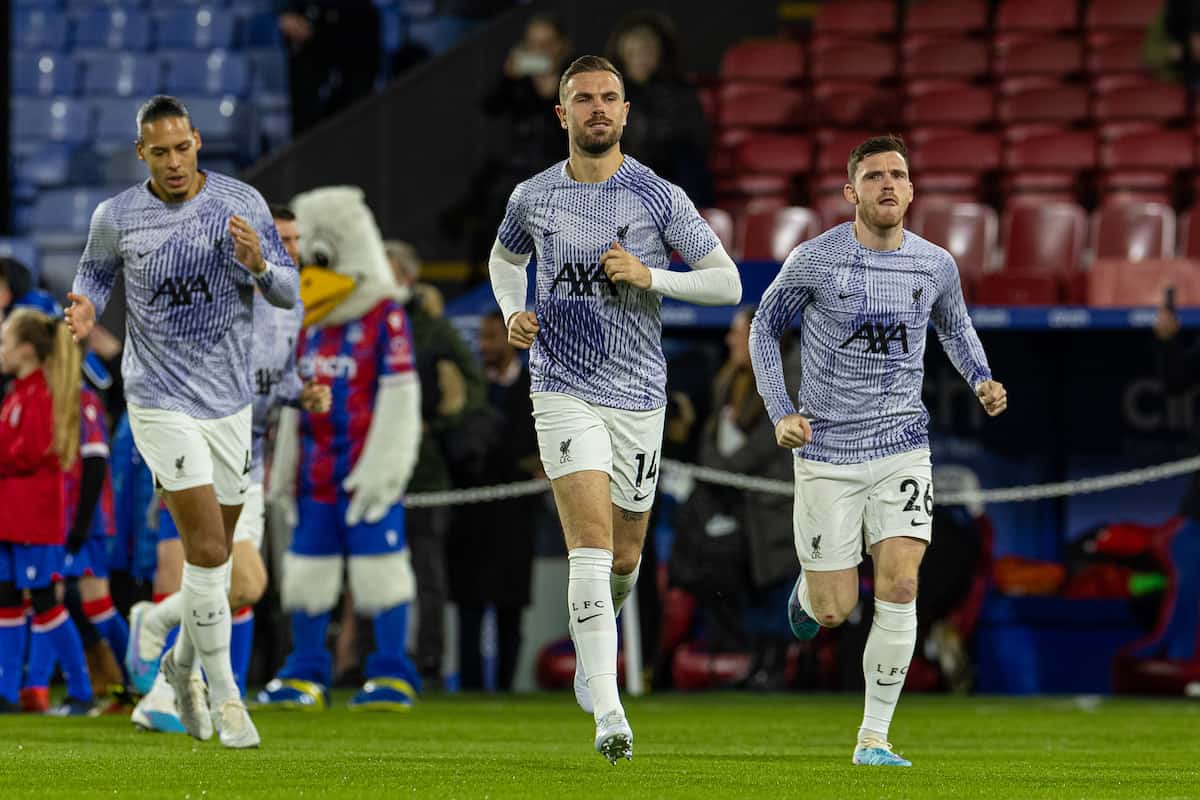 Nathan Ridley of the Mirror noted a dreadful night for Naby Keita:
"As was the first half itself, Naby Keita's 45-minute outing was one to forget.

"Shown a yellow card after dragging down Michael Olise, the Liverpool midfielder failed to show boss Klopp why deserved a starting opportunity with an "erratic" performance.

"The German was fully aware of Keita's woes and ruthlessly substituted him at half-time in place of Harvey Elliott.

"During the break, ex-Reds midfielder Jamie Redknapp laid into the struggling No.8, whose time at Anfield appears to be coming to an end this summer when his contract expires. 'Keita's erratic,' Redknapp bemoaned on Sky Sports. 'It sums up his Liverpool career. I'd be surprised if Keita carries on."

"There were no shocks when Elliott emerged after the interval."
This Is Anfield's Mark Delgado criticised Jordan Henderson and substitute Fabinho:
"Who exactly is Liverpool's worst performer right now? Who was on the night?

"Keita had to be subbed first because of the booking, but Joel Matip and Trent Alexander-Arnold could not have been far behind if options for replacements had existed. The pair were utterly awful.

"Henderson's continued presence on the pitch was a mystery the longer the game went on. Diogo Jota still looks well short of fitness.

"Fabinho could easily have seen red, despite only playing 20 minutes, so far off the pace of challenges he was."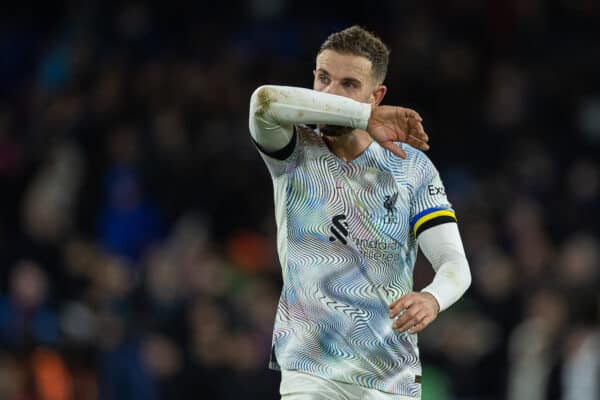 GOAL's Neil Jones was another deeply unimpressed with Henderson:
"What is it about that holding midfield role at Liverpool this season?

"Having done for Fabinho – who could not even be trusted to start here, and might have been sent off when he did eventually appear – the No.6 position seemed to bring out the worst in Jordan Henderson too.

"For one so experienced, some of the Reds captain's decision-making was truly baffling. Never more so than when he inexplicably stood in the line of a free-kick from Trent Alexander-Arnold in the first half, despite it being obvious to everyone in the stadium, and everyone watching on TV, that that was where the ball was heading.

"Henderson had actually done okay in the first 45 minutes, but his second-half performance was dreadful, completely lacking in composure.

"He repeatedly hoiked the ball up in the air when calmness was required, and he got involved in altercations with Olise and Jordan Ayew as it became clear that yet another game was getting away from his side.

"A skipper's performance, this most definitely was not."
Where on earth do the Reds go from here?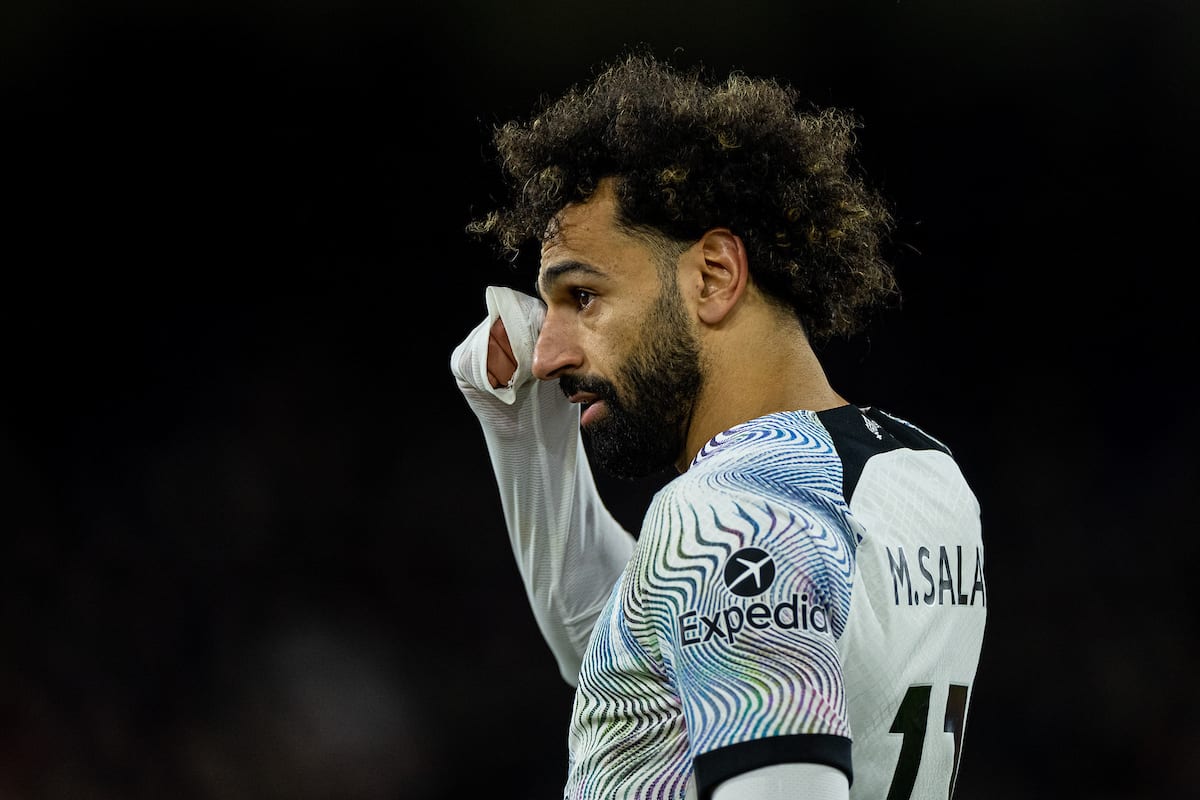 Sam Wallace of the Telegraph is finding it hard to see Liverpool finishing in the top four:
"These are not valuable single points for a Liverpool team that ended the night in seventh place in the Premier League and needs wins, having started the week with a chastening experience in the Champions League that might be their last of those at Anfield for a while.

"The top four is still only six points away for Jurgen Klopp's team but at Selhurst Park they felt a long way from that old elite.

"There has been a resurgence of late in this season of struggle with two league wins before Real Madrid came to town and it ended here."
Finally, Jones was of a similar mindset, finding Liverpool hugely unconvincing right now:
"Don't be fooled by the [three]-game unbeaten Premier League run; nothing about this Liverpool team is convincing.

[…]

"The draw moves Liverpool up a place to seventh in the table, but represents a huge missed opportunity to put some serious pressure on the likes of Tottenham, who face Chelsea on Sunday, and Newcastle, who are without a league game this weekend as they contest the Carabao Cup final.

"Klopp cut a dejected figure at the final whistle, and will doubtless reflect on yet another underwhelming display from his underperforming side, albeit one which saw them record a [third] straight clean sheet in the league."