The year is 1977, Bob Paisley is at the helm, you can walk up to Anfield to buy match tickets, have a loved one's ashes spread on the pitch and rub shoulders with a prolific Reds squad.
It was a different world for Liverpool FC 46 years ago.
Whereas now you have to form an online queue desperately hoping luck is on your side for tickets, you could once walk up to the ticket window and request a seat in the Kop.
Whereas now the Reds have a state-of-the-art training facility and a dedicated medical team, you once had Joe Fagan and Ronnie Moran coupling training sessions with player massages.
You wouldn't see Pep Lijnders and Peter Krawietz doing that, times have changed!

While many things at the heart of Liverpool remain the same, the difference in routines from 1977 to 2023 is stark, as a video from the BBC Archive shows.
Footage of the Reds throughout the 1970s is not easy to get your hands on, but a video from the BBC, first broadcast on Sportsnight in 1977, has given a behind-the-scenes look at Anfield.
And, simply put, it is amazing – as the small snippet below shows.
The footage follows Paisley's treble-chasing side as they prepare to host Man United on May 3, 1977, a game they won 1-0 thanks to a Kevin Keegan strike.
We see former captain Tommy Smith get irate over car parking at Anfield, questioning "would you park like that on the main road?" with his rolled-up newspaper in hand.
Then training at Melwood with the likes of Emlyn Hughes, Kevin Keegan and Phil Neal as Paisley watched on, bestowing words of wisdom, as he so often did.
"If you like your job, then you're happy. I've liked my job at Liverpool and I've been happy," Paisley said.
"When you talk about success, we weren't always successful but we've always been a happy club."

Liverpool's sustained success and the secrets behind it enthralled many looking to find the answer, but even Fagan could not supply one.
"It didn't start yesterday, it started many, many years ago and it's been built up," Fagan said of Liverpool's success.
"But I don't know why, it's just one of those things, it's the people that make it. There's no magic."
In the eyes of then-chairman John Smith, the formula was a little more straightforward: "I think that we have the formula for success in that we are highly conservative, we do not like change for the sake of change.
"If there is one word in our language that depicts Liverpool FC, it is stability."
Those words sound a little familiar, don't you think? They certainly wouldn't sound strange coming out of Jurgen Klopp's mouth.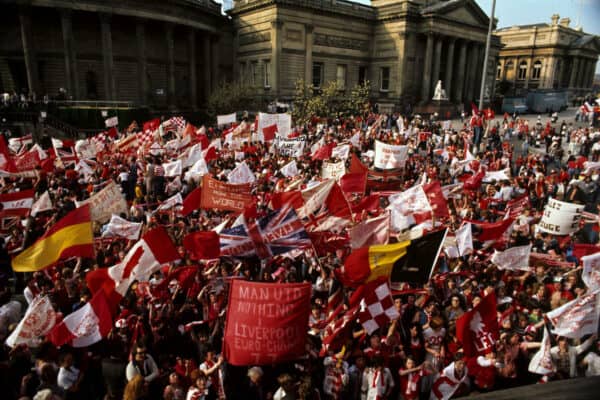 The footage makes for fascinating viewing, with players talking point permutations with Fagan and Moran, Paisley meeting the press in his office, the club hand-counting receipts and Phil Thompson using the Kop steps for rehab.
And though the faces may have changed, you hope the spirit, described by Kevin Keegan, never does.
"Here, there is a nice little spirit about the place and it carries right throughout the club, as spirit goes I doubt there's another club like it," Keegan said.
"I think we all believe, even the cleaners believe, that if we win the treble they'll have played their part. And quite honestly, they will have done."
Liverpool didn't win the treble in 1976/77, but the league title and the European Cup found homes at Anfield – and not for the last time, far from it.