At last, the watching media had positives to focus on, following Liverpool's richly-deserved 2-0 win at home to Everton.
Jurgen Klopp's men were much improved on Monday evening, picking up a vital Premier League victory and giving supporters bragging rights in the city.
Mohamed Salah's well-taken strike on the break gave Liverpool a half-time lead before Cody Gakpo doubled the advantage after the interval.
Here's a look at how the watching media reacted to the Reds' massive three points.
This was much more like the Liverpool of old…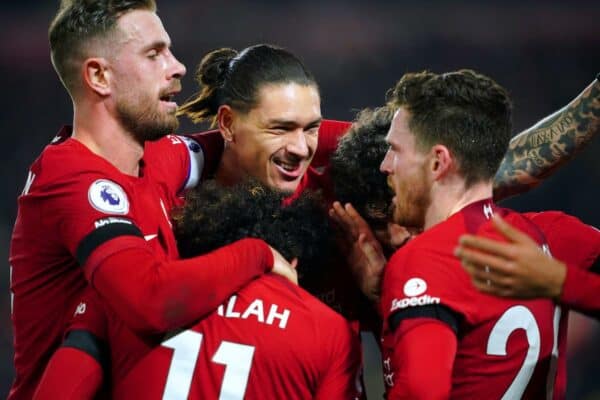 The Mirror's Mark Jones lauded the return of the Reds' intensity:
"One of the Liverpool mottos in the better times was 'Intensity Is Our Identity', something which has been attributed to Pep Lijnders, the assistant coach who was such a key figure in the successes and, if you believe certain former Liverpool midfielders, largely responsible for some of these current bad times because he brought out a book.

[…]

"That intensity has been so sorely lacking from the Reds so often this season though, and it has led to them falling so far from what is expected.

"The reasons for that are numerous, but here, with stalwarts Jordan Henderson and Fabinho restored to the side, they roused themselves.

"They pressed and harried Everton in the opening exchanges, with Henderson dumping Pickford on the ground after pressing him, much to the Kop's delight.

"The lofted ball towards Nunez on the left was always on, and that allowed the Reds to push up and squeeze Everton back in their own half, isolating Ellis Simms in attack."
The Independent's Richard Jolly felt the Reds' dominance grew as the minutes ticked by:
"He had not scored at Anfield in the Premier League since October. Liverpool had not struck anywhere in the top flight since 2 January.

"They had not won in the division in 2023. But for Everton, the shortest journey on the fixture list is often their hardest and, as they retreated across Stanley Park, it may have been having spurred Liverpool back into form.

"The margins can be narrow and, in a meeting of two sides who really need to score the first goal in a game, Everton were inches from doing so, but with a lead and confidence, Liverpool became buoyant and dominant."
David Maddock of the Mirror thinks there are "signs of life" emerging from Liverpool:
"The first buds of spring are shooting on Merseyside, after a long, cruel winter.

"No one is getting carried away on either side of the city after a bruising derby, but there are signs of life returning from the frozen dead ground.

"For Everton there is some hope, even in painful defeat. There is no solace, but they know how different this game could have been, had not James Tarkowski's header bounced down and out off the bar.

"Yet that moment was pivotal in stirring Liverpool, providing them with the hope that their talent can still bloom this season, with a Champions League still to play for."
Stefan Bajcetic received endless plaudits…

This Is Anfield's James Nalton felt the Spaniard played a big part in the win:
"They have looked dishevelled in recent weeks and months, but there was something more familiar and comforting about this game for Liverpool fans.

"Liverpool at their best always appeared slightly frantic but underpinned by an element of control.

"18-year-old Stefan Bajcetic was key to this with his positioning, movement, skill and awareness, while Fabinho and Jordan Henderson also finished the games with a pass success of around 90%."
The Liverpool Echo's Ian Doyle was another who waxed lyrical over Bajcetic:
"The standout was Stefan Bajcetic, the teenager – making a fifth consecutive start – again grasping the opportunity made available by the failings of his more senior colleagues.

"If there were some overly-ambitious touches during the first half, as is often the case with young players, Bajcetic soon learned amid the usual blood and thunder of a derby.

"Such was his composure on the ball, intelligent positioning and willingness to get stuck in, it is easy to forget the Spaniard only turned 18 in October.

"Certainly, not since the days of Robbie Fowler has a Liverpool player of such a tender age made such a big impact in this fixture, the standing ovation on his late substitution richly deserved."
On Twitter, analyst Mark Carey felt the midfielder was easily the best player on the pitch:
Best player was the youngest man on the pitch.

Bajcetic was the only Liverpool player to cover more than 11km.

More post-match analysis of #LIVEVE with @CaoimheSport and @GregOK for @TheAthleticFC: https://t.co/QGlzMTvEOf pic.twitter.com/RQQYg7UPMK

— Mark Carey (@MarkCarey93) February 13, 2023
Meanwhile, Maddock was yet another who lauded the star man:
"There were far more experienced midfielders in James Milner and Naby Keita who could have been preferred ahead of him in a game which demanded knowledge and calmness.

"Yet there was no calmer, more composed player on the pitch than the Spanish born kid of Serbian descent. In fact, there is a case to suggest that few teenagers have ever shown this level of composure in Premier League history.

"His ability to keep possession, and use it wisely, hints at the skill of former hero Gini Wijnaldum in that respect, and he has the awareness and reading of the game of Thiago. That is some billing, but his display deserved it.

"There has been so much noise about Liverpool's need for a midfielder, and criticism of Jurgen Klopp for not buying one last summer, or in January.

"Yet with a talent of this potential, who is to say that providing the space for Bajectic to grow is the wrong decision for the future of the club?"
Gakpo also came in for praise…

Jones praised the Dutchman's impact, on a memorable night for him:
"The signs have been there, it's just that you've had to look pretty hard to find them.

"As with Bajcetic, judgements on Gakpo have had to come in the context of his team playing very badly, although it has been 10 times worse for the Dutchman as a big money signing with the spotlight on him.

"He's worked hard in his Liverpool appearances and showed that he is a different type of forward to what they have, almost a mix of some of Roberto Firmino's positioning with some of Gini Wijnaldum's qualities."
Finally, Goal's Neil Jones also had nice things to say about Gakpo:
"And on the seventh day, Liverpool's new boy introduced himself properly.

"It's been a tough start to life at Anfield for Gakpo, but he'll have gone to bed with a great big smile on his face tonight, having grabbed his first Reds goal, and in the game which matters most to his new supporters.

"The Dutchman was perfectly-placed at the far post to tap home Alexander-Arnold's immaculate low cross and give his side what proved to be an unassailable two-goal lead.

"The relief was clear on the 23-year-old's face, and also in his performance across the next half hour, as he tore into Everton with the kind of confidence, purpose and quality we associated with him in his time at PSV Eindhoven.

"He left to a standing ovation, and a bear hug from Klopp. Job done. The first one is usually the hardest, now we can really start to see what the £44 million ($53m) man is made of."