There were some reminders of vintage Liverpool as they put in a convincing, morale-boosting derby display to earn a much-needed three points.
Liverpool 2-0 Everton
Premier League (21), Anfield
February 13, 2023
Goals: Salah 36′, Gakpo 49′
---
Paris report should take headlines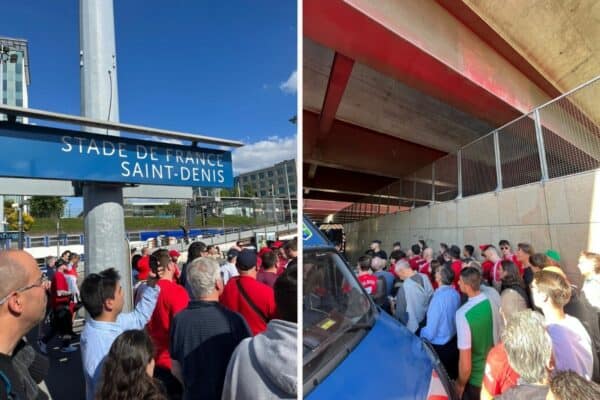 There were suggestions before the game that the timing of the release, or leak, of the review of the events at last year's Champions League final in Paris was purposely done ahead of the Merseyside derby.
Maybe it's a bit far-fetched, as it will get coverage regardless, but just in case, here's a key paragraph.
"Liverpool supporters [in one] part of the concourse spontaneously formed orderly queues and collectively organised to protect the vulnerable.
"Indeed, the Panel concurs with Scraton et al (2022) that the capacity of the Liverpool supporters to self-organise within this context was a primary factor in preventing harm and ensuring our inquiry is investigating a 'near miss' rather than a stadium tragedy involving fatalities."
The report categorically absolves Liverpool supporters of any blame and states that "it is remarkable that no one lost their life."
The report "concludes that assertions regarding huge numbers of ticketless supporters, and those with fake tickets, have been wrongly inflated and have been stated as fact, to deflect responsibility for the planning and operational failures of stakeholders.
"This is reprehensible and has involved UEFA, UEFA Events SA, FFF, the Préfecture de Police, Government Officials and French Ministers."
That's what the world needs to know.
The counter-attack is back

On to the football, then. Liverpool have been known in the past for counter-attacking as well as counter-pressing, especially from opposition corners, and this finally returned here.
James Tarkowski hit the post for Everton from a corner, and 15 seconds later Mohamed Salah was scoring at the other end.
It was the most lethal of counter-attacks, one of Liverpool's best under Jurgen Klopp.
Darwin Nunez showed unbelievable pace and drive to carry the ball down the left after being set free by Salah, and the Egyptian kept up with him.
Nunez sent in a perfect ball for his teammate, leaving Jordan Pickford… well who knows what Jordan Pickford was thinking, he probably doesn't even know himself, but either way, Salah just had to guide the ball on target into an open goal to open the scoring.
It was a welcome sight to see Nunez combining his raw power with some end product, and also to see Salah scoring his first league goal of 2023. Nunez's fourth assist for Salah this season.
The second goal also came on the counter, and was a joyous moment for Cody Gakpo who netted his first for the club.
Doing what Arsenal and Arteta couldn't

Klopp had praise for Sean Dyche pre-match, commenting on Everton's win against the table-toppers in the new manager's first game.
"I couldn't respect more what Sean is doing," Klopp told Sky Sports.
"In a week or so, setting the team up the way he did – was a really good game against Arsenal.
"They played the game they wanted to play and Arsenal couldn't play the game they wanted to play."
Many focused on Arsenal being poor in that match, but Klopp is right. Everton stopped them playing and were able to nick a goal to win.
It's therefore encouraging for Liverpool that Everton weren't able to do against them what they did against the best team in the league at this moment in time.
Granted, they were without Dominic Calvert-Lewin for this game, but Liverpool were able to dismantle much of the structure that made Everton good against Arsenal.
Klopp found a way to win where Arteta didn't
Return of shape and style

Counter-attacking wasn't the only reason Liverpool were able to dominate Everton and win this game.
A recognisable shape, with two advanced wingers and a centre forward dropping deep returned.
Behind the counter-attacking goals, there was a familiar Liverpool shape with two wide-attackers (Nunez-27 and Salah-11) furthest forward and a centre-forward (Gakpo-18) dropping deep. pic.twitter.com/XCuMc0Shfg

— James Nalton (@JDNalton) February 13, 2023
They have looked dishevelled in recent weeks and months, but there was something more familiar and comforting about this game for Liverpool fans.
Liverpool at their best always appeared slightly frantic but underpinned by an element of control.
18-year-old Stefan Bajcetic was key to this with his positioning, movement, skill and awareness, while Fabinho and Jordan Henderson also finished the games with a pass success of around 90%.
Gakpo performed well in the Roberto Firmino role, with the main man back from injury and coming off the bench to replace the Dutchman with around 15 minutes to go.
Firmino back, Diogo Jota back, Virgil van Dijk back, Liverpool back?
It's probably too early to be so optimistic and say that this is a corner turned, but it's certainly a huge positive and a morale-boosting derby win.
Can it continue against Newcastle

This looked like the Liverpool of old, and they could even have had more goals than the two they ended up with.
And it was old Liverpool but with some new players. Plenty of pressing, breathless counter-attacking, and more trust in the defence (even though they weren't quite perfect in that regard).
But though Everton are more organised under Dyche they are still a struggling team generally. Newcastle are probably the opposite.
Eddie Howe's side have only lost once in the league this season (at Anfield), and have been in top four form for over a year now.
A win against such a high-flying team, one high on morale and flush with new money, would be a real statement for Liverpool to make.
The Reds need to show that although Newcastle may take a place in the top four this season, they will be back to challenge at the top next season.
Then maybe we can have a memorable night at Anfield in eight days' time, too…