The watching media were left stunned by Liverpool's dreadful 5-2 defeat at the hands of Real Madrid, in a huge reality check for the Reds.
Anfield was expectant on another big Champions League night on Tuesday, but it ended up being a disaster for Jurgen Klopp's side.
At 2-0 up, it looked like being three wins in a row for Liverpool, but things unravelled at a rapid rate from that point on.
Madrid scored five times without reply, with the visitors turning on the style, and the Reds are realistically now out of the Champions League.
Here's how the media assessed a shocking evening for Liverpool.
Many could barely believe what they witnessed…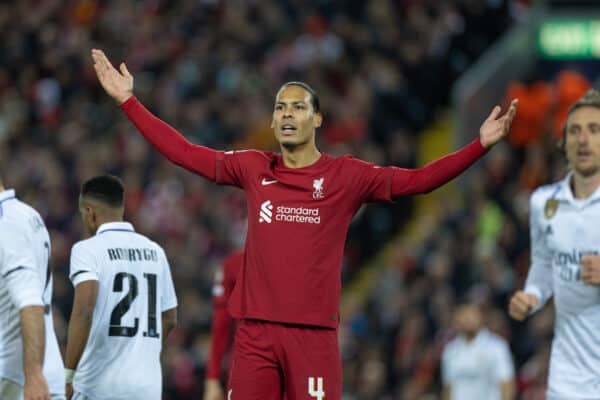 Sam Wallace of the Telegraph focused on the "demolition" on show at Anfield:
"There was just one goal between them in the final in Paris nine months ago, as the two great sides of European football of the moment, but the game changes so quickly and this evening Liverpool felt lost somewhere in their past, reaching out for a moment just beyond their grasp.

"This was such a demolition that by the end it was jarring to recall that Jurgen Klopp's team had led by two goals after 15 frantic opening minutes.

"What followed was a great Real Madrid performance pegged somewhere between the passing of one era and the dawning of another at this club where the succession is in good hands.

[…]

"It will take a very good team to stop Real Madrid from capturing the 15th of their titles in European football's leading competition this season, and in their current state, it was clear to all that Liverpool are not that team."
Karl Matchett of the Independent felt Madrid made mincemeat of the Anfield factor:
"Esto es Anfield. Y que?

"It was entirely wrong in 2009, the message from the Spanish media as Real Madrid came to Anfield seeking to overturn a Yossi Benayoun goal from the first leg.

"This time around though – even with two Liverpool wins recently – Europe's finest from last season could have been forgiven for thinking maybe there was an element of that which might ring true this time around.

"This is Anfield. So what?

"After all, the Reds lost here to Leeds, were held by Derby in normal time, couldn't beat Wolves and drew with Chelsea, all within the past nine games on home soil.

"This isn't the Liverpool of last season and the reigning champions of this competition came to Merseyside full of belief of taking not just a positive result, but a win."
This Is Anfield's James Nalton highlighted how Madrid have become Liverpool's nemesis:
"There was to be no revenge for last year's Champions League final as Real humiliated Liverpool on their own patch, confirming their superiority.

"Even with plenty of time left in the game, never mind the tie, Liverpool appeared at a loss as to how to turn things around.

"Klopp has trouble beating Carlo Ancelotti sides, even if that Ancelotti side was Everton. The German has only won one of the last eight meetings between the two.

"It's a huge ask to defeat Ancelotti on even terms.

"It's a huge ask to defeat any Real Madrid side in the same circumstances, so it seems almost impossible to come back from this deficit."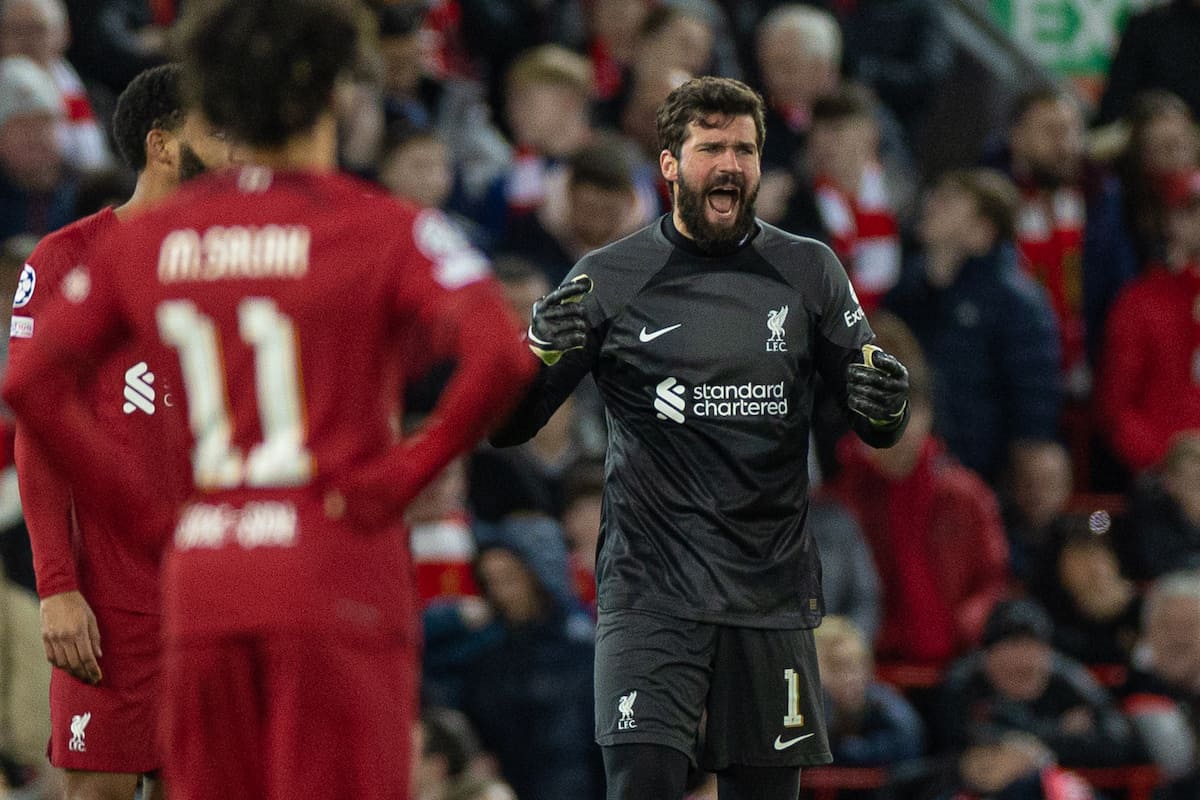 David Hytner was alarmed by the way Liverpool fell apart as the minutes ticked by:
"What had struck Jurgen Klopp the most on Sunday when he finally watched a re-run of last season's Champions League final defeat to Real Madrid was the streetwise conviction that the Spanish team showed; how they did not panic during the low moments, how they knew they would find a way.

"Madrid dug a hole for themselves here, shipping two early goals – the second after a terrible goalkeeping blunder by Thibaut Courtois.

"And yet they barely blinked. Instead, it was Liverpool who fell apart at the first sign of turbulence, which was a first goal of the evening from their nemesis, Vinicius Junior.

"Klopp's team had entered with their tails up following the Premier League wins over Everton and Newcastle. As they wrestle with a transitional period, the hope was that they could locate an ignition point.

"Instead, the extent of the crash was sobering. The home crowd watched through their fingers as Klopp's players took leave of their defensive senses, ignoring the basics, their confidence quickly reduced to tatters."
It was a terrible night for numerous individuals…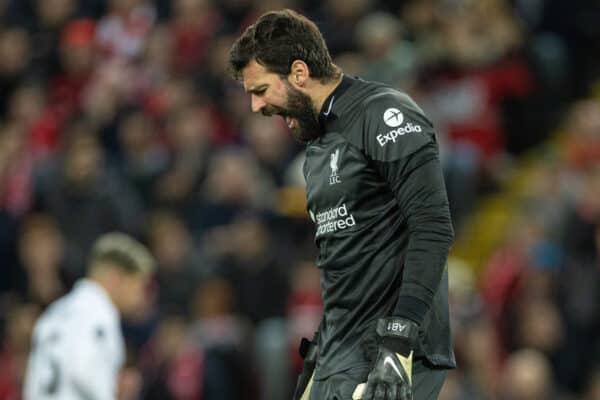 Nalton bemoaned the manner in which the goals were conceded:
"Liverpool's defence has been ropey this season and that uncertainty returned here. Needless to say, it was punished.

"Not much could be done about the first Vinicius Jr. goal, but the second came from a string of careless play, culminating in Alisson kicking the ball against his countryman before watching it rebound into the net.

"The third, from a Joe Gomez foul and a complete lack of marking on Eder Militao; the fourth from a deflection as Gomez turned his back on a shot.

"The fifth after the ball was lost in midfield and never recovered, Bajcetic choosing not to bring Modric down.

"It was as if any mistakes, wherever on the pitch they were made, would lead to a goal, and that's how Real ended up with five of them."
Richard Jolly of the Independent rued Alisson's awful mistake in the first half:
"Liverpool could enjoy a touch of schadenfreude. For about 20 minutes anyway. And then Alisson cleared the ball into Vinicius Junior and it rebounded past him and into the unguarded goal.

"One Brazilian scarcely requires much assistance to score against another – this was the winger's fifth goal in four games against Liverpool – but he got it anyway.

"In a comedy of (penalty) areas, it was perhaps still worse. It may have stemmed in part from one of Alisson's great strengths, his preternatural sense of calm.

"It tends to lead to one glaring mistake a season but, in a campaign when he has been Liverpool's outstanding player, there have been two in 2023 already: he has assists of sorts for Goncalo Guedes, then of Wolves, in the FA Cup and now Vinicius Junior."
How much damage could this have on Liverpool's mental state?

Ian Doyle of the Liverpool Echo said the Reds simply must now focus on finishing in the top four:
"It seems somewhat strange to declare after arguably the most chastening, humiliating night in Liverpool's long, illustrious European history.

"But if there is one crucial aspect to take from this bizarrely dreadful defeat, it's that Jurgen Klopp's simply cannot get back in the Champions League quick enough.

[…]

"A night to forget, then, for the Reds, their heaviest-ever defeat at home in Europe, the first time they had conceded more than three goals at Anfield in such a tie.

"But it was also a reminder of how grand these occasions are and the standard they require to drag themselves back.

"The only realistic Champions League concern Liverpool now have is qualifying for the competition next season."