Liverpool have big lessons to learn from a 5-2 defeat to new nemeses Real Madrid, with an impossible task facing them in the second leg.
Liverpool 2-5 Real Madrid
Champions League Last 16 First Leg, Anfield
February 21, 2023
Goals: Nunez 4′, Salah 14′; Vinicius Jr. 21′ 36′, Militao 47′, Benzema 55′ 67′
---
Klopp was right about Real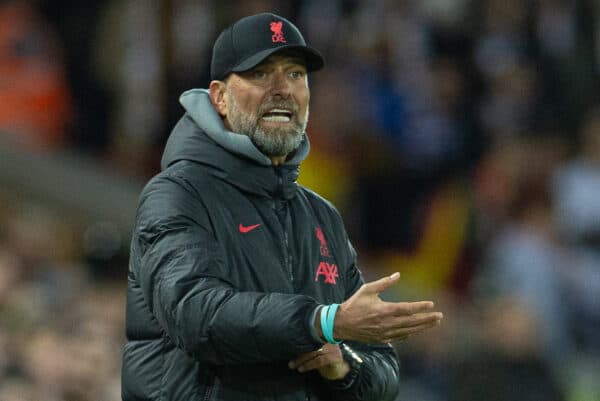 When discussing the opposition prior to this game, Jurgen Klopp spoke about how Real Madrid respond to the opposition having chances. How they respond to adversity within games.
Liverpool started well but Real were not fazed, backing up Klopp's words pre-match.
"You could see in this game how experienced Madrid is, how little they are fussed when the other team has chances," he said of last year's final.
"They don't lose confidence in one second. They know their chance will come. They defend together.
"That's what you can learn from them, definitely."
Liverpool looked very fussed once Real did start getting chances, far too fussed, showing there is still plenty for this Reds side to learn.
Something to take from a European night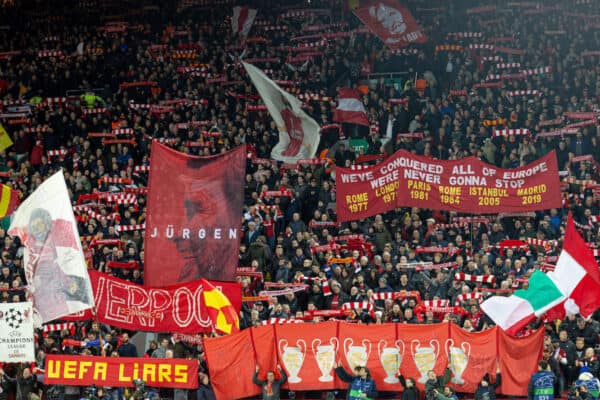 European nights at Anfield have had a familiar feel to them under Klopp's tenure. One of atmosphere, relentless football and big performances – often on both sides.
It had been almost four months since the last one, though: that 2-0 win against Napoli at the start of November before the extended break for the World Cup.
Even though there is always a break between the end of the group stage and the start of the knockouts, this felt like an especially long one, and Anfield was eager to get things underway.
The volume was turned up to the max, both in support of the team and against UEFA, and when the game started Real didn't know what hit them.
The visitors didn't enjoy a comfortable spell of possession until the 20th minute when Vinicius Jr. scored. A reminder that for all the initial positives, these European games are far from easy.
As well as learning from the bad stuff that followed, Klopp and his team will have to remember what it is like to be the 'old Liverpool' in such a big game, as, for a moment there, they had it.
The crowd starting to file out with 10 minutes to go was one of many indications that it wasn't sustained.
A harsh lesson on another stage for Bajcetic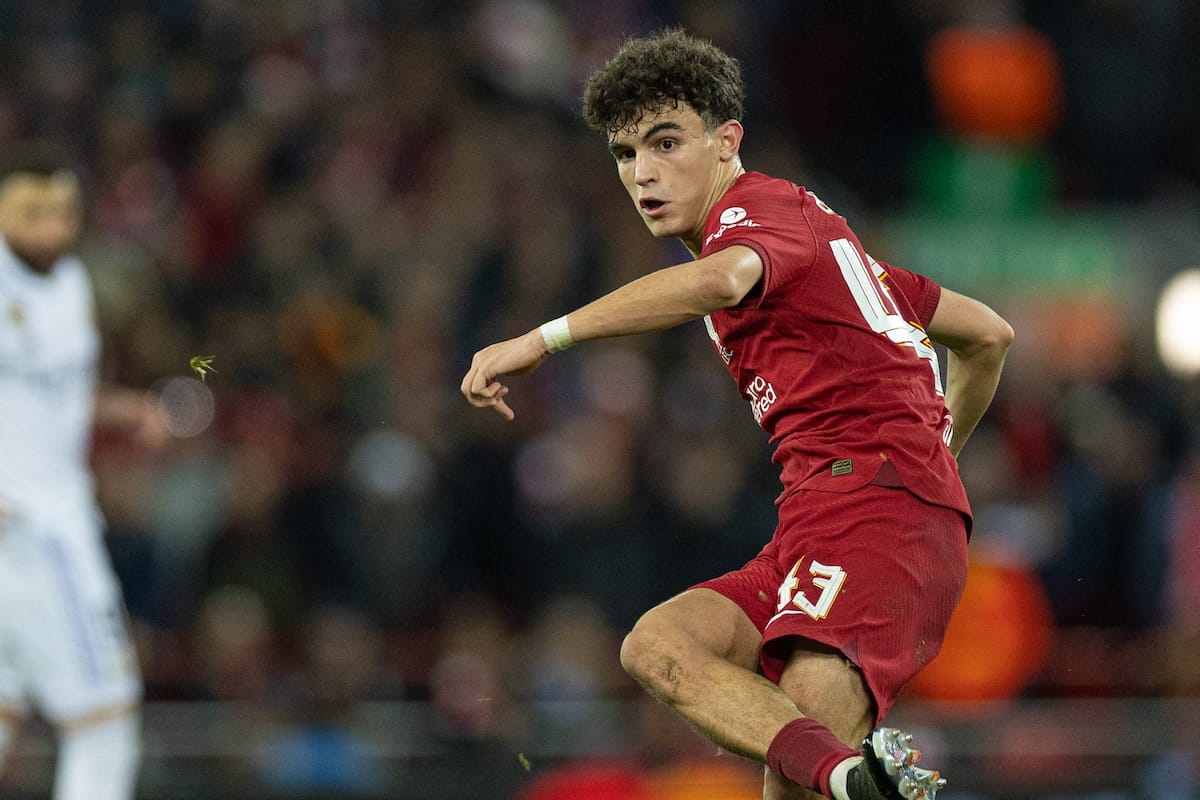 For Liverpool's new midfield wonderkid this was both another stage to play on and another stage in his development.
He was yet to start a Champions League game for the club, but all of a sudden felt like the best option to face the might of Madrid and their midfield directed by Luka Modric.
It was Bajcetic's pass under pressure that led to the opening goal.
By the time the crowd shouted 'man on' he had already passed it out to the right and the attack began there and ended with Darwin Nunez's ridiculous flick.
Liverpool players have confidence when passing to him in the same way they do when firing balls into Thiago, but ahead of the third goal there was a touch of overconfidence as he turned into trouble and lost the ball.
Though this is not an ideal match to be making mistakes and learning lessons, they will be learned more memorably due to it being such an important game.
You expect a player as young as Bajcetic to still be learning, though. The worrying thing for Liverpool was that more experienced players were also making mistakes…
Mistakes punished at this level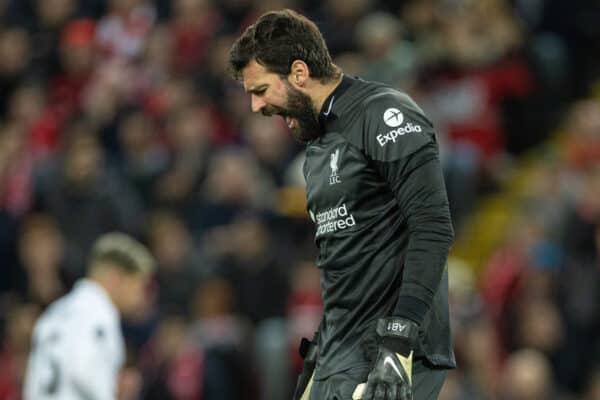 It's a phrase often heard in football, regardless of said level, and the level doesn't get much higher than this and the punishment for mistakes is swift.
Thibaut Courtois was the first to experience it, kneeing the ball clumsily into the path of Mohamed Salah who was on hand to score with apparent ease.
But Liverpool's defence has been ropey this season and that uncertainty returned here. Needless to say, it was punished.
Not much could be done about the first Vinicius Jr. goal, but the second came from a string of careless play, culminating in Alisson kicking the ball against his countryman before watching it rebound into the net.
The third, from a Joe Gomez foul and a complete lack of marking on Eder Militao; the fourth from a deflection as Gomez turned his back on a shot.
The fifth after the ball was lost in midfield and never recovered, Bajcetic choosing not to bring Modric down.
It was as if any mistakes, wherever on the pitch they were made, would lead to a goal, and that's how Real ended up with five of them.
An impossible ask against Liverpool's new nemesis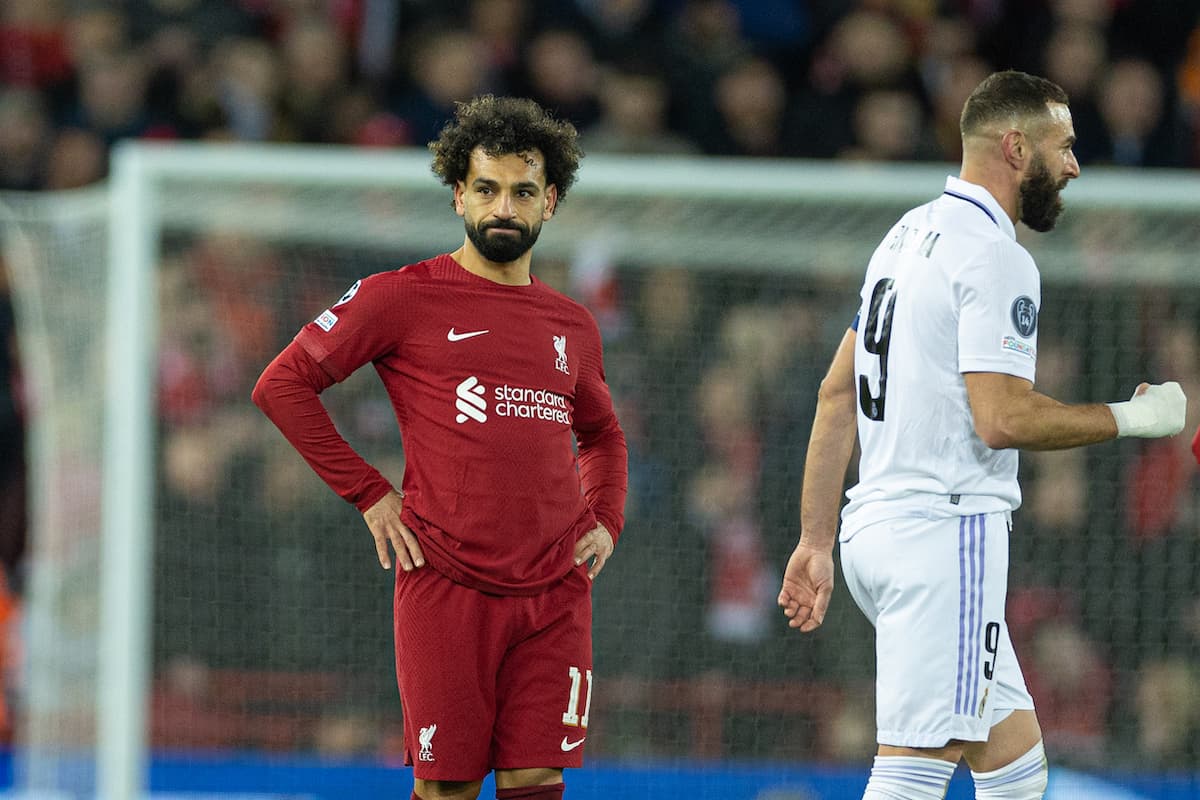 There was to be no revenge for last year's Champions League final as Real humiliated Liverpool on their own patch, confirming their superiority.
Even with plenty of time left in the game, never mind the tie, Liverpool appeared at a loss as to how to turn things around.
Klopp has trouble beating Carlo Ancelotti sides, even if that Ancelotti side was Everton. The German has only won one of the last eight meetings between the two.
It's a huge ask to defeat Ancelotti on even terms.
It's a huge ask to defeat any Real Madrid side in the same circumstances, so it seems almost impossible to come back from this deficit.