Liverpool have to rediscover their mental resilience if they're to walk away with anything of significance this season, a task easier said than done.
Jurgen Klopp's side did not concede at Crystal Palace but they didn't score either, a performance that we've all seen with more regularity than what is acceptable.
Incredibly, the door for the top four remains ajar but if the Reds' self-sabotaging ways continue, there will not be a sixth successive season in the Champions League.
A key trait that can underpin a late surge is confidence and mental resilience, traits which James Milner has implored Liverpool to rediscover by first not being hung up on every little mistake.
"I think obviously when things aren't going your way there's obviously a loss of confidence," Milner told the club's official website after Saturday's draw.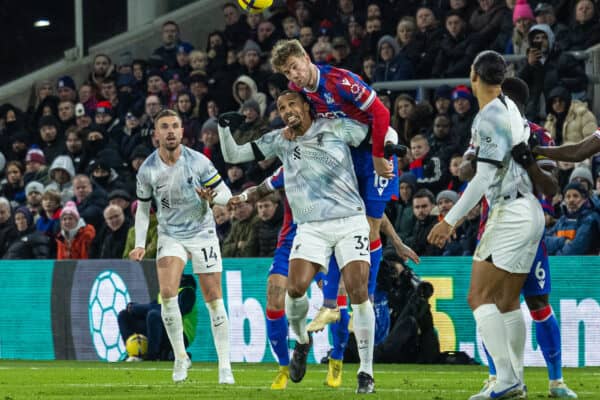 "When things are going well in a general period and you have a game where you hit the post and it doesn't go in or you misplace a pass, it doesn't affect you as much, you shake it off and go again.
"Obviously at this moment in time with the confidence a bit lower and a few bad experiences, it probably gets us down a bit more than it should do at this moment in time – and that's something we need to try to fight through.
"It's hard when you're not getting the results you want to see the good things in the performances.
"It's important that we don't get too down on not getting the results and things that don't go our way in games, we have to bounce back and be a bit mentally more strong than that, and also still see the good parts in the games."
For Virgil van Dijk, the message was a little shorter and more to the point, simply saying, "Together. YNWA" on Instagram:

With no victory to celebrate the Dutchman was the only Red with a presence on social media following the match, but his sentiment was echoed by Milner.
"It's important we don't always just get down on ourselves and we stick together," Milner said.
"You've seen the amount of fans who were here again today and they're backing us every single game, which is obviously incredible.
"We know how frustrated they are because we're frustrated as well, but hopefully they know that we'll be giving absolutely everything and working as hard as we can to try to get some form going and finish the season strongly."