Ahead of Liverpool's Champions League match against Real Madrid, Jurgen Klopp confirmed the Reds will be missing three key midfielders.
Here are the key bits from Klopp's pre-Real Madrid press conference…
Bajcetic and Henderson ruled out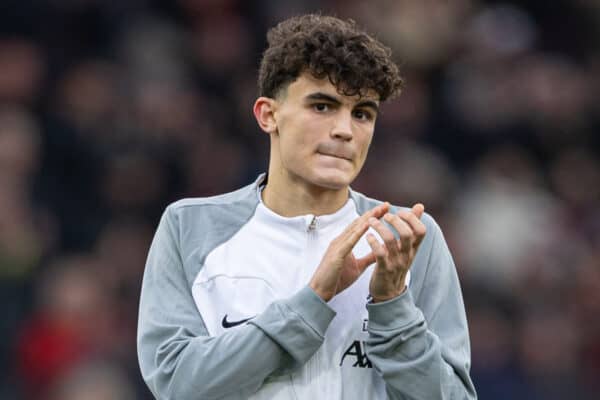 Klopp verified that Jordan Henderson will miss the match through illness and added some more disappointing news, saying that Bajcetic has a "stress response" injury to his adductor area.
The German said: "He doesn't feel a lot but we have to let it settle.
"He's now out. I don't know exactly how long."
With Thiago also ruled out, and Arthur Melo not in the Champions League squad, it leaves Naby Keita and James Milner competing for a starting spot alongside Fabinho and Harvey Elliott.
Curtis Jones and Fabio Carvalho provide other options for Klopp.
"Not something you want for Christmas"

While the manager didn't rule out a comeback, Klopp was realistic about his team's chances and had a couple of quirky ways to describe Liverpool's predicament.
The boss said: "It's Real Madrid, they are 3-0 up. It's not something you want for Christmas but we have nothing to lose."
He added that the players "are happy about this not really existing chance."
However, he would have preferred the pressure of being in the lead going into the second leg, something the opposition boss, Carlo Ancelotti, has told his players they will have to deal with.
Is there a chance?

Fabinho was cautiously optimistic when asked about Liverpool's chances, saying: "We have nothing to lose.
"Everyone expects Real Madrid to win and go through.
"We go with responsibility to wear the shirt; this group of players had nice experiences – Barcelona in 2019. We changed it.
"We know it's possible."
Klopp echoed the Brazilian's sentiment about respecting the match.
The manager said: "We respect the competition and the opponent too much to not look forward to this game…
"If there's only a one percent chance, I'd like to give it a try.
"We are here to play an extremely strong opponent and try to win the game, as difficult as it is."
Praise for the opposition

Madrid have won five of the last 10 Champions League titles on offer, beating Liverpool twice in that time.
Klopp knows all too well the quality that Los Blancos possess, especially given the manner of their comfortable win at Anfield in the first leg.
"It's clear we are not here and telling Madrid be careful we are coming," said Klopp.
"It's more about the mentality, Madrid have all my respect…
"We have to be really on top of our game."
The manager also singled out some of Madrid's longer-serving players for praise.
The German said: "Luka Modric probably keeps playing until he's 45 or something.
"Karim Benzema looks like he can play three or four other seasons!"
What must change?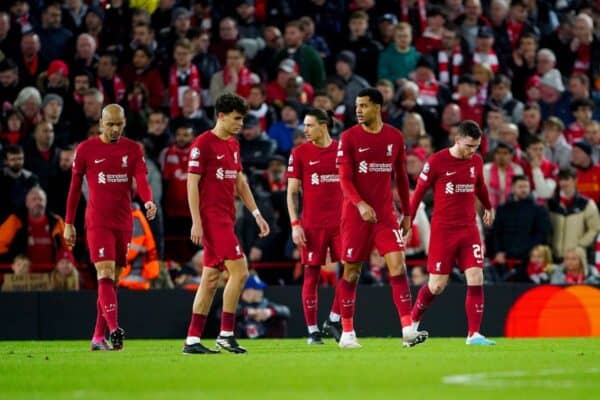 Liverpool's inquest into the first leg's failings appeared to find that the Reds were most vulnerable to counter-attacks.
The Reds' manager said: "The counters in the second half were a problem.
"We cannot deny Vinicius or Benzema all the time but for a long time we did.
"Tactically, we have to be super active, with and without the ball. Our midfield press must be outstanding. We have to take risks but avoid counters."
On what went wrong at Anfield, Klopp added: "With all the risks we have to take offensively, we have to make sure we avoid counter attacks as well.
"We just didn't defend the counter-attacks well in the second half and Madrid scored wonderful goals."
---
* Remember to subscribe to This Is Anfield on YouTube to watch every LFC press conference in full.