Daniel Sturridge has heaped praise onto Liverpool's new wave of forwards and has spotted the "first sign of something special" from Sunday's trio.
Sturridge has spoken of his excitement with regard to the Reds' current attacking options, describing Mohamed Salah, Cody Gakpo and Darwin Nunez as "big, big trouble for defenders."
The former England international knows a thing or two about forward lines at Liverpool.
He formed a formidable strike partnership with Luis Suarez during the Brendan Rodgers era, scoring 56 times between them in all competitions during the 2013/14 season alone.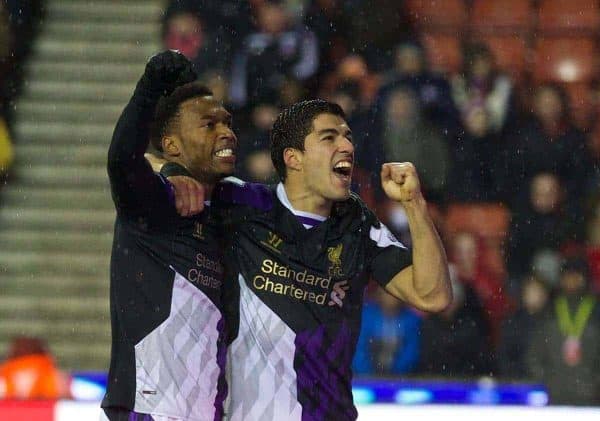 Ultimately, injuries brought his Liverpool career to a premature end, but the 33-year-old – currently a free agent – still follows the club with a close interest.
In a video posted on his Twitter account, Sturridge discussed the "chemistry" of the front three that started Sunday's 7-0 thumping of rivals Man United.
"One thing I'm very, very excited about [is] the chemistry of the front three," he said.
"Because chemistry with attackers is one of the biggest and most important things in the game.
"You've got that telepathic vibe where you're like 'overs' and the man just overs it, that vibe there is special.
Front three ohhweeeee!! This is the kind of performance as an attacker I love to watch. Let us pray it's the start of something special… #Liverpool #lfc pic.twitter.com/gI5qBlRkFS

— Daniel Sturridge (@DanielSturridge) March 5, 2023
"[Sunday] is one of the first games where I've watched them and thought 'wow, these three look like they could be big, big trouble for defenders'. So I'm excited to see where this goes now.
"I hope they can build on it, I hope they can show their quality, because without that it's very, very difficult to all of a sudden just magically click.
"Sometimes it does, like me and Luis actually clicked [in the] first training session. Sometimes it takes time.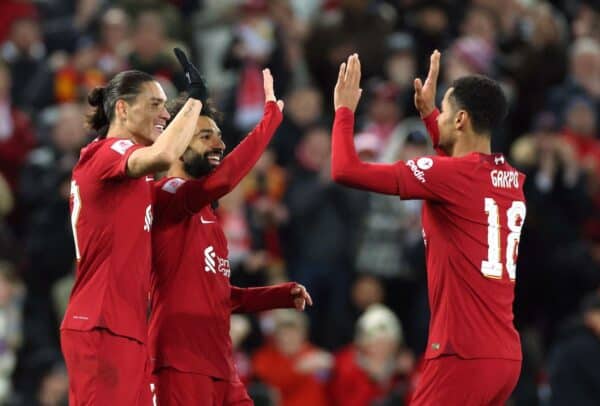 "Sadio, Bobby and Salah instantly clicked. Sometimes those things happen in football and when it does it's great, but sometimes it takes time.
"I'm not going to get too excited, because there's a long way to go, but this is the first sign of something special for this group of attackers."
It is high praise from Liverpool's former No. 15. The injured Luis Diaz and returning Diogo Jota, however, might have something to say about that!
The aforementioned 'original' front three of Salah, Sadio Mane and Roberto Firmino were unshakeable in their roles within the setup, a mixture of quality and availability ensuring that they were all permanent fixtures on the teamsheet.

Now, Liverpool have an embarrassment of riches when it comes to options at the top end of the pitch.
Salah and (until the end of the season) Firmino remain, and are joined by Diaz, Jota, Gakpo and Nunez.
There is every chance Ben Doak will also enter that picture in the coming seasons, too.
Sturridge is rightly excited about the makeup of what has been the regular front three in recent weeks, but there will no doubt be plenty more to come from the others too.