Stefan Bajcetic will not play again this season with an injury Jurgen Klopp described as a "stress response" around his adductor, and here Dr Rajpal Brar gives an expert view.
Liverpool's season thus far has been topsy-turvy, to say the least, but one of the bright spots has been the meteoric rise of Bajcetic.
In under two years, he joined the club in December 2020, he shot from the under-21s into first-team training and into a rotational option this season, debuting for the first time against Bournemouth.
Bajcetic's play led to the club extending his contract to 2027, starting in nine of 11 matches during a January to March stretch, and being on the verge of an U21s call-up by Spain, until he picked up what has been termed a "stress response" around his adductor that kept him out of the Champions League matchup at Real Madrid.
In the days that followed, Bajcetic issued a statement on social media that the injury would cause him to miss the rest of the season – another injury blow for the club who, by far, have the most games lost to injury this season.
The injury description of an "adductor stress response" is relatively vague and the club have not given up any more details.
So, what might be going on and why would it cause Bajcetic to miss the season? Three injury possibilities come to mind.
Adductor strain
The first option that comes to mind is an overt injury to an adductor muscle (a tear), colloquially termed the 'groin muscles'.
The adductor is a group of muscles – the adductor group – that sit on the inside of the leg, starting at the pelvis and travelling down to the knee.

Injuries to the adductors are one of the most prevalent injuries for footballers so this would certainly make sense for Bajcetic. However, there are a couple of things that do not make sense if he were to have an adductor tear.
Firstly, his timeline of being ruled out for the season would typically only align with a complete tear (rupture) of an adductor muscle, and there has been no indication his injury is that severe.
Further, the verbiage of a "stress response" does not align with a tear and that language is typically reserved for a different type of injury, which leads us to…
Adductor-bone stress injuries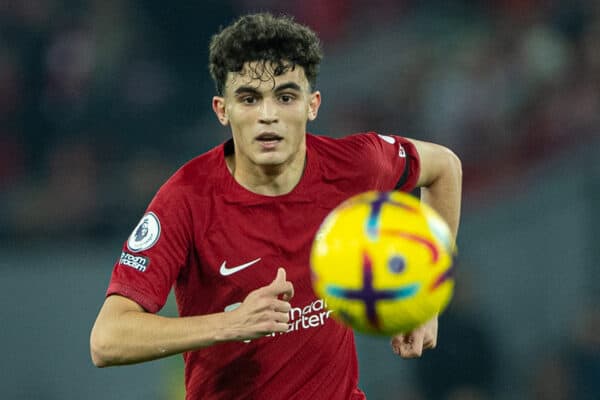 Adductor-bone stress injuries develop due to repetitive overuse and resultant microtrauma.
It is no coincidence to me that Bajcetic started nine of the last 11 games prior to having this problem – that is a significant jump in his playing time and doing so at a first-team intensity level that his body still is adapting to.
One of those types of injuries is called 'adductor insertion avulsion syndrome', or 'thigh splints'.
The repeated force from the adductor muscles causes a reaction at the bone which leads to a stress response along the upper and mid portions of the femur (upper leg bone). That stress response is seen on imaging as something called 'periosteal edema', almost like swelling on the bone.

In a similar vein to the insertion avulsion syndrome, athletic pubalgia (called a 'sports hernia' but it is not actually a true hernia), involves repetitive stress on the pelvic bone where the adductors originate (the 'origin') and can lead to microtearing along with a stress response at the bone.
Abdominal muscles can also play a role in compounding that level of force/stress on the bone.

Athletic pubalgia is relatively common in football due to the constant, repetitive twisting and forceful changes of direction.
In either case – thigh splints (adductor insertion avulsion syndrome) or the sports hernia (athletic pubalgia) – the stress response at the bone exists on a continuum termed the 'bone stress injury' spectrum, or BSI.

The stress response if not managed, can turn into a more severe stress response or stress reaction and then eventually into a stress fracture and in severe cases of mismanagement, an actual fracture.
In this case, it would certainly make sense why Bajcetic has been ruled out for the season.
You have to be extremely proactive with these types of injuries and they can take months of methodical rehab and careful progressions to get back from, especially for a player who is still acclimating to first-team football in the high-intensity Premier League.
For a case in point example, look no further than Curtis Jones who dealt with a tibial stress reaction injury (different bone but same principle) that took months to return from, and came with numerous ramp-up and ramp-down periods based on how he was responding.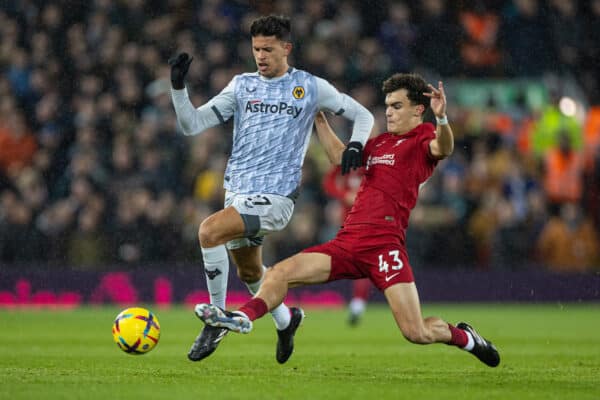 For that reason, and when you consider Bajcetic's age and potential along with the club being out of the running for any major trophies this season, the risk/reward of trying to bring him back this season completely tilts towards risk.
Now he can rehab without any pressure and continue to build up his physical and mental fitness over the summer, with an eye on becoming a key cog and contributor next season and for the long haul.