Following new claims that Mohamed Salah would consider his options at the end of the season, with a possible move to Spain, his agent has responded.
A story from Foot Mercato's Santi Aouna on Saturday claimed that Salah was "increasingly considering leaving" this summer.
Confidently claiming an exclusive, the prolific transfer 'reporter' explained that the Egyptian could seek "new meaning" elsewhere, with Spain his "preferred destination."
This, of course, comes at a time when Liverpool are struggling, having exited the Champions League to a 6-2 aggregate loss to Real Madrid and sitting sixth in the Premier League.
Aouna's tweet gained significant traffic, with 2.6 million views, while a number of UK publications picked up the story in pursuit of clicks.
But, as expected, there is no truth to his 'exclusive', with Salah's agent, Ramy Abbas, taking to Twitter to publically call out Aouna:
Where did you get this from if not even Mohamed and I discussed this? Please tell us. https://t.co/1I1RUtGJej

— Ramy Abbas Issa (@RamyCol) March 18, 2023
Quoting Aouna's initial tweet, Abbas asked: "Where did you get this from if not even Mohamed and I discussed this? Please tell us."
It was a welcome update from Salah's representative, though one which arguably was not even needed given the No. 11 only signed a new three-year contract in July.
Putting pen to paper last summer, the 30-year-old earned a wage of around £350,000 a week, which is comfortably the most any Liverpool player has ever been paid.
At the time, Salah only had 12 months remaining on his previous deal, and was therefore in a strong position to push for the move that, according to Aouna's imagination, he could have hoped for.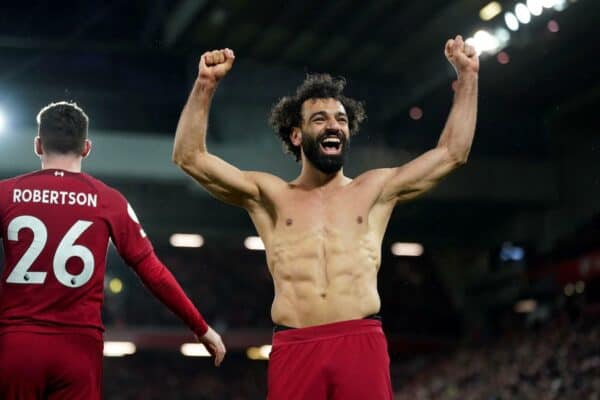 Instead, he stayed put and, though the Reds find themselves in the mire, has become only the second player in the club's history to score 20 or more goals in six consecutive seasons.
Salah has 22 goals in 39 games so far this term, along with 11 assists, with Ian Rush to only other player to achieve the feat for Liverpool.
There is no cause to question his commitment, nor his value to the club, with few in the world producing at a more consistently prolific rate than Salah.