There were too many Liverpool players "with little fang for recovery" in the eyes of the Spanish media as Real Madrid again had their number.
There was no sugar coating the predicament the Reds found themselves in heading to the Bernabeu with a three-goal deficit to overturn, done only four times in Champions League history.
Add to it the season Liverpool are currently experiencing; a miracle was the apt term. Instead, Karim Benzema was again on the scoresheet while Jurgen Klopp's array of forwards misfired.
The manager opted for a 4-2-3-1 formation, loading up on attackers to give his side the best chance, but the belief and energy did not match up to the roll of the dice.
The Spanish media took note after Madrid's 6-2 aggregate win.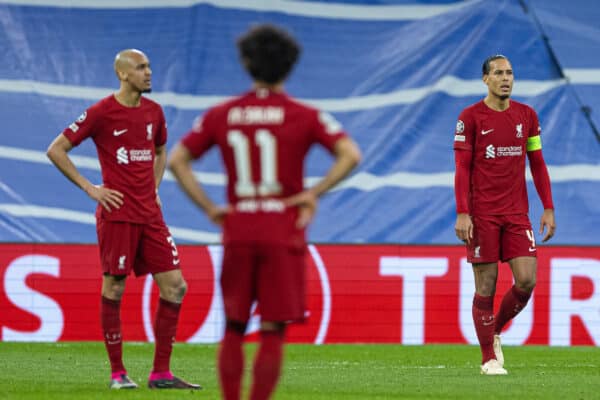 Writing for AS, Luis Nieto pointed to Liverpool's attacking XI and how the "courageous" choice was let down by the Reds' "attitude."
"Liverpool came out armed to the teeth: only two midfielders and Salah, Gakpo, Diogo Jota and Darwin Nunez in a very wide attack front," he wrote.
"That courage was left alone in the eleven and was lost in the attitude: neither fierceness in the pressure nor the desire to shrink Madrid. Too many footballers with little fang for recovery."
MARCA were a little kinder in their assessment of "two exemplary clubs" battling it out in Europe once more.

Jose Maria Rodriguez was another to applaud Klopp's "tremendous approach" with his team selection, and he was not wrong when he wrote Reds "will dream of the Belgian [Thibaut Courtois] for years."
More like a nightmare!
Ultimately, though, "the talent of [Madrid's] mythical midfield was enough" with 33-year-old Toni Kroos "a giant" throughout, "securing possession and driving the ball where it was most convenient."

For Mundo Deportivo's Manuel Bruna, Madrid progressed to the quarter-finals like "someone who goes to an exam knowing the answers to all the questions."
Real Madrid were deemed "once again far superior to a Liverpool team that had no room to dream of a comeback," and the Reds' "dangerous arrivals in Courtois's area were sporadic and thus, it was very difficult to achieve a comeback."
As for player ratings, only Alisson, Virgil van Dijk, Mohamed Salah and Darwin Nunez were awarded two out of three stars by Marca.
Ten other Liverpool players were given just one star, in comparison to two for Madrid (Dani Carvajal and Federico Valverde).
So, for the fourth time in six seasons, Real Madrid are responsible for Liverpool's trophyless exit from the Champions League. Sick of the sight of them.