Supporters struggled to find the positives Liverpool exited the Champions League, 6-2 on aggregate, against Real Madrid.
The tie was effectively over after the first leg but Liverpool still had a chance to put some respect back on their name in Europe.
While Jurgen Klopp's team only lost 1-0 on the night, Alisson was man of the match and Liverpool struggled to create clear-cut chances.
There's a 17-day break now until the Reds next play; let's hope the team come back refreshed for games against Man City, Chelsea and Arsenal.
Here, Sam Millne (@sam_millne), Adam Beattie (@beatss94) and Tom Eves (@TomEvesJourno) discuss the away performance; the rest of the season and an upcoming 17-day gap between games.
What you expected?

Adam: In an ideal world I'd have liked to have seen more impetus and a desire to make things happen but I had no real expectations that we would progress.
Had the game been at Anfield, my attitude would've been markedly different and I imagine the outcome might have been less of a drag.
Tom: I think we all knew it was a near-impossible task, but I also remained hopeful that if that were the case, we'd at least go out fighting and give them a tough game, this definitely wasn't the case.
I definitely expected a better performance from us, despite the slip-up at Bournemouth last weekend, but they were all over us and it was evident that we were out of our depth.
Adam: Agreed. My main concern was going down with a bit of a fight and giving us something to look forward to after the international break.
But, barring a couple of half chances early on, we didn't really lay a glove on them, and no matter how good the opposition, that's always a concern.
The issue on the night

Tom: I think the issue of the night was the midfield and it certainly isn't the first time that's been said this year.
I don't think we could match the energy of Eduardo Camavinga who was sensational. Fabinho seems to have lost his legs and James Milner is pushing 40-years-old. We really miss having a midfielder with the energy of Gini Wijnaldum in games like this.
I thought our defending was better than in the first leg and we looked more solid with Ibrahmia Konate back.
Sam: I'd agree that the defending was better and the offside line was good most of the night. Keeping Virgil Van Dijk and Konate together will certainly help us going forwards.
Having said that, we still relied on Alisson to keep us in the game at times.
Adam: Other than the very accomplished, streetwise opposition we had in front of us, the main problems were of our own making.
I'm sure I wasn't alone in thinking that Darwin Nunez's substitution was a bit of a white flag from the manager, and we didn't really have the sort of cohesion required to cause Madrid any tangible trouble.
Back in the competition next year?

Tom: One hundred percent that I think there's still a chance. There are 12 games to go and we are only six points off fourth spot with a game in hand.
It's definitely still on the cards, however, this season has been a complete mess and I just don't know what to expect. Man City, Arsenal and Chelsea are also not the sort of fixtures you want to have in front of you.
Adam: Arsenal stands out as one that will be a must-win but we're talking here about the side who are likely going to go on and win the title.
The Bournemouth game showed us that we aren't a team that can expect to just swat away bottom-half sides any more. I honestly wouldn't be overly surprised if we go to the Etihad and turn Man City over, but I also wouldn't raise an eyebrow if they put five past us – I think that just about sums up where we're at currently.
If you could take one player from the Madrid team, who would it be?

Adam: Vinicius Jr. please, if you're offering. The ability and initiative he shows at just 22 years old is frightening. Based on the two legs against us alone, the sky's the limit for him as far as I can see.
Tom: Honestly, I think I'd take most of their squad! Who wouldn't want Vinicius Jr?
But, if I had to make a logical pick, I'd have to say one of their midfield players considering that's what we're crying out for at the moment – Eduardo Camavinga looks a superb player who will have a great career.
Sam: I'm tempted by Camavinga too, though, Aurelien Tchouameni wouldn't be a bad option too, especially given it's the world's worst-kept secret that Klopp wanted him.
While Vincius Jr. is a brilliant player, we've got Luis Diaz coming back who was our best player at the start of the season. Hopefully, he's fully firing for the start of next season.
A football break?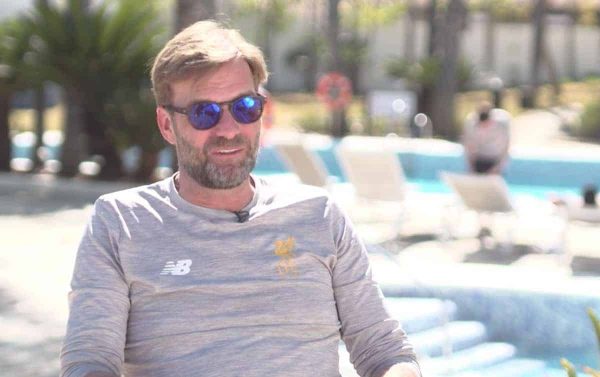 Tom: I'll definitely be switching off from the football from now until the next game for the sake of my mental well-being!
I think I share the same thoughts as many other Liverpool supporters in saying we can't wait to see the back of this season.
Hopefully, with Diaz back, that will give us a boost and we can sneak a top-four finish then go and rebuild in the summer.
Sam: Adam and I will be here on This Is Anfield to keep you updated with all the Liverpool news over the international break!