Steven Gerrard and Jude Bellingham's exchange after England's win over Ukraine on Sunday has sent Liverpool fans into a flutter almost as much as the two midfielders wooed each other!
The former Liverpool captain told Bellingham he is "a lot further ahead" than he was at the same stage in his career as the pair complimented one another at Wembley.
It was an interview which delighted Liverpool fans, who remain hopeful that Bellingham will make the switch to Anfield this summer for what would undoubtedly be a club-record fee.
Various reports over the last few months have indicated that Bellingham would be interested in a move to Merseyside, and his latest interview will do little to nullify those rumours.
The 19-year-old was asked about the extent to which Gerrard was a role model growing up, prompting a series of flattering comments from both sides.
"You've stitched me there, haven't you? You've stitched me," joked Bellingham when asked by Channel 4 about role models in Gerrard's presence.
Not sure who's a bigger fan of who ?

Jude Bellingham and Steven Gerrard had a lot of kind words for each other ?#C4Football | #ThreeLions | #ENGUKR pic.twitter.com/bDAn5YX7fF

— Channel 4 Sport (@C4Sport) March 26, 2023
"The things that Stevie could do in terms of the teams he played in, the way he could carry a team, the way he could kind of single-handedly win a game, he could do everything as a midfielder.
"I've definitely said it multiple times I've looked up to you so it's a pleasure to be stood here."
Gerrard returned the tributes and gave subtle words of advice to the Borussia Dortmund midfielder.
"Listen, let me tell you right now, you're a lot further ahead than I was at your age, so you're going in the right direction," Gerrard praised.
"He's got a better body than I had at 19. No seriously, I probably never had that power and that strength until probably 22 or 23, so he's definitely more physically developed than me.
"Don't get me wrong, I got to where I wanted to get to and he'll naturally get to where he wants to if he keeps on doing what he's doing.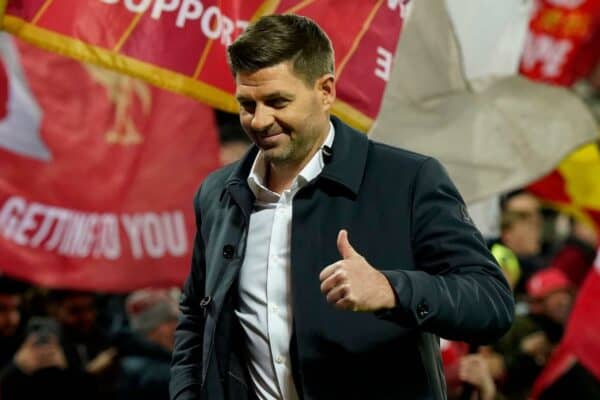 "But he's in a fantastic place and everything else around him he just needs to park it up and keep playing well and everything else will take care of itself."
There is a visible amount of reciprocated admiration from both men, and Liverpool fans will take encouragement from such a public display of respect for a club legend.
It comes just days after Bellingham was pictured attending a concert with Trent Alexander-Arnold, affording further excuse for excitement among supporters.
The transfer links will continue to rumble on into the summer, but it was an uplifting clip which will provide hope for anybody associated with Liverpool…