It was yet another 0-0 between Liverpool and Chelsea in an uninspiring showing from the Reds at Stamford Bridge.
Jurgen Klopp's side struggled to get a foothold in the game and were by far the happier of the two sides in coming away with a point after two Chelsea goals were ruled out by VAR.
With just 10 games remaining it leaves the Reds with it all to do if they are to rescue a top four finish from a disappointing season.
Here, Adam Beattie (@beatts94) and David Comerford (@Dave_Comerford) examine Liverpool's shortcomings and try their utmost to pick out some positives.
First of all, was there anything about the team selection that surprised you?

David: Well, Klopp had hinted at making changes before the game and there did need to be some repercussions for the City performance, but I didn't expect it to be this extensive.
A few of the players who dropped out of the side – Robertson, Gakpo, Salah – have actually been among our better performers recently, while Fabinho and Henderson don't deserve to be starting and are just fortunate that we have so few options in midfield.
You can dress it up as rest if you want but Chelsea are in the same boat as us and they weren't doing the same.
Adam: I thought it was inevitable we were going to see changes, even if the number did raise a few eyebrows.
If you look back to Southampton away last season when we were chasing four trophies, Klopp makes nine changes because he simply couldn't ask the same players to go every three days no matter how big the game was.
That was when he could trust them, now he's probably looking around and thinking he can only truly rely on a handful, one being the goalkeeper.
I imagine Arsenal was the one he had circled as a priority when he looked at these three fixtures, so I can see us being back at full strength on Sunday.
Chelsea have looked extremely poor all season, how much of a concern was it to see them cause us so many problems?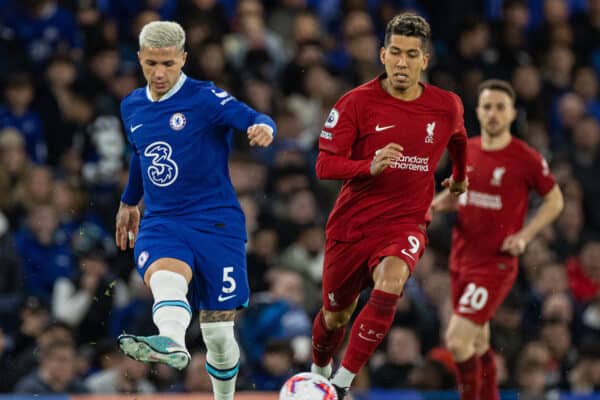 David: It was concerning to a degree, because Chelsea hadn't just been wasteful under Potter, they'd often struggled to create too.
But equally, it was to be expected. For all Van Dijk's woes this season, Liverpool have looked even weaker without him.
Matip's poor form from January continued here, and the back four was always likely to be left exposed when you consider the gulf in class in midfield.
Adam: I had some blind optimism that we'd show a bit of ingenuity and could at least go toe-to-toe with Chelsea given the season they're having.
As it transpired, I was just begging for the full time whistle for the majority of that second half.
We somehow looked leggy despite coming off a 17-day break and rotating the squad, and we made Chelsea look like a far better side than they really are.
Is there anything glaringly obvious that you'd like to see us to change with either the system or personnel before Sunday?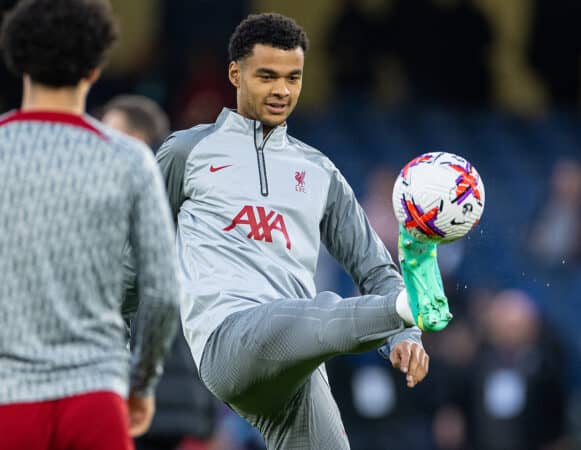 David: I don't think I'd do anything too radical for the Arsenal game.
In terms of changes, the three players I mentioned earlier – Robertson, Gakpo and Salah – all come back into the team for me, as does Van Dijk if he's recovered from illness.
The midfield is less clear-cut, but I don't think Jones did enough so Elliott may have to come back in. God, it's really uninspiring, isn't it?
Hopefully, Thiago is back on the bench.
Adam: I agree with all of that, we've tried being brave and showing initiative in terms of different set-ups but nothing has stuck for us so far.
There is a nice big gap after this one before we play Leeds, so I expect to see our best available XI and hopefully being back at Anfield for the first time since the United game can revitalise us somewhat.
Did anyone stand out for you?

Adam: Similar to Man City at the weekend, anyone I mention here is getting a shout-out purely because of how little else there was to be positive about.
Alisson obviously saves us a couple of times, something he's probably getting a bit fed up of doing this season. But even he didn't particularly produce anything world-class, it was just one of those games.
David: Well I hinted at this in my last answer, because I'd keep in the team – Joe Gomez.
He had that one ropey moment where he played a short back pass to Alisson but aside from that I thought he was pretty solid defensively. To be clear, we're talking about a 6/10 performance in a team dominated by 4s and 5s as Adam alluded to, but he took his chance.
What would represent a good end to the season from this point?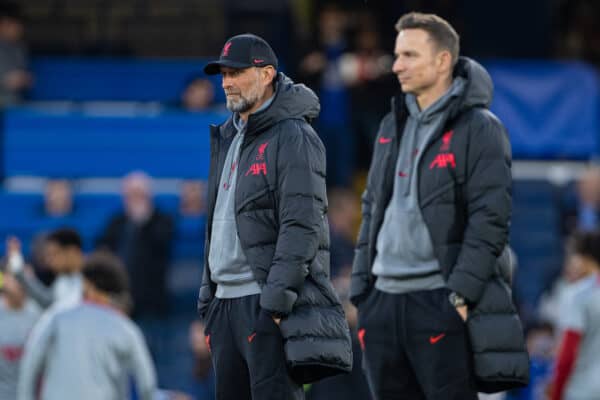 David: Well the obvious answer is 4th place, and I believe that's still attainable with a victory against Arsenal and a 20/21-esque run-in.
But to take the more interesting, broader approach, you want to see signs of optimism for next season, whether that's Diaz reinvigorating the side, Nunez and Jota finding form, and/or a few of our big-name strugglers looking more like their old selves.
I want to see the potential of this team to go again with the right additions.
Adam: As David mentioned, I just want to see us put some sort of run together to give us a bit of hope and momentum going into next season, regardless of where that leaves us in the table.
We have a good record of finishing strongly under Klopp even in seasons where we've struggled, 2020/21 stands out as a good example and we kicked on outstandingly from there after the summer.
There are 30 points still to play for and I would probably shake hands on 23 points if it was offered to me now.
It's unlikely to be enough for Champions League football next season, but it should hopefully go some way to restoring some belief.