Jurgen Klopp maintains that Darwin Nunez is a "long-term project" for Liverpool, but there is a keen desire to see the striker start to master the English language.
Nunez has started only one of the last four matches, with the manager preferring a combination of Mohamed Salah, Cody Gakpo and Diogo Jota.
It has been met with some bewilderment from supporters as the No. 27 offers pace and unpredictability, a combination that has injected a spark in moments of need.
But the manager was quick to explain that Nunez is still adapting to the team and a new language, when asked about the Uruguayan ahead of Saturday's meeting with Nottingham Forest.
"Darwin is a player with a different skill set to all our other players, that's good," Klopp went on to explain.
"He's a real handful, he's a machine and he will score a lot – well, he's scored already these number of goals so it's all fine.
"But, of course, he is still adapting. His English is still not great, if not existing at all. We are working on that, massively.
"It's not helpful to go through a difficult debut season for the whole team – how can a striker shine when the team is struggling?
"That's not possible, but he had super moments for us. Was injured in some moments and suspended in others, it is not helpful but not a problem at all."
The manager has readily deployed Nunez on the left of a front three and Nunez currently has a return of 15 goals and four assists, but it is evident that Klopp is seeking more from the 23-year-old.
"This is a long-term project," the manager stressed. "I understand that he wants to play desperately from the beginning, but we have to find a way that works for us again.
"I'm completely fine with the situation but I understand that Darwin is not always fine with it.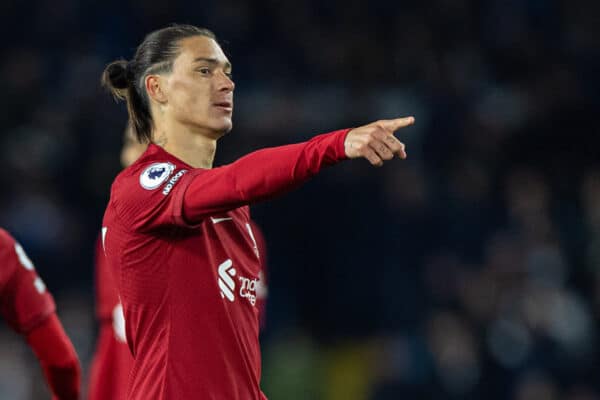 "It's not like he smiles in my face when he realises he will not start, it's not like 'thank you, boss'.
"It's fine, that's how we have to deal with the situation. When you have five, six players available up front I have to make decisions.
"The door is miles open but the more sessions we have, the more sessions you have to show up."
As for a central role in Liverpool's system, Klopp insisted Nunez can operate in the role but the whole team set-up needs to be right – which suggests a desire to see more counter-pressing from the No. 27.

"He's a centre-forward that plays on the left. It needs a specific set-up that he can play and defend in the centre," Klopp continued.
"Playing in the centre is no problem, he is a machine…He can play both positions, 100 percent, and did that for us really well.
"He has to learn English, that's how it is, we can translate everything but in training sessions, we cannot have four languages translated."