With Liverpool's transfer masterplan appearing to have already unravelled, should supporters be losing trust in owners Fenway Sports Group?
The good news is there are only six weeks left of a wretched season. The bad news is Liverpool may not yet have hit their nadir.
It shouldn't have come to this.
A football club seemingly in the ascendancy 12 months ago is now paying the price for an ownership (and managerial team) believing they were the smartest guys in the room.
Running a business the way Fenway Sports Group have LFC in the last five years relies on near-total perfection. How else can a sports team built sustainably truly hope to go toe-to-toe with rivals manufactured by a petrostate?
The answer, for a time, came in the shape of Messrs Edwards and Klopp. Both masters in their respective fields, this sporting director-manager combo helped overcome the odds.
The pair were, in effect, footballing cheat codes.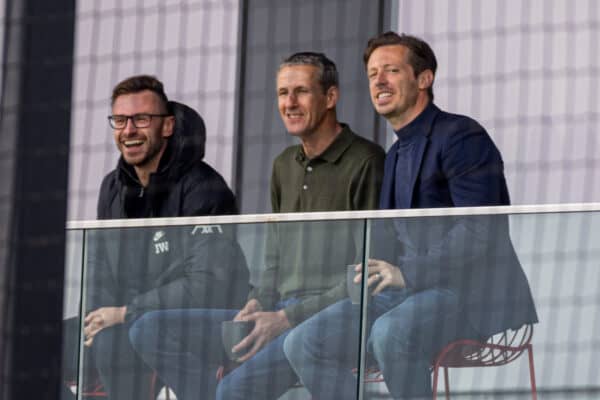 The former's scouting network and penchant for negotiation, paired with the German's ability to extract everything and more from his players, saw Liverpool transform from no-hopers to world champions.
The re-emergence of the red machine was all the more remarkable given how it was financed. Or rather, not financed.
For all intents and purposes, ours was a sell-to-buy policy. Seven full seasons into Klopp's reign his annual net spend stands at just over £26 million.
Whilst that's an eye-watering sum to Kopites flocking to the turnstiles, it's a relative shoestring by Premier League standards. It's certainly an outlay that pales in comparison to the remainder of the so-called 'big six'.
For context, Pep Guardiola's annual (net) outlay across the same period is more than £84 million.
Between them, four Man United managers have spent in excess of £1 billion in that timeframe, making for an annual net expenditure of almost £110 million.
Champions-elect Arsenal have only truly flexed their muscle in the last two years, this change in approach bringing their net spend up to £81 million. It could soon pay dividends.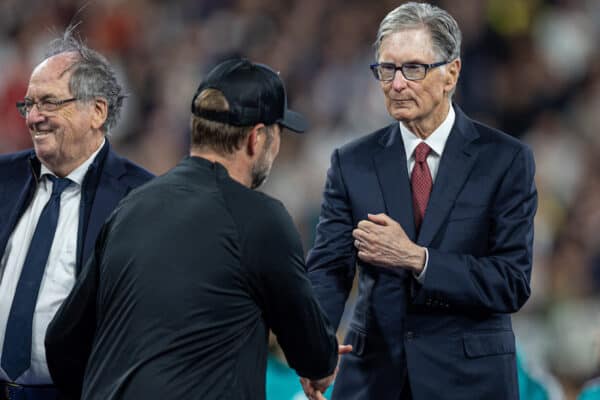 While their rivals threw money at the problem, Liverpool's ownership were presumably sat in the confines of Fenway Park patting themselves on the back.
To their credit, our model was the envy of European football. We both bought and sold well, living within our means whilst competing for the biggest honours.
But it was always a strategy that could only work for so long.
FSG's model was not exactly built on sand but relied on Michael Edwards and Jurgen Klopp in particular performing miracles. Now the former has departed, and the latter is seemingly out of magic tricks.
This has laid bare a rotting carcass, revealing years of under-investment and exposing an ownership seldom prepared to go the extra mile.
Learning from mistakes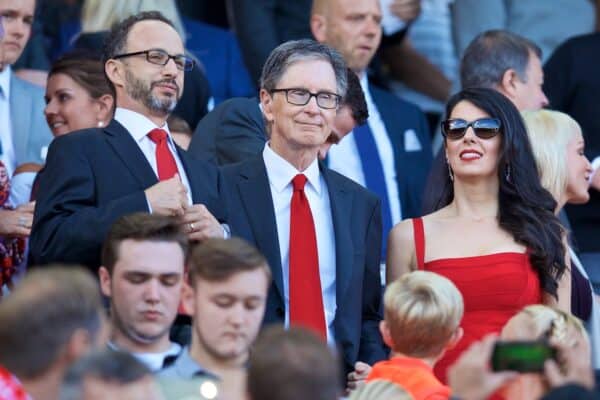 FSG's premiership has certainly been a curious one.
They are often credited with 'saving' Liverpool in 2010 as the dying embers of the Hicks and Gillett era saw the club fought over in court, all amid the looming spectre of administration.
This narrative paints the Americans as white knights when, in fact, they purchased a global brand on the cheap.
The reality is someone would have snapped up a sporting institution of such renown, no matter how bleak the financial climate.
Even so, they were afforded a fair amount of goodwill simply for not being the 'other guys'.
Even now, this fairytale is spun as a defence for some quite inexplicable decisions – of which there have been many.
From the unceremonious sacking of Kenny Dalglish to the proposed hike in ticket prices to attempts to trademark the word 'Liverpool'…there have been countless errors in judgement.
That's before we get into the furloughing of staff and being at the forefront of ill-fated Super League proposals.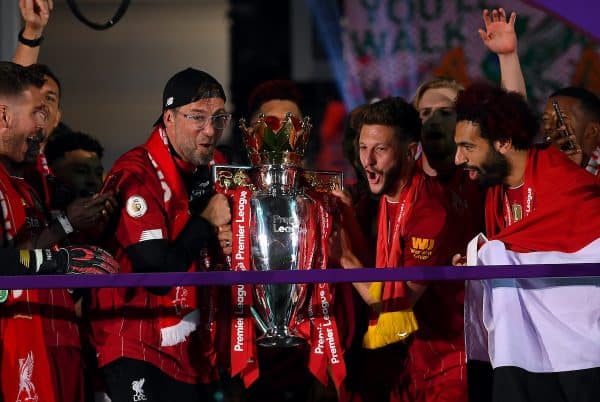 In fairness, they have been quick to correct such errors and have – more often than not – bowed to fan pressure.
Of course, consulting supporters' groups before scoring disastrous PR own goals will have spared them great embarrassment.
For all the speed bumps, they can righty proclaim to be the custodians that brought the Premier League trophy back to Anfield.
While there is no disputing this fact, their one masterstroke was appointing Klopp. It's he who delivered the silverware we all craved, doing so with a proverbial hand tied behind his back.
No other manager could have replicated his achievement with those budgetary constraints.
For that reason, many sceptics are inclined to think FSG got lucky in landing the modern-day answer to Shankly.
And now it's payback time. Or rather it should be.
Going the extra mile

Klopp has come up trumps for his bosses time and again, despite being repeatedly let down.
Take the summer of 2019 when Liverpool were reigning European champions. That off-season, they made three signings in the shape of Sepp van den Berg (an initial £1.3m), Adrian (free) and Harvey Elliott (up to £4.3m).
No other major club on the continent will have done such little business having reached the pinnacle of the club game.
The irony is Klopp's men pushed on again and clinched the title the following season and this is held up as a defence of FSG's lack of financial support at the time.
In reality, it was a missed opportunity to build from a position of strength. We may not have paid the price in 2019/20 but we certainly did in 2020/21, when midfielders were suddenly shunted to defence.
Why was that? Because on the eve of that campaign, the Reds gambled on the fitness of just three senior centre-backs. Two of them had succumbed to long-term injuries by Christmas, when we somehow sat top of the league.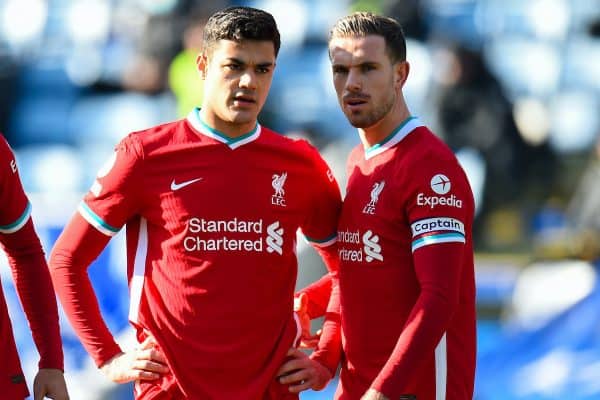 An ideal opportunity to bring in reinforcements and turbo-charge a title defence, FSG made no moves until the final day of the window, this when the last man standing – the famously indestructible Joel Matip – succumbed to his own season-ending injury.
The answer? Two emergency loans, neither of which seemed to appease the manager.
This particular window encapsulated FSG's tenure.
They have been decent owners but are never prepared to go the extra mile. Inactivity of this kind kills dynasties – or rather any chance of building them.
The Bellingham saga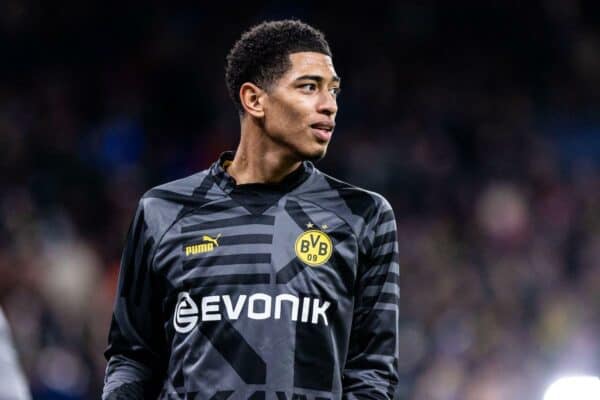 Bemoaning a lack of transfer spend is, of course, to simplify a complex issue.
Liverpool have paid out big bonuses in recent years and also overseen several contract extensions underpinned by significant pay increases. There is also the matter of a new training complex and an expanded Anfield Road stand.
However, those commitments, coupled with a refusal to put in their own money, have led to the slow death of a once-great football team.
Granted, nobody is blameless in this horror show of a campaign.
The manager himself has made some bewildering calls and is seemingly incapable of fixing things tactically. His in-game management, particularly in the form of substitutions, has gone to bits.

The medical department, for so long without a head doctor, has been a shambles. By the second game of the season, Liverpool already had nine injuries. Absences have not abated.
Even pre-season was riddled with mistakes. Whose idea was it to travel to Asia to take on Man United after less than a week's training? Talk about setting the tone for the season…
And yet the root problem is a lack of serious and sustained investment, particularly in the midfield area.
Our engine room has been neglected for the best part of six years. Only one senior midfielder (Thiago) has been signed since 2018. That is frankly criminal.
The party line has always been we will not compromise on top targets. This was the apparent reason no alternative was lined up when Aurelien Tchouameni opted for Real Madrid last summer.
The whole of the footballing world knew the identity of our other main target, himself unattainable until the summer of 2023.

A refusal to compromise and consider third or fourth choices meant we in effect wrote off an entire season. Boy has that backfired, this roll of the dice costing us Champions League football.
Whilst a bitter pill to swallow, many supporters could just about stomach a year's exile in the hope we'd secure Jude Bellingham and embark upon a revenge tour next term.
Now those expectations have been dashed because, we're told, the deal has become too expensive.
That's the same deal that everyone knew would cost in excess of £100 million last summer. The same deal we've apparently worked on for two years.
This doesn't add up. Literally.

Given recent history there is a growing suspicion FSG allowed rumours of Bellingham's arrival to spread because it excused a lack of funds in upcoming and previous windows, in effect staving off serious scrutiny.
That may be a cynical view bordering on conspiratorial, but distrust is growing.
There is a sense we've been misled. And that 'we' includes the manager, who must surely have felt this one transfer was at least halfway complete.
What comes next?

The next three to four months are pivotal to FSG and their long-term commitment to the biggest asset in their ever-expanding portfolio.
When news of a potential sale arose in November an exit strategy was seemingly being prepared, only for a U-turn to be announced early in the New Year.
A strange and dare we say suspicious move, it leaves you wondering what their end game actually is.
They already stand to make an incredible return on investment. Buying an asset for £350 million and standing to make £4 billion from any sale is some uplift.
Having delivered the Holy Grail of that elusive Premier League title, what is there left for them to achieve, particularly when they appear almost ambivalent at this stage?
The only logical conclusion is they're clinging on in the hope clubs will soon own their own content.
Given Liverpool's worldwide support, this would see them stand to make even more profit from a global TV audience.

Either way, running a football club within its means at the top echelons of the English game is now fanciful. The rise of state ownership has put paid to that.
At this juncture, unless John Henry and Co. are willing to put in their own money Liverpool have no realistic hope of competing at the top level of the Premier League.
Which begs the question: has the club become too big for them?
To put it bluntly, it's time to piss or get off the pot. A serious rebuild is now required, the magnitude of which is a result of a previous dereliction of duty. That's as ironic as it is alarming.
The cleverest guys in the room currently look very stupid. We must ensure they don't make fools of the manager or fanbase.