After Liverpool beat Nottingham Forest 3-2 at Anfield, Jurgen Klopp explained why Liverpool might have turned a corner.
Here are 5 key points from the manager's post-match press conference…
What's changed?
Liverpool's impressive demolition of Leeds ended a run of five winless matches, and the Reds followed that up with another victory against Nottingham Forest.
Klopp has been working to improve the Reds all season and explained what has changed in the last few games.
The German said that Liverpool are now "more orientated" and "more compact," before adding: "Today I saw a lot of top, top, top counter-pressing moments and that's, for us, super important. Yes, that's changed.
"I think we are much clearer in that department."
Diogo Jota repays Klopp's team selection
The re-emergence of Diogo Jota as a goal threat has helped Liverpool too.
The Portuguese has scored four in his last two games for the Reds, and Klopp said of his forward: "You really can see what goals do to a striker.
"It was a great first touch [for his second goal] and he created a chance when it didn't look like there was one.
"He deserves it after a long, long time out. He's positive."
Before netting against Leeds, Jota hadn't scored for over a year.
The attacker's goals aren't the only aspect of his game that Klopp likes, though.
"You can be, as an offensive player, involved in absolutely each defensive situation and still be a threat offensively. There's no if/or, you can do both. Diogo is doing that," the manager added.

Liverpool "a proper mess" from throw-ins
Moussa Niakhate's throw-ins were a constant thorn in Liverpool's side as the Reds struggled to clear their lines effectively.
After the match, Klopp admitted they caused problems for his team, saying: "When the ball was out, that's when the game really started.
"The throw-ins created a proper mess for us. You can prepare a lot in football, but for this weren't prepared well enough."
The manager did add, though, that they are "prepared now" going forwards.
It is definitely something that needs to be improved, quickly.
Andy Robertson's role is changing
With Trent Alexander-Arnold playing more centrally while Liverpool have the ball, Andy Robertson has been asked to play as part of a back three, though he can still get forward.
Klopp said: "We cannot have one full-back and the other constantly high. Robbo has to judge the situations when he can get involved and overlap. He's an experienced player. We need him there."
This doesn't mean that Robertson can't attack, as he did so frequently against Forest, but he may need to be more selective with his forays into the opposition's final third.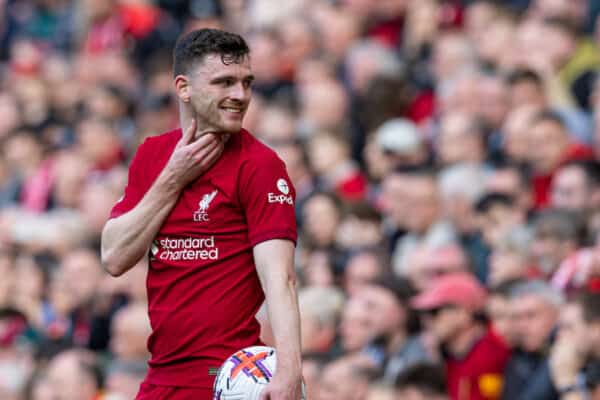 Liverpool "should have controlled" the game better
Many of the Reds' problems this season have been self-inflicted.
The match against Forest was no different, and several errors meant Liverpool were often exposed in the second half.
Klopp admitted that his side "should have controlled" the game "a bit better," and that, at times, the visitors only "needed a throw-in" for "everything to end in chaos."
On the whole, though, Klopp said he was "really happy," because his team "showed a lot of things that he wanted to see."
---
* Remember to subscribe to This Is Anfield on YouTube to watch every LFC press conference in full.