There was plenty to soak up over the weekend as another chapter came to a close at Liverpool, and who can turn down more images from Anfield? Not us!
Jurgen Klopp's men did not quite entertain on the pitch on Saturday, until Roberto Firmino entered the fray that is – it just had to be him.
On a day where emotions were high as the Brazilian prepared to say goodbye after eight years, it was only right that he had one last say in front of the Kop.
It preceded a brilliant tribute to Bobby and those leaving the club this summer – and after processing 9,000 images from the day, Propaganda have treated us to some brilliant unseen photos.


The guards of honour for Firmino, James Milner, Alex Oxlade-Chamberlain and Naby Keita were equally moving, all given their deserving moment in the spotlight.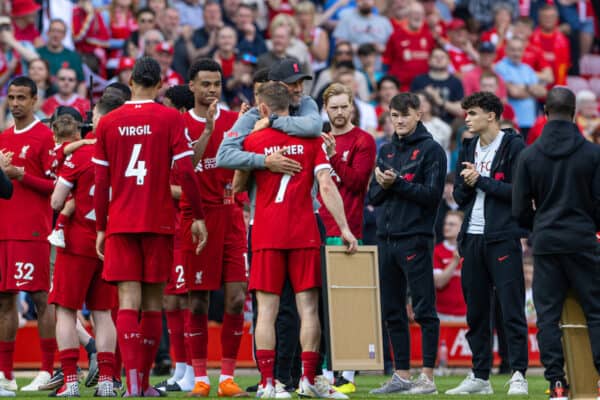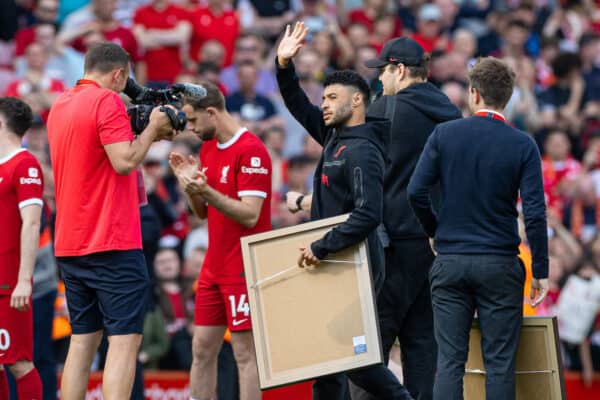 The lap of honour was full of memorable moments too, starting with Salah's daughter scoring in front of the Kop – again! The 100 percent record lives on.



Klopp was in a joyous mood as he joined his squad and their families on the lap of honour, he was spotted playing football with Milner's son and may have just identified three future Liverpool No. 1's…


Fellow Brazilian Fabinho enjoyed his first lap of honour with son Israel – the personalised baby kits are class.

Even after 10 successive starts, Curtis Jones could not help but get stuck into more football with family…

Andy Robertson's daughter had the best vantage point of the afternoon, well played!


The tears were freely flowing from Bobby as he took in the crowd that stayed behind to pay tribute, with 'Si Senor' greeting his every turn.
And his proud mum (waving the flag) made sure to soak up every moment with him.

You can spot his Golden Samba award in his daughter's hands, awarded by the fans in recognition of his efforts and services.

Trent, Salah and Milner took time to applaud and thank supporters, the final time for the vice-captain at Anfield…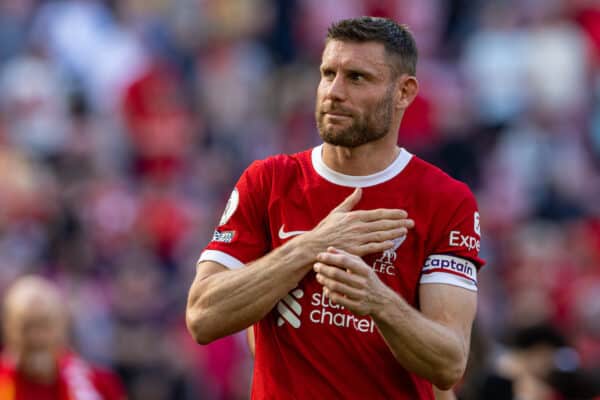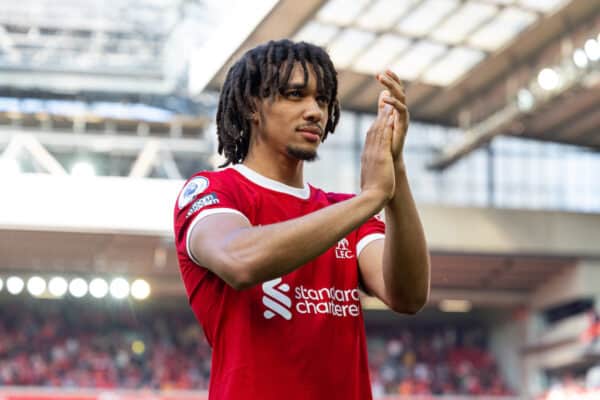 As for Klopp, you could see just how much the lap of honour meant to him as a chance to get supporters, the whole squad and their families and friends together…

Hopefully this time next season, there will be silverware to parade around the pitch with the promise of more to come!