Alex Oxlade-Chamberlain will bow out having gone from crucial starter to an afterthought, but his time at Liverpool should be viewed fondly.
After six years at Anfield, Oxlade-Chamberlain departs Liverpool this summer among a group of players whose contracts have been allowed to expire.
The club's £35 million outlay in 2017 has amounted to 146 appearances, with 18 goals and 13 assists, with his story on Merseyside sadly blighted by injuries.
But as Oxlade-Chamberlain bids farewell to the club he, perhaps surprisingly, has spent as long at as he did Arsenal, he deserves to be remembered for more than just his time on the treatment table.
Liverpool's outgoing No. 15 was, in fact, central to the ignition of Jurgen Klopp's success with the Reds.
A barnstorming start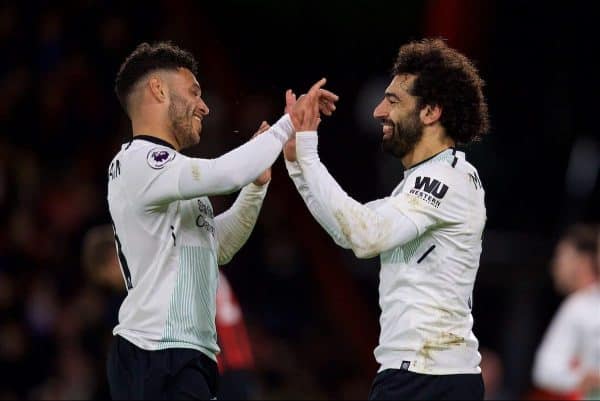 In many ways, the deal to bring Oxlade-Chamberlain in from Arsenal served as a primer for the way in which Michael Edwards would operate as sporting director.
Edwards was officially appointed to the role towards the end of 2016, months after initial reports of interest in Oxlade-Chamberlain broke in the English press, with this developing ahead of the January transfer window.
"Usually I don't say anything about transfers but I will make an exception – nonsense," came Klopp's emphatic response in December 2016.
Yet eight months later, Oxlade-Chamberlain was a Liverpool player, having turned down a contract offer at Arsenal along with a rival bid from Chelsea.
Liverpool's success in the market has come through operating in the shadows, downplaying reports of interest while working to bring in players who are, in Klopp's words, ready to "push the train."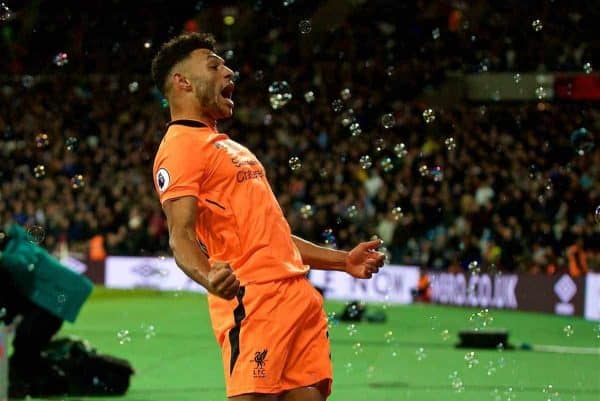 Oxlade-Chamberlain was the archetypal signing in that respect: a player who felt shackled in a wide role at the Emirates, with ambitions of emulating Steven Gerrard.
Like many other signings, it took the Englishman time to adjust to the demands of Klopp's system, but amid his bit-part appearances there were clear signs of things to come.
A goal seconds after Manuel Lanzini reduced the deficit, on a visit to West Ham in November, gave Oxlade-Chamberlain a defining image as he celebrated before the London Stadium bubbles had been given a chance to pop.
By December, he had become a regular starter – and importantly, in his preferred central midfield role, a wildcard alongside the more functional Gini Wijnaldum and Jordan Henderson.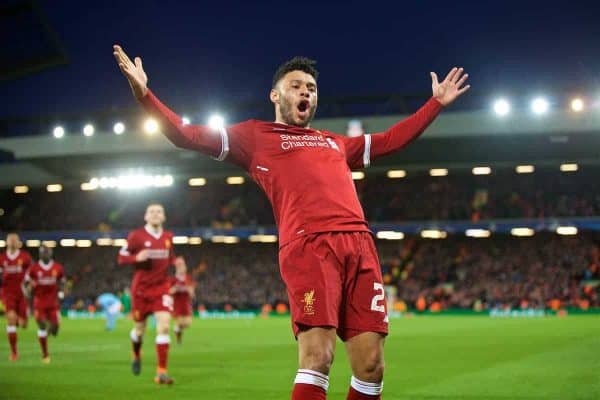 His grandstand moment came in the Champions League quarter-finals, when Liverpool decimated Man City over two legs – winning 5-1 on aggregate – with Oxlade-Chamberlain scoring a stunner in the 3-0 opener at Anfield.
"The manager has been pushing me all season and shouting at me for not taking the game by the scruff of the neck at times," he reflected after the game.
"[He wants me to be] providing those kinds of moments, being the one shooting and making the difference."
Unfortunately, two weeks after the second leg at the Etihad, Oxlade-Chamberlain's progress was halted irrevocably.
One night at Anfield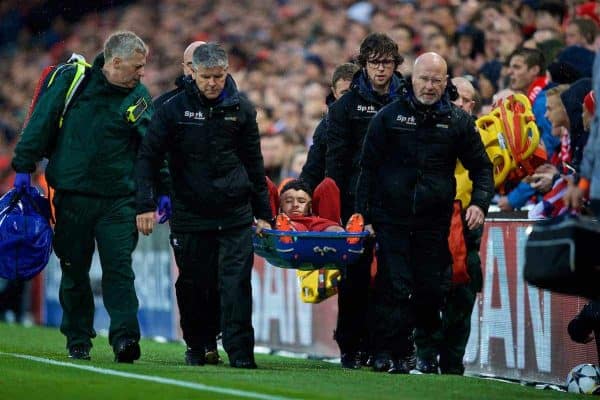 Starting Oxlade-Chamberlain in the semi-final against AS Roma was a no-brainer; he had earned his shirt and become one of the most important players in Klopp's side.
It was a night already tinged by the shocking scenes outside Anfield before kickoff, though Liverpool were able produce a defiant performance and win 5-2.
Before Mohamed Salah had struck the first of two goals against his former side, however, Oxlade-Chamberlain had been forced off.
There were only 18 minutes on the clock when the midfielder was helped off the pitch at Anfield – to be replaced by Wijnaldum – after a brilliant challenge on Aleksandar Kolarov.
Oxlade-Chamberlain thwarted the onrushing left-back as he displayed the fierce counter-pressing that helped win over Klopp, but he was left significantly worse off.
Writhing on the pitch, he required immediate treatment by medical staff and after the game Klopp accepted his season was likely over.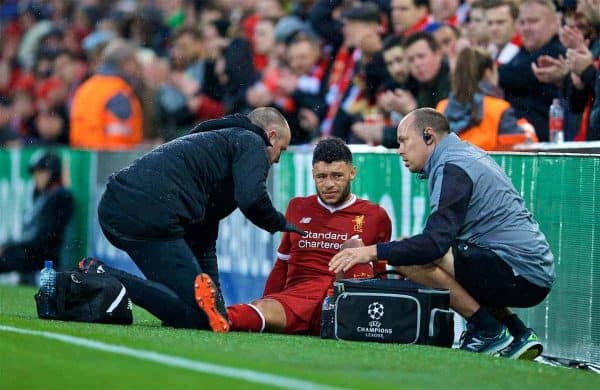 "We lost a fantastic player tonight and that is not good news," the downbeat manager said, "so I am not really in the mood to talk about specific, fantastic things."
Surgery was needed for a serious knee ligament injury, but while he was initially slated to miss the entirety of the next campaign, he returned after 319 days, playing 40 minutes as the under-23s beat Derby 3-1.
There were two substitute appearances at first-team level before the season's end, and Oxlade-Chamberlain featured 43 times in the 2019/20 title campaign.
That season, only 11 players clocked more minutes and just seven made more appearances.
In the three seasons that followed, though, he has been afforded a mere 2,300 minutes on the pitch.
Ox's legacy

Oxlade-Chamberlain has been largely fit over the past three campaigns, but another long-term knee injury during pre-season in 2020 proved his sliding doors moment.
Thiago had arrived that summer, while Fabinho was firmly bedded in as a key figure and even Naby Keita, despite his own injuries, provided another option.
With Curtis Jones and Harvey Elliott developing as first-team regulars, too, Oxlade-Chamberlain found himself more of a spare part.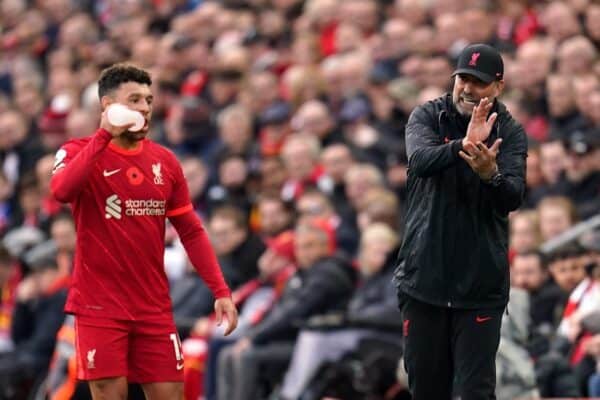 A break-glass solution, the majority of his starts over the past three seasons have come over the busy festive period and into January.
When more rotation is required, injuries build up and the likes of Salah and Sadio Mane have departed for the Africa Cup of Nations, Klopp has relied upon Oxlade-Chamberlain.
He has filled that role well, but never again reclaimed that first-choice spot in midfield, with his outings instead spread over various positions and often as an auxiliary forward.
But when his name booms out over the tannoy at Anfield on the final home game of the season, Oxlade-Chamberlain deserves a hero's send-off.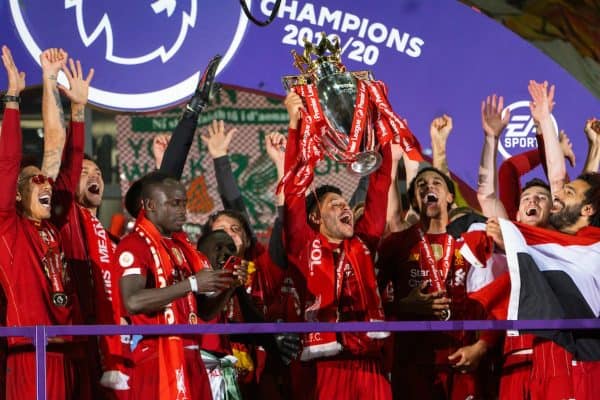 It may not have been what he'd hoped those six years ago, but his time at Liverpool has still been valuable – including his influence on the likes of Joe Gomez, Rhian Brewster and Layton Stewart during their own lengthy layoffs.
Even this season, he was spotted giving advice to Ben Doak and Bobby Clark during the under-21s' clash with Chelsea at the AXA Training Centre.
He could have been the missing piece in Klopp's midfield puzzle, but instead he served as the conduit to a successful, more industrious unit that allowed Salah, Mane and Roberto Firmino to fire Liverpool to silverware.
Were it not for that miserable night in 2018, though, Oxlade-Chamberlain's story could have been much, much different.