Liverpool were forced to battle for their three points against Brentford, but a 1-0 win took the side's winning run up to six in a row.
Mohamed Salah bundled the ball home after a header across the box from Virgil van Dijk inside the first quarter of an hour, and late pressure from the visitors wasn't enough to steal away any of the points at the death.
The win puts the Reds one point behind fourth spot in the table, but Man United do still have two games in hand.
There have been livelier affairs this season, but fans still found plenty of things to discuss after the game.
Alisson booked for time-wasting…

It was a big night for the Brazilian as he notched his 100th clean sheet for the club, but the game didn't go by without incident.
Alisson was awarded a yellow card for time-wasting in the second half of what was a questionable afternoon for referee Anthony Taylor.
Fans made their thoughts known, with some suggesting that Jurgen Klopp's recent troubles with officials may have had a part to play in the decision:
As if he's just booked Alisson there what a joke ?

— Curse These Metal Hands ? x 19* (@duvetcapeman) May 6, 2023
How has Alisson been booked for time wasting? The amount of time wasted by visiting keepers this season and absolutely nothing given. Refs getting back at Klopp maybe

— ???Ste Oreilly???* (@superdog1984) May 6, 2023
Incredible to see Alisson booked there when you see the time wasted by others teams at Anfield without punishment.

— Ben McKenna (@benmckenna94) May 6, 2023
But genuinely funny that a time wasting goalkeeper got booked on 77 minutes. Like it's a deliberate trolling

— Phil Blundell (@PhilBlundell) May 6, 2023
Looks like Klopp's comments about referees have not gone well with PGMOL.

The way Brentford are getting fouls for slightest touches and the way every pull on Salah, Gakpo is being ignored is unreal.
Also that yellow for Alisson.
Horribly refereeing from Anthony Taylor.#LFC

— Mayur Kesarkar ???????? (@MayurK1903) May 6, 2023
Utterly bizarre.
The boss takes off his cap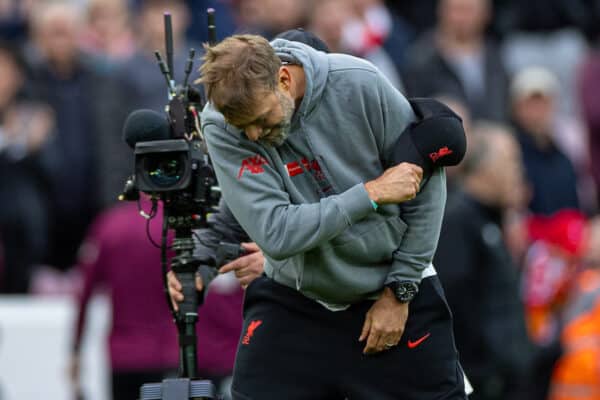 There were no fist pumps on this occasion, but a relieved Klopp found a new way to acknowledge the Kop after the final whistle.
The manager doffed his cap and bowed towards the supporters after his side picked up their sixth win in a row during a tight affair against ninth-placed Brentford.
Seeing Klopp doff his cap reminded me of this. Sorry. https://t.co/mzozayVXkE

— nxkhiI (@nxkhiI) May 6, 2023
(Video) Jurgen Klopp doffs his cap to the Kop as Liverpool make it six wins in a row #LFCFamily #YNWA #LFC https://t.co/ppi682YR4M

— The Red Half (@redhalf) May 6, 2023
On the day of the coronation Klopp does a curtsy to the Kop.
He knows who the real kings are.
European Royalty. pic.twitter.com/rbyCaanZzh

— Steve Martin (@SteveMartinYNWA) May 6, 2023
? No fist pumps from Jurgen, but a big smile as fans wait until after full time to sing his song! pic.twitter.com/y2r0pjGQMW

— This Is Anfield (@thisisanfield) May 6, 2023
'I'm so glad that Jurgen is a Red'
Toney catches the eye

Despite already having an embarrassment of riches up front, some fans were prompted to daydream about what Ivan Toney would look like in the Reds' front three.
An impressive display saw the striker give Ibrahima Konate plenty to think about for large parts of the afternoon and despite failing to score there was significant praise for the 27-year-old after the game.
It seems an unlikely signing given the number of high-quality forwards Liverpool already possess, but there is no harm in entertaining an occasional hypothetical:
I'd still love us to sign Ivan Toney. Fella is absolutely outstanding.

Salah-Toney-Diaz with Darwin and Jota off the bench. Gakpo in the same role he played today but also available as cover in attack. Alexis LAM, Ugarte next to Trent in the pivot. Inacio as the LCB/LB.

— Dave Hendrick (@MrTwoFooted) May 6, 2023
So glad Konate is available to play in this match. Plenty of battles with Toney already.

— Red (@TaintlessRed) May 6, 2023
Toney bullied Konate that half, such a problem he is.

— KB (@KB_LFC) May 6, 2023
Liverpool need to sign Alexis Mac Allister and Ivan Toney two class players

— Bull (@trerobertson8) May 6, 2023
I'd love Ivan Toney at Liverpool he's a top player

— The Colonel (@rkb89) May 6, 2023
Ibou Konate is an absolute monster!! Toney is one of the hardest strikers in PL to play against and he passed the challenge with flying colours!

— Kenna Ngoma (@KennaNgoma) May 6, 2023
Salah's words with Raya
It was a close-range finish, very close, and Brentford's goalkeeper David Raya wanted to clear one thing up with Salah at half-time.
"I think he told me, 'I saved it, right?'" Salah said of their brief chat in the tunnel to Sky Sports.
"Then I told him I think he hit the ball in my knee – in the end, I was just happy I scored!"
There was to be no denying Mo his ninth consecutive goal at Anfield, sorry Raya.
The Kop make their feelings known

It oughtn't have been a story, but naturally social media was awash with people expressing their views on supporters booing the national anthem prior to the match.
Along with the boos, there were anti-monarchy chants throughout the match as Liverpool fans took the opportunity to protest against Saturday's coronation:
If people got as angry about foodbanks having to exist as they do about people booing a shite anthem, this country would be a much nicer place to live.

— Carl (@Carl_M79) May 6, 2023
As per the below for a few minutes time. Not news in any way. Only mischief makers and the click economy qualifies the needless fuss. https://t.co/rLMa2YcYj9

— Neil Atkinson (@Knox_Harrington) May 6, 2023
Can someone check in on Peter Shilton, just check he's okay.

— James Pearce (@JamesPearceLFC) May 6, 2023
Obviously Liverpool fans boo the anthem, and for good reason. It's a democratic right to protest, and I believe we should all be protesting at this obscene peacock display of wealth when more than 20% of the nation are living below the poverty line, and kids are going hungry.
1/3

— David Maddock (@MaddockMirror) May 6, 2023