Liverpool supporters were put in a position which saw the eyes of the nation ready to pass judgment, but there is no apology for being who we are, writes Steven Scragg.
Another valuable but otherwise unremarkable 1-0 win was obtained by Jurgen Klopp and his players at Anfield, on an evening when Mohamed Salah struck his 30th goal of the season.
Ultimately, the biggest talking point was provided in the stands prior to kick-off.
To be honest, it was clever, yet entirely transparent of the Premier League to attempt to balance asking Liverpool to play the national anthem before kick-off by handing the refereeing duties to Anthony Taylor and then giving him Carte Blanche to be as erratic as possible.
Officiating the game as if paid per-blow of a whistle, Taylor became the distraction technique within the wake of Liverpool's supporters very vocally airing their thoughts on the vast array of boxes that 'God Save the King' ticks.
We'll always point it out

The widespread response to the booing of the national anthem at Anfield just offered more glove puppetry and distraction. Predictably, castigation over the fact that it did happen was in richer supply than discussion of why it happened and why we do it.
Plastic bowler hats and paper crowns in the away end, Jordan Henderson semi-uncomfortably singing along, Trent Aleaxnder-Arnold not entirely knowing whether he should stick or twist on joining in, eventually opting against and his non-British teammates largely bemused by it all.
And Jurgen Klopp was already primed with the straight-bat response for when questioned about it.
While the social media images are hard to avoid, I've not viewed Sky Sports' or Match of the Day's takes on events.
But given the game itself was only marginally more expansive in on-pitch talking points than the one against Fulham was, then the analysis would have been better served with a quick look at the winning goal and a brief montage of questionable refereeing decisions.
And then one could turn to an in-depth bout of people watching the duration of the national anthem.
Agree or disagree with the sentiment shown at Anfield, ultimately, we are who we are. If you are with us and we feel you are with us, then the door is open. What is ours is yours and we've got your back; you will never find a better ally.
If you are against us and we know you are against us however, we'll call you out for it and we'll hold you to account for it.
Whether that is the singing of poverty ballads, the spreading of Hillsborough ditties, being a complicit adherent of cruel Tory ideologies and philosophies, maybe an apologist for the arrest of peaceful protesters, and taking against asylum seekers, or even the wearing of a shiny hat and riding around in a gold carriage while children go hungry. We'll notice and we'll point it out.
I've said it before and I'll say it again many times over, but bastards hate it when it is illuminated that they are being bastards.
Unapologetically us

Within this, the use of the word "us" goes way beyond the partisan boundaries of one set of football supporters, or at least it needs to more often.
The "us" in question is right-minded people from all walks of life and it has been refreshing to see praise pour in from supporters of a myriad of rival clubs.
When push comes to shove it is all about pushing aside subservience in the name of making a point for the need for greater general social decency.
Outside Anfield before the game, people were queuing up to make donations to the local food bank before clicking through the turnstiles to make their voices count in protest at a system that is loaded against the poorest members of this ailing nation's communities.
The global projection of upper-crust excess on display on the streets of London on Saturday should be seen as being wildly out of touch with a 21st-century audience, but it still has the hearts and minds of many as the images from London this weekend have shown.
It requires a counterbalance, however, and we have taken it upon ourselves to be that counterbalance.
As a club, Liverpool FC felt compelled to toe the royal party line trotted out by the Premier League in playing the national anthem when it could have taken a stand of its own when they could have been the grown-up in the room and said "no" on our behalf.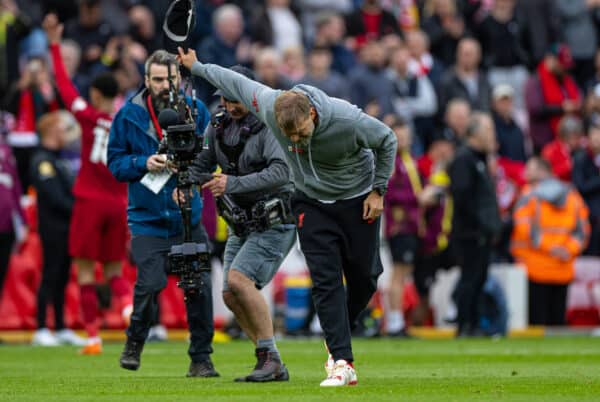 Instead, it was left to the supporters whom they knew all too well would open their mouths to do it themselves.
Those in power at Liverpool knew it, the Premier League knew it, we as participants knew, and those primed to criticise us knew it too. They took time out from their flag-waving and cucumber sandwiches, they gave us the stage, placed a microphone in front of us and then commented on how terrible it all was.
Time will tell but, hopefully, the events of Saturday at Anfield will be a stepping stone toward football unpicking itself from its habit of doffing its cap to the pageantry of elitism and overblown patriotism.
Up the defiant Reds.