After Newcastle's 2-0 defeat to Arsenal, Eddie Howe's complaints of time-wasting have fallen on deaf ears – especially among Liverpool supporters.
Newcastle's defeat at St James' Park puts the Magpies in a more precarious position, with Liverpool and Brighton chasing their Champions League qualification place.
After the match, Howe said: "It was frustrating. We wanted the ball in play, we wanted to find our rhythm. It was very stop-start.
"That was suiting, of course, the away team. As the home team, you want the ball in play."
The manager's right, but it is a sentiment many coaches have echoed this season when playing against Newcastle.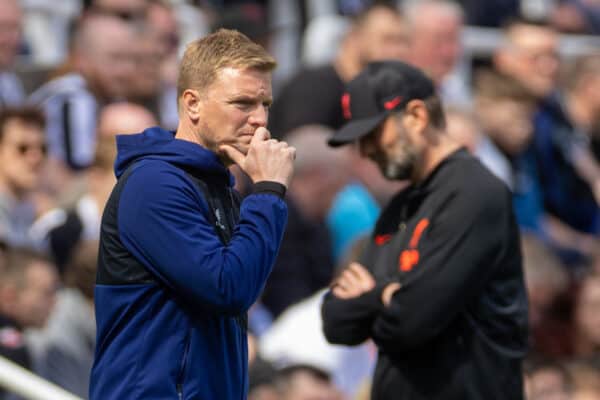 Due to his post-match comments, Howe has come in for criticism and the manager provided a massive sense of irony.
After all, who could forget Newcastle's time-wasting antics when they visited Anfield earlier this season?
We've seen in the past how Liverpool react to visiting teams' underhand tactics – Alisson's comical imitation of Jordan Pickford falling to the floor, against Everton last season, was a joy to behold.
In August, Newcastle's time-wasting antics against Liverpool lit a fuse at Anfield, eventually biting them with a 98th-minute winner from Fabio Carvalho.
It wasn't against just Liverpool, though, in which they exhibited these tactics.
In fact, so far this season, Newcastle have spent just 52 percent of their game time with the ball in play, according to Opta Analyst.
That is less than any other team in the Premier League.
https://t.co/WtO96x5NK0 pic.twitter.com/n7RH9QjhuY

— Jack Lusby (@LusbyJack) May 7, 2023
Meanwhile, Liverpool have spent the second-most amount of time with the ball in play (58.8 percent), and Man City lead the way in that respect with 61.8 percent ball-in-play time.
Time-wasting on goal kicks is another topic in the spotlight, currently.
Howe complained about how long the Arsenal goalkeeper, Aaron Ramsdale, was taking to restart play, but Newcastle themselves have been one of the worst culprits for this.
On average, nobody has taken longer than Newcastle over their goal kicks.
While Alisson has taken the shortest amount of time in the league (21.5 seconds on average), Newcastle have taken the longest, with their goalkeeper, Nick Pope, taking 36.8 seconds each time.

Howe had a taste of his own medicine against Arsenal, but the defeat is unlikely to affect their final league position – the Magpies need just nine points from their final four matches to secure Champions League football.
In order to avoid accusations of being a hypocrite, perhaps Howe should take a look at his own side's tactics before criticising others.
While researching his team's ball-in-play time, he could also have a quick Google of his Saudi owners' regime, something he consistently says he does not know enough about.