Liverpool made it seven straight wins with a 3-0 thumping of Leicester, who look set for relegation after this latest defeat.
Leicester 0-3 Liverpool
Premier League (36), King Power
May 15, 2023
Goals: Jones 33′ 36′, Alexander-Arnold 71′
---
In-favour XI show their value

Jurgen Klopp reverted to what is his most-favoured XI in this season run-in, whether that's seen as the 'best' side or merely the one which works finest in the new set-up.
While a slow start in terms of attacking play and movement, the Reds didn't take long to ease themselves into control of the ball and looked largely settled and solid in defensive terms – before those quickfire goals made Leicester heads drop.
Fabinho and Ibou Konate were improved after a couple of less-than-stellar outings in the not-too-distant past, while Luis Diaz had a tough first 45 and a better second one.
With just a couple of matches to play, it's hard to see too many changes to the line-up remaining – which perhaps suggests these are the XI in the driving seat before summer transfers are made.
Super 17

It was probably already the best run of his career, but it definitely is now.
Curtis Jones has been really important tactically over the last few weeks, ever-improving from a defensive perspective and now in the last few weeks also showing all that technical quality he has which comes with game time, confidence…and goals, apparently.
Jones had only nine to his name in his whole career before tonight and had never hit a brace, despite being predominantly an attacker or even wide forward when coming through the system.
Bit by bit though we've seen those attacking instincts on display again during this run of games, and his first against the Foxes was almost a carbon copy of his goal against Tottenham at Anfield: first time running onto a clipped ball to the back post.
The second was pure teenage Jones though: into a dangerous area, back to goal, great touch, instant turn and a brilliant hit which displayed the massive level of confidence he has right now.
Keys to attack

Jones' goals, obviously. But we need to touch on a couple of other performances here, too.
First, the player we've spoken about probably more than any other for the last five years, Mohamed Salah. Three assists tonight take him to ten for the Premier League campaign, meaning he's in touching distance of yet another season totalling 20 or more goals and ten or more assists.
He got 23 and 13 last term, plus 32 goals and ten assists back in 2017/18. Few players achieve that double milestone in a single campaign, let alone do it multiple times. One more goal and Mo will make it three times – and he should have had that with 10 minutes left on the clock, missing a routine one-on-one.
Secondly, Cody Gakpo. He wasn't central to everything in an obvious way but he won back possession so many times with tackles or toe-ins, he linked well with those around him and on another day probably scores his own one-on-one.
But he was involved in some decent build-up, freed Salah for his big chance and generally looks a very strong fit through the middle when the Reds are playing well.
System here to stay – Trent even more vital, then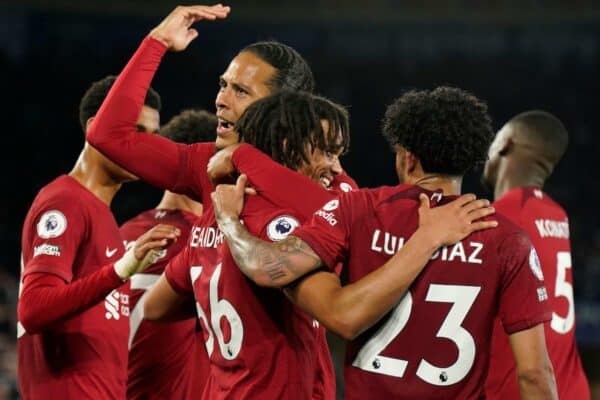 Klopp wasn't too shy in acknowledging that the new system is now basically the system – Liverpool will be playing this way going forward, it seems.
That means two things: Trent Alexander-Arnold is more important than ever arguably, creative and tenacious and roving in positions as he is, but also that it's imperative the club finds a way to replace him – rotationally and when form or fitness dictate it must be so, without losing everything he brings.
It's a hard act to pull off in a transfer window we need to achieve a lot in already, but you can't pile into the importance of one player and leave the side without an alternative to him.
But at Leicester, it was vintage Trent.
Great passing range, lovely deliveries, plenty of ball-winning…and a thunderbolt free-kick to top it all off. Trent at his best.
Final countdown in more ways than one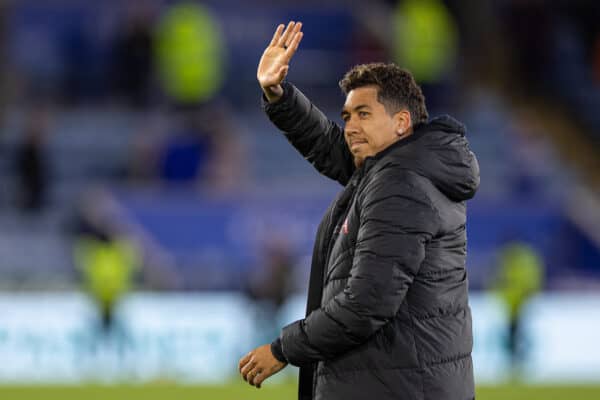 Two games to go – we'll get there in a minute.
The other countdown which is clearly on is those players set to leave after years at the club – Bobby Firmino chief among them.
And the strength of feeling at the club for the departing Brazilian was made abundantly clear in the fact that for a full ten minutes before Trent's thunderbolt, the travelling Kop did nothing but relentlessly serenade him, smiling in the stands.
Post match, the rest of the squad got him down on the pitch and the chants and waving continued – my word, we'll miss him when he's gone.
But beyond the summer, those who remain will hope – still – that the Reds are playing in the Champions League.
This victory moves the Reds to one point behind both Newcastle and Man United, third and fourth, both having played one fewer. It means we still need them to slip up more times, and the odds remain against it – but winning out the season with nine in a row is all the Reds can do.
So far, in that regard, it's all going well.