New sporting director Jorg Schmadtke has given details of what his new role at Liverpool will entail as he confirmed how long his contract is for after conjecture over the deal.
After weeks of speculation, the German was confirmed as the Reds' new sporting director on Tuesday morning, ahead of what is set to be a busy summer for the club.
Schmadtke will replace Julian Ward after his departure was announced back in November, the length of his stay was uncertain but he has since confirmed "our cooperation is initially planned for three months."
Though it is understood that the short-term agreement could be extended further should both parties deem it beneficial and successful.
While fans have previously praised deals conducted by Ward, and Michael Edwards before him, the day-to-day role of a sporting director is still something of a mystery to many.
Schmadtke has offered an explanation of his responsibilities during what is, for now at least, a three-month stay at Liverpool.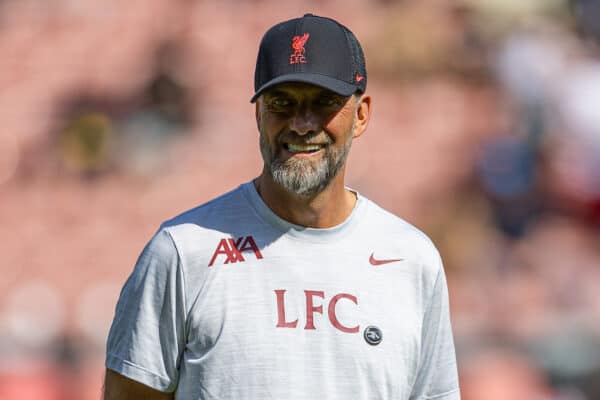 "The input of the coach in transfers is greater in England than in Germany, where a sports board or a sports director holds everything in one hand. Klopp sets the priorities," Schmadtke told Sport1.
"We then work with data analysts and scouts, he will then choose from a list of players who he'd like to work with. After that, I will approach the targets and clubs. And in the end, the owners must also be satisfied with the investments.
"I'll start on 1 June. If we like each other, the cooperation can go beyond the transfer window. Let's see. Then we will continue this or not."
It is a rare piece of insight into the behind-the-scenes workings of a football club, with the club's previous two sporting directors having had very little dialogue with supporters.

The comments also indicate that Klopp will have a greater influence over transfer dealings than was the case with both Ward and Edwards.
Schmadtke detailed his working relationship with the Liverpool boss, explaining that he had been introduced to the club's owners FSG by Klopp's agent.
"We were in the Bundesliga at the same time. He as a coach, I as a sports director, you know each other. I know his advisor Marc Kosicke better. He has a good exchange with the owners of Liverpool FC," he revealed.
"When the current sports director announced that he wanted to stop for personal reasons, Marc told them: 'If you are looking for an older and experienced manager for the transfer period, you should perhaps deal with Jörg Schmadtke from Germany.'"

Schmadtke will work alongside the likes of Mike Gordon and Billy Hogan, head of recruitment Dave Fallows and chief scout Barry Hunter, and will have an influence over potential incomings in the transfer market.
As for his budget, the German joked that he 'doesn't have one yet' as he acknowledged transfers are not only influenced by money but also how a player can "integrate" and perform for the team.
Liverpool are likely to face a busy summer of preparation for next season, with Klopp hinting that he will be "busy" on the phone ahead of 2023/24.
A seemingly endless list of midfielders have been linked to the Reds as part of a summer rebuild and it looks as though the new sporting director will have a big say on which of those come through the door.