Jurgen Klopp is adamant that, despite Liverpool's failure to qualify for the Champions League, there is no chance of Mo Salah pushing for the exit.
Nor, for that matter, does he believe any player will turn their noses up at Europa League football.
With a fifth-placed finish confirmed on Thursday night, Salah took to social media to express his frustration at missing out on the top four and apologise to fans.
That led to questions in Klopp's extended press conference the following day over whether he could see Salah looking to leave for a club in the Champions League.
Not only did the German insist that this was not the case with Salah, but he stressed that he would drive any want-away players to another club if they did.
"I only heard what he [wrote on Twitter], I could not hear anything that would lead in that direction," Klopp told reporters.
"Mo loves being here – and Mo was a part of [this season].
"He said 'apologies for what we did', not 'apologies for what the other guys did but I had to go with them'. Not at all. It's all fine.
"If a player would ever come to me [and say], 'oh we didn't qualify for the Champions League, I have to leave', I would drive him to the other club.
"Take the key, come in the car, 'where do you want to go? I'll drive you'.
"Because that would be something I could never understand.
"Like I would say, 'well we didn't qualify for the Champions League, I need to work in the Champions League so I go' – I am responsible for this!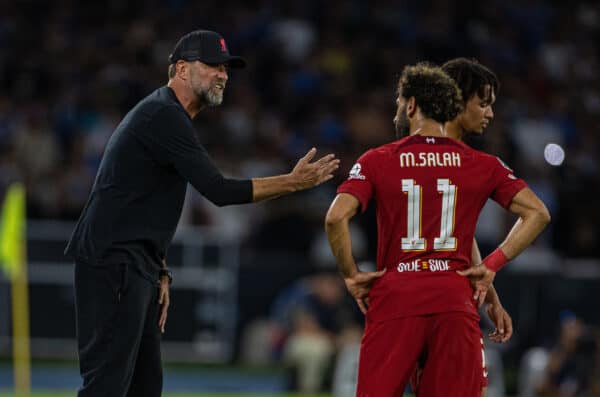 "You cannot go in these moments. It's not the case with Mo, not at all, and nobody else told me [they wanted to leave].
"They asked me if they could have a day longer holiday or whatever, but nobody asked me if they have to come back after holiday.
"That was not in our conversations."
Salah signed a new three-year deal with Liverpool on the back of the quadruple push last season, becoming the club's record earner on £350,000 a week.
He is unlikely to be short of suitors if he did ever look to move, but as Klopp stated, his words after missing out on the Champions League were a vow to improve as a collective.