After Mohamed Salah provided a damning assessment of Liverpool's season in failing to qualify for next season's Champions League, Jurgen Klopp was asked for his thoughts.
The Egyptian took to social media to express his disappointment after Man United's victory over Chelsea confirmed a fifth-place finish for the Reds in 2022/23.
"We let you and ourselves down" were the forward's emphatic words with Liverpool falling short of Champions League football for the first time in seven seasons.
Speaking ahead of his side's trip to Southampton, Klopp revealed that Salah was in good spirits at the AXA Training Centre and that there was little to read into the post.
"For me it was clear [Man United] would get that point so I drew a line, I'm a very optimistic person but in this moment I couldn't see it," the manager explained.
"It's completely normal, in the world of social media so many bad things happen constantly, I don't think that was one of them.
"I saw him now in the canteen and he was smiling. I don't know for what reason because I didn't ask him but he was not in a bad mood."
It will be Klopp's worst Premier League finish in a full season as the Liverpool boss, having joined in October en route to ending the 2015/16 campaign in eighth.
The manager admitted that his team have not met expectations but insisted that recent form and a sense of "togetherness" mean supporters should remain optimistic ahead of next season.
"I think we said everything about [this season] that we are absolutely not happy with it, that we made mistakes, that we were not consistent enough," he continued
"Of course, there are reasons for optimistic views because of things we showed in the last few weeks, that's definitely the case.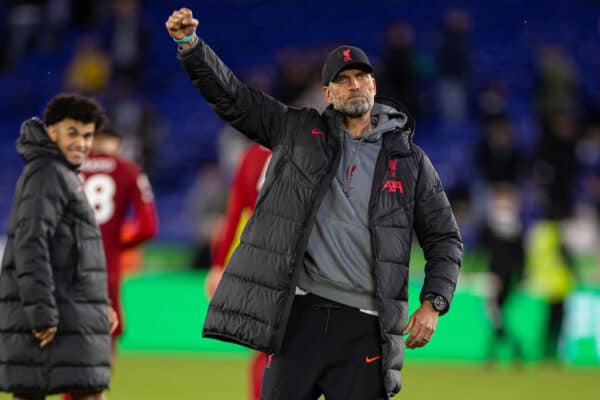 "We have another reason for optimism because of the atmosphere our people created in the last home game.
"We are still really united and that's the good thing about it, if you can go through difficult moments like we did last season I think that is a really good basis for a better future.
"If you don't qualify for the Champions League the best possible place you can end up is fifth and that's what we did."
The Reds head to Saint Mary's on Sunday for the final game of an underwhelming 2022/23, with neither side having anything substantial to play for with their league positions already cemented.
Southampton's relegation to the Championship was mathematically confirmed two weeks ago and Man United's win over Chelsea consigned the Reds to Europa League football for the first time since reaching the 2016 final in Basel.
It was seven straight wins for Liverpool prior to a 1-1 draw in the final home game against Aston Villa and the boss will be hoping to pick up another three points and some much-needed momentum before the summer break.