Liverpool have looked tentative and uncertain in their defence against set pieces this season, but to Jurgen Klopp's delight, it was not the case against Brentford.
"It was the best defensive set piece session I ever saw in my life against the best-set piece team I've ever played," the manager hailed to Sky Sports after Saturday's game.
The Bees were awarded 19 free kicks and three corners at Anfield, though it certainly felt as though they were handed more than that thanks to their stop-start style of play.
Nevertheless, the Reds restricted Brentford to just one shot on target and after notable defensive wobbles throughout the campaign, Klopp was clearly buoyant by what he saw against a team who has scored 11 set-piece goals in 2022/23.
"It's great, it's great," Klopp said of the performance in his post-match press conference. "I said it now a couple of times, it was the best defensive set-piece session I ever saw.
"Brentford have a lot of qualities, but the set pieces are super special.
"I told the boys directly after the game, the focus and concentration we showed today against the best set-piece team I've ever played [was great].
"We, or they, created 50, 60 set-pieces – throw-ins, corners, free-kicks, goalie takes it from the halfway line or in his own half and eight players line up. Super difficult.
"Everybody in this line of eight that we had there as well stepped up today, was really fully aware of the need in these moments. That was great."
Despite Virgil van Dijk, Ibrahima Konate and Fabinho all playing considerable minutes with a yellow card hanging over their head, Liverpool were admirable in the way they kept the Bees at bay.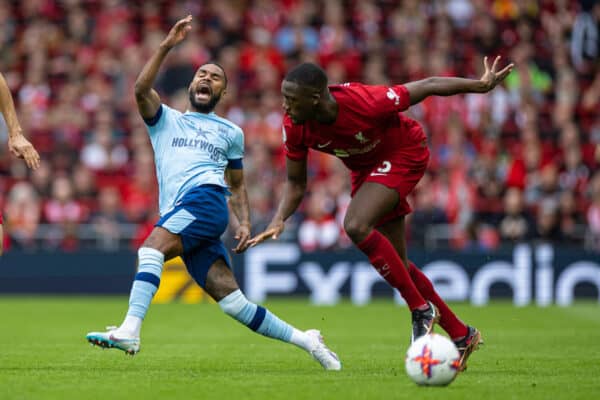 Throughout the Premier League season, the Reds have conceded six goals directly from set-pieces but it is not always the first ball that has caught them out, rather the second or third.
At Anfield, their feathers were rarely ruffled and it no doubt comes from the confidence of now having won six games in a row, with the last five all by a one-goal margin.
There is resilience returning to the team and with Klopp already putting things in place for next season, you can see just how significant it is for the manager to see.