Liverpool supporters have been critical of the club's decision to fulfil the Premier League's request of marking the King's Coronation at Anfield ahead of Saturday's game with Brentford.
With the Premier League recommending all clubs to play 'God Save the King' ahead of their games this weekend, Liverpool, according to reports, believe they were put in an impossible situation.
Liverpool are said to be "aware the strength of feeling on the issue has put them in an impossible position, with fans at Anfield having a personal choice how they mark the coronation and react to the anthem being played."
The likely thinking behind Liverpool's decision to play the anthem, despite pushback from key stakeholders, is that they will come in for criticism if they don't.
But, some supporters have said that by playing the song, they are deflecting blame onto the fans.
'You can stick your coronation up your arse' could be heard loudly from The Kop on Wednesday and the anthem is expected to be widely booed at Anfield on Saturday.
Author Tony Evans commented on the situation for the i, writing: "The club had two options. Ignore the coronation or go ahead with the tribute to monarchy. Either route would have brought a tsunami of criticism."
Actor Adam Smith wrote on Twitter: "Absolutely pathetic and spineless from the club.
"No getting away from it. A demonstration that the club cares more about the Premier League than it does about its own supporters."
This sentiment was largely echoed by supporters.
Yeah I don't get this. They've basically decided to protect themselves rather than us.

— Aphex (@Aphex86) May 5, 2023
Nothing excuses it. Weird to jump to that conclusion. And it's not a directive. Clubs were given the choice and Liverpool have followed. Club is happy to align itself with the fanbase when it suits them. Why not now?

— Simon Hughes (@Simon_Hughes__) May 5, 2023
I can't remember the last time I was at a final and this got played and it wasn't booed? Maybe 2001?

This should not be a surprise nor is it news

But the gammon and 90% of the press will be outraged and amplify it

Dog bites man

Millionaire buys Ferrari

Not news

— Bob George ?? (@JohnnyMilburn) May 5, 2023
"Media and FA love to see Liverpool backed into this rubbish so they can act all fake outraged when it gets booed out of the ground." – Jonny Logan on Facebook.
In all seriousness though, it would have been nice for the powers that be to not hang the fans out to dry but ???? https://t.co/pcDlkzhZe7

— Paddy Allen (@P_Allen21) May 5, 2023
"It is, of course, a personal choice how those at Anfield on Saturday mark this occasion and we know some supporters have strong views on it."

Clearly the club feels it has been placed in a 'damned if they do, damned if they don't' situation. https://t.co/BOewHccpGI

— Gareth Roberts (@robbohuyton) May 5, 2023
The backlash from the establishment media will be typically anti-Liverpool though, further demonstrating why garbage like this gets booed in the city.

— James Nalton (@JDNalton) May 5, 2023
Most have made up their mind as to how they will mark the events at Anfield.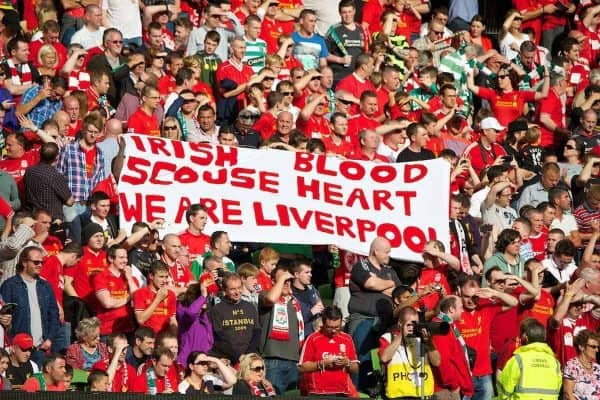 Tony Evans continued in the i: "Not every Liverpool fan will boo. Anfield attracts royalists, Tories and people who are ambivalent about the monarchy.
"Yet the Premier League know that the majority inside the ground will make their voices heard in protest. Nothing the club can do will stop it.
"Except for one thing. Ignoring the coronation. Liverpool cannot do that. They are damned if they do and damned if they don't. The Premier League has made a right royal mess of this."
Others would prefer for fans to show their distaste in a silent protest, which would likely result in lesser criticism from nationalist media.
"Just sit in silent defiance. And our players should have the choice too. We only have a few English players anyway, so the Anthem is irrelevant to most of them." – Pam England on Facebook.
"I won't be booing when I'm there on Saturday, but it's a no-brainer. Don't play it." – Steve Pitt on Facebook.
I can't wait to boo at the game on Saturday! Honestly it's going to be amazing! Then we follow with "du du da du……F*** The Tories" – other working class fans should be following suit, don't be such a sheep! They hate you and you love them! ? at least we know the score!

— SAM G-W (@OneSGW) May 5, 2023
"My great grandfather was supporting the 1911 Liverpool General Transport Strike when he saw Churchill's gun boats train their guns on the city.

"F… the Establishment and stick your coronation up your a…" – Harry's Bar in the comments.
A few years ago I wrote about why it is Liverpool supporters' prerogative to boo the national anthem.

Social history matters. You can't demand that people who have lived that history sing about their own subservience to a supposedly more worthy being.https://t.co/52i9dV7gIZ pic.twitter.com/titz67o1sq

— Daniel Austin (@_Dan_Austin) May 5, 2023
"I for one will not take my seat until that gash has finished!! I won't lower myself to boo it but I'm p##sed it's being played!" – Scully1962 in the comments.
"F divvies. Engaged with SOS who told them to jib it; ignore SOS views; play anthem anyway.

"Totally undoing all the boss work over last month or so where we've had positive response to trying to reduce the tragedy chanting." – Kloppite E in the comments.
Liverpool supporters pledge allegiance to only our own king!
"Our king is Kenny!" – Tim Guttridge on Facebook.
"Sing it, but just sing King Kenny instead." – Joanne Driscoll on Facebook.