It was a less-than-lively affair at Anfield as Liverpool beat Fulham 1-0, but fans still found talking points to debate.
Mo Salah's penalty, six minutes before the break, was enough to see Liverpool gain another three points in their push for European football next season.
Liverpool toiled and struggled to create clear-cut chances, with Trent Alexander-Arnold providing the Reds' brightest spark from midfield, and it was Fulham who looked most likely to score as the final whistle was blown.
Jurgen Klopp's side held on, though, and moved to within four points of fourth-placed Man United, albeit having played twice more.
Although the game won't be remembered as a classic, supporters still found things to comment on after the match.
Trent showed more than just his passing range
Alexander-Arnold has become known as one of the best passers in the game, and with six assists in the previous five matches, the 24-year-old is back in top form for Liverpool.
Playing his new more-advanced role, he is required to take the ball at different angles than he would have at right back, and the No. 66 showed he was more than capable of playing further forward.
It happened in a flash, but the fans that caught Alexander-Arnold pirouetting through Fulham's midfield lines were left wondering just how far he could go as an inverted right back.
trent's bag is getting deeper and deeper every week man, mans casually doing roulettes now ?

— raz (@demarderajan) May 3, 2023
That Trent roulette ?

(Apparently not press resistant enough to play in midfield)

— The Ribena Room (@RibenaSZN) May 3, 2023
Trent doin roulettes ?? what have we unlocked

— Surfing Mel (@RamonManlucas) May 3, 2023
Trent just did a roulette ??

— Dan Leydon ? (@danleydon) May 3, 2023
tbat trent roulette ooof???

— ? (@abid_196) May 3, 2023
Political opinions were made clear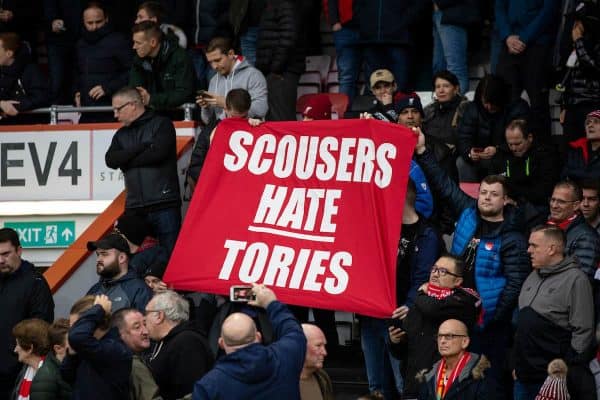 The Premier League have asked every club to play the national anthem next weekend due to the coronation of King Charles III.
As expected, this hasn't gone down well on Merseyside and the Athletic report that "Liverpool will hold discussions with their supporters over whether to play the UK national anthem," with the Reds set to host Brentford on the day of the coronation.
Liverpool supporters made their opinions clear on Wednesday night, as the traditionally Tory club Fulham came to town.
'You can stick your coronation up your arse,' is the chant from the Kop. No bunting here.

— James Pearce (@JamesPearceLFC) May 3, 2023
God help us when the anthem is played on Saturday for the coronation… boos a plenty and then follows the bad press ??

— annie headland (@anne_headland) May 3, 2023
124 was bouncing tonight. You can stick your coronation up yer arse ? pic.twitter.com/EJqSStQHeq

— Ryan (@ryanhughes848) May 3, 2023
Shove yer coronation up your arse pic.twitter.com/Ilaeh1k3De

— M?? (@TeIevisedMike) May 3, 2023
Spot on did you hear tonight at Anfield you can shove coronation up backsides surely that nonsense won't be played at Anfield Saturday

— Anthony (@dickson87) May 3, 2023
Stick the coronation up your arse rings round anfield. Love to hear it ??

— ??Shep #CorbynWasRight (@DavidShep1990) May 3, 2023
Harry Wilson's return

Harry Wilson joined Liverpool when he was just eight years old and rose through the ranks to make two appearances for the first team.
Wilson was always considered a great prospect and impressed in the youth teams. He then grew his game further while on loan at Derby and became known for his brilliant free-kick ability.
He especially endeared himself to Reds by making the 'five times gesture' at Old Trafford, after scoring for Derby against Man United in the FA Cup.
Unfortunately, he couldn't break into a Liverpool side that was competing for major honours at the time.
Wednesday night's match for Fulham was Wilson's first appearance playing against Liverpool since leaving, and the Anfield crowd showed their appreciation for the Wales international.
Harry Wilson getting a nice applause from The Kop as he went off there

Remember the time he did the ?? at Old Trafford for Derby. Before it was ?? pic.twitter.com/rh5Tq4m16Y

— The Anfield Wrap (@TheAnfieldWrap) May 3, 2023
The applause for harry Wilson reminds me of what we r about ???

— Paul Cox (@CoxTanisnaga) May 3, 2023
harry Wilson getting applauded by whole Anfield . Loved that guy

— Pranav Singh (@PraniLFC) May 3, 2023
Anfield applauding Harry Wilson ??? #LIVFUL

— acaciasurescha (@ascuarceisac) May 3, 2023
Fans got a taste of what Palhinha could add

Liverpool are expected to be busy in the transfer market this summer, with the midfield one key area that needs strengthening.
Among the host of names to be linked with a move to Anfield has been Joao Palhinha, who has impressed for Fulham this season while playing in a midfield two as part of a 4-2-3-1 formation.
Against the Reds on Wednesday, he played the full match and made seven tackles, two interceptions and had a passing accuracy of 91.1 percent.
Supporters were taking note of what he could offer.
Liverpool should replace Fabinho with Palhinha.

— HP (@MinimumWidth) May 3, 2023
Palhinha needs to come to Liverpool with Mac Allister

— Mikel ?? (@94ouais) May 3, 2023
Liverpool should grab Palhinha off of Fulham if they can

— The Footiest of Footy (@thefootiest) May 3, 2023
Liverpool should not look too far for a defensive midfielder. Palhinha from Fulham will be a very good choice.

— Prince Gyimah (@ohenebapaa) May 3, 2023
In his post-match press conference, Klopp praised Palhinha as Fulham's "connector."